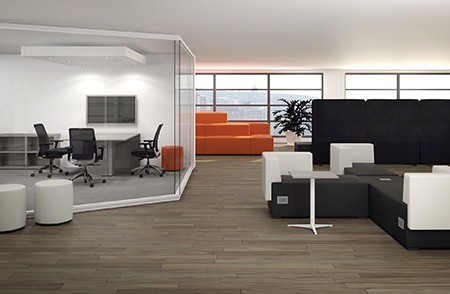 Recently I walked into an office space and was greeted by a computerized check-in system rather than a live person at the reception desk. The system was easy to use, requiring me to scan my license to obtain my name for my identification tag, and then alerting my host that I had arrived. Although this system was quite efficient, I couldn't help but feel a little odd as I sat alone in the lobby waiting for my host to appear and grant me access to the main space.
Where have the receptionists gone? Thanks to advances in technology, many companies no longer need someone to field calls, take in mail, or greet their guests. Using a computerized system, there is no longer a need to hire a separate receptionist. Other busy companies are requesting that their employees play dual roles to divide the workload. For example, a company may ask the person closest to the door to greet guests. These styles of reception areas are becoming the norm for many offices.
As this impersonal lobby style becomes more standard, the question becomes "How do we create a space that is more inviting for guests?" Adding glass walls, so that guests feel like they are seen and will be taken care of, can be a great addition to entry space. Providing a television for guest to watch, or music to listen to can help to ease wait times. Simpler changes could include adding fun art and branding to walls and using furnishing with pops of color. Even providing a place to make coffee or get water can help make these lobbies and reception areas feel more comfortable.
Using architectural glass walls in a space can create an open look while still providing the separation needed between opposing areas. These walls can be solely made of glass, or be broken up with fabric or laminate to add visual interest. When glass walls are used to separate a lobby space, some companies have used designed or etched glass from 3Form. This option creates more visual separation than a clear glass.
Companies can also opt for simpler remedies like providing amenities such as a TV or music within the space to help guest pass the time while they wait. Creating a coffee counter with a small mini-fridge for creamers and waters also helps guests feel more welcome. Single-cup coffee machines are ideal, as they are simple to use, do not take up much space, and require little maintenance. A small credenza creates the perfect spot for these items, hiding pesky wires and allowing for storage of extra products.
Adding art and furnishings with accents of color creates a more upbeat and inviting space. You know the feeling you get waiting in the exam room for your doctor to come in? That is not the first impression you want to give potential clients and guests. A more open style of lounge seating removes the feeling of being secluded or hidden away. Bright pops of color in fabric choices also attract the eye and make the space more visually pleasing. Art and branding create a similar effect and give a more personal touch to your space.
If you're thinking about taking away the traditional receptionist and moving to a more technologically advanced system, make sure you create a space where guests still feel welcome. Consider using glass walls, open lounge seating, and fun art and branding to create a space where your guests feel comfortable and visible. Amenities like television, music, and light refreshments can lessen any frustration due to wait times and offer a more relaxing and calm space overall.