New & Used Office Furniture Dealer & Office Designer
Serving Waltham, Boston, all of Massachusetts, and New England
At Joyce Contract Interiors, you will find beautiful, yet practical, office furniture that can be incorporated into office-design projects of any size. Our talented design teams work with you to explore office-design options and possibilities. As we work together, the ideal design for your space will emerge, as will a furniture plan perfectly suited for your requirements and your site.
The average cost to lease office space in Waltham is $40.46/sq.ft. annually. That means an office that is 100,000/sq.ft. costs roughly $4.1 million/year. A JCI collaboration results in a well-designed office space that maximizes your investment and respects your company's budget.
JCI designers partner with clients and prioritize client visions for their office space. We:
Listen to our client's needs and goals;
Study/analyze client needs;
Develop multiple options considering value, quality, and pricing;
Manage design choices with an emphasis on impeccable customer service and follow-through.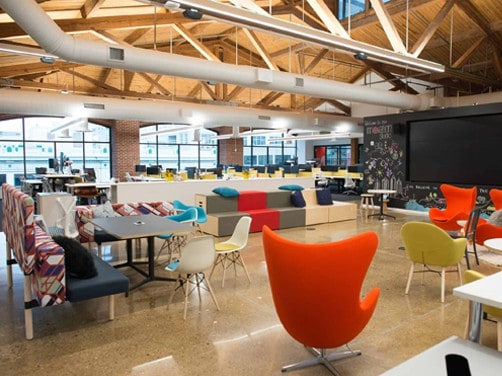 About Joyce Contract Interiors
Joyce Contract Interiors (JCI) is an office furniture dealer and office interior design company. We provide quality office furniture options at value pricing. At JCI, our focus is on design and project management that delivers consistent value to our customers. We don't "sell." We listen to our customers to clearly identify their wants and needs. By focusing on proven processes and understanding our customers, we provide plans that work today and work for the future. We provide consistent follow-through while projects are ongoing and consistent customer service afterward.
A company is only as good as its team; the team at Joyce Contract Interiors shares the same vision – a commitment to excellence. We strive to be your one-stop-shop for all of your office furniture needs, including chairs, benching and desking, cubicles, reception and lobby areas, conference rooms, collaborative areas, and accessories. Let our experienced furniture sales team work with you on office design, furniture selection, delivery, and installation.
Here is how we work with you in a few simple steps:

Step 1:
Contact us for a consultation.

Step 2:
Schedule an onsite visit to understand your needs.

Step 3:
Receive our office design and furniture recommendations.

Step 4:
Finalize your office furniture order.

Step 5:
Set a date for delivery and installation
I've worked with Joyce Contracting for several years now and they are one of my favorite vendors. We just finished an 108,000 square foot build-out within an aggressive four month window and we were able to move in on time largely due to the creative and dedicated team at Joyce Contract Interiors. Their approachable and highly knowledgeable staff is always ready to assist with any project no matter the size or challenge. Happy 25th Anniversary and many more!

Hi Dan! The cubicles came out great! They are very nice quality and the men who assembled them were very professional. Thank you for your help with the design and order. We will definitely use you in the future.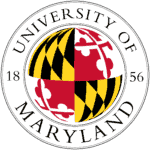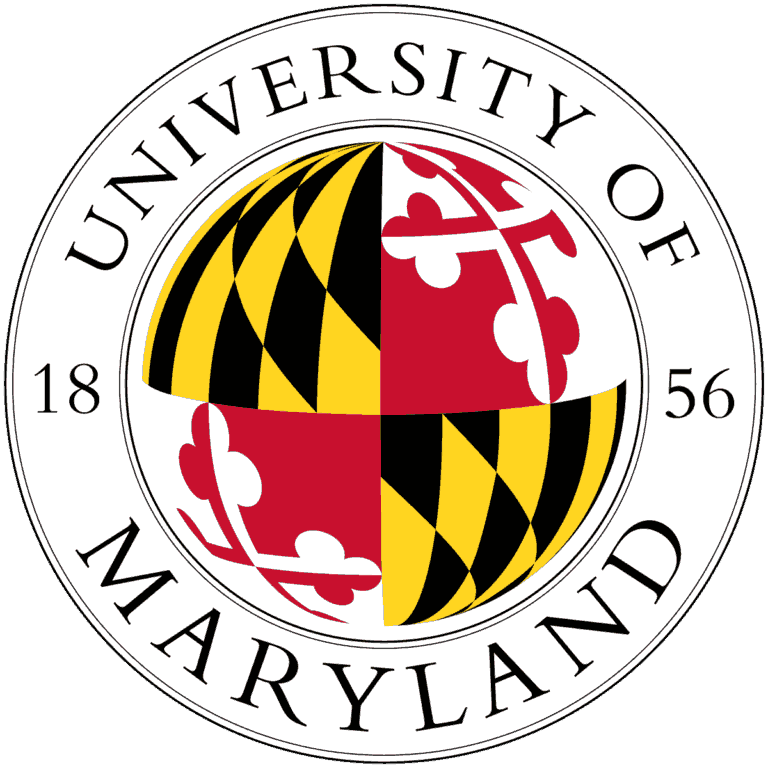 The Joyce Contact Interiors Office
Located in nearby Westford, MA, the JCI office is a short 35-minute drive from most parts of the Waltham area, so it is convenient for us to come to see your office space or for you to visit our showroom. Waltham is a hub for our products and services, making delivery and installation very affordable for clients in the area.
Our founder Dan Joyce, who was born and raised locally, oversees most projects in the Waltham. With more than 30 years of experience in office design and furnishing, Dan is more of a project consultant and partner than a salesperson. Your office furniture project will be in the best hands when you work with Dan to bring your vision to life.
Commercial Building Architecture & Office Design
The city of Waltham in located in Middlesex County. Industry in Waltham was a major contributor to the American Industrial Revolution, and Waltham was an early center for the labor movement. Home to Brandeis University and Bentley University, the city is now a center for higher education and hosts service and manufacturing powerhouse Raytheon Technologies. Waltham has been called "watch city," as the Waltham Watch Company, the first company to make watches using an assembly line, opened its factory in the city in 1854. The company closed in 1957, after making more than 35 million watches.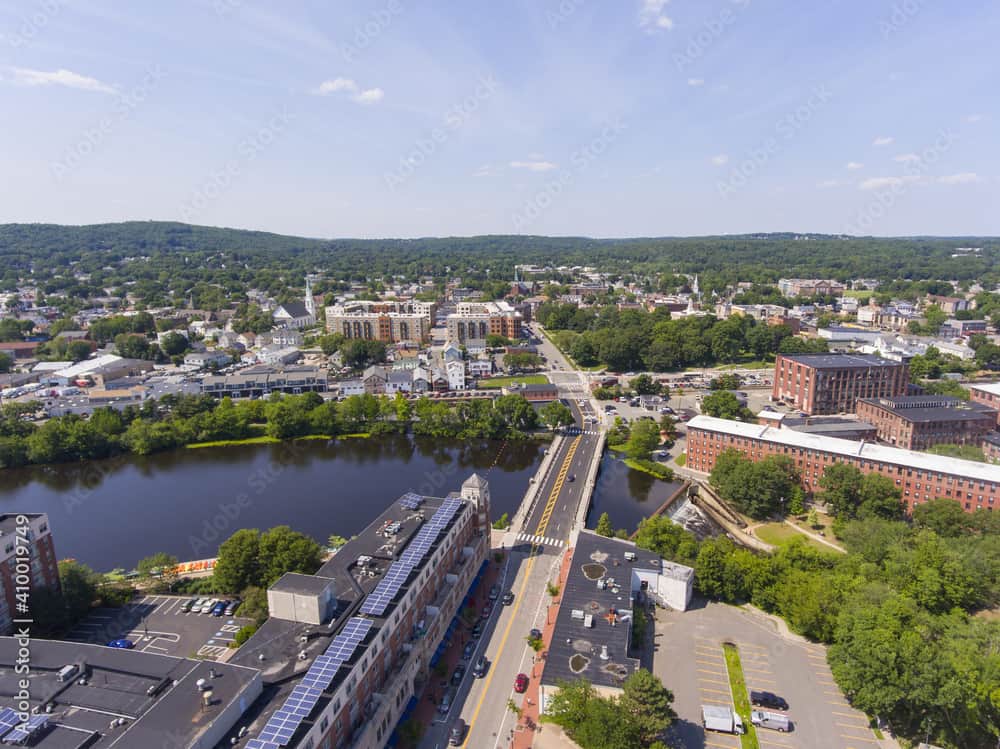 Waltham, MA, Office Space & Commercial Real Estate Market Summary
(data from Links – Waltham Chamber of Commerce; Waltham, MA | City History, Famous Residents, Transportation (bostonusa.com); http://www.city-data.com/city/Waltham-Massachusetts.html)
Home of the first integrated textile mill in the United States and located only 9 miles outside of Boston, Waltham now attracts successful global high-tech companies; large local businesses; entrepreneurs, start-ups, and smaller businesses, and non-profit organizations. Business in Waltham covers a range of economic sectors, including professional, scientific, technical services; educational services; health care; finance; and retail.









2022 Waltham, MA Commercial Office Space Inventory Statistics
There is 18,117,513 square feet of office space
The average annual cost to lease office space in Waltham is $40.46 sq.ft.
There are 46,777 employed in Waltham
| | | |
| --- | --- | --- |
| 50k to 100k Sq.Ft. | 1,815,183 Sq.Ft. | 11.22% of total office |
| 100k to 500k Sq.Ft. | 12,328,845 Sq.Ft. | 76.21 % of total office |
| 500k to 1M Sq.Ft. | 2,033,485 Sq.Ft. | 12.57% of total office |
| | | |
| --- | --- | --- |
| Class A | 7,894,931 Sq.Ft. | 48.8% of total office |
| Class B | 6,779,798 Sq.Ft. | 41.91% of total office |
| Class C | 338,284 Sq.Ft. | 2.09% of total office |
Waltham, MA Census Data Highlights
As of the census in 2019-2020, there were 167,597 people in 23,891 households in the city. The per capita income was $44,977 with a median household income of $95,964. The median age in Lowell is 34.3 with 51.7% female. There are 25,293 housing units with 57% of those being multi-unit housing. The median value of owner-occupied housing was $672,400.
23,891
Total Number of Housing Units
The Boston-Cambridge-Newtown-NH Metro Area: 1,985,813
Massachusetts: 2,928,818
Percentage of Housing Units Occupied
Percentage of Renter Occupied Units
50% of units are owner occupied
Percentage of Multi-Unit Structures
Other types of structures: Single-unit, mobile home, boat, RV, van, etc.
Year moved in, by percentage of population:
91.4% of Waltham residents graduated from high school with 52.5% having a bachelor's degree or higher. Veterans living in town make up 2.9% of the population. 26.6% of residents were born outside of the US.
Additional Statistics About Waltham:
Civilians in the labor force age 16+ – 697.2%
Population per square mile – 4,763.4
Land area in square miles – 12.73
US Senators Elizabeth Warren & Ed Markey
Residents who are US citizens – 73.4%
Average commute time into Boston 25.4 minutes
Top occupations in Waltham:
Management – 10.7%
Office & Administrative – 10.5%
Business & Financial Operations – 7.95%
Sales – 9.23%
Education – 8.27%
Food Preparation & Serving – 4.63%
Health Practitioners and Support – 10.71%
Computers and Math – 8.37%
Other – 29.64%
Commercial Laws & Regulatory Resources
The following links are some helpful resources to be aware of when planning to open a new office in Waltham. Be aware of zoning, permitting, exterior design guidelines, and more.
Burlington
Somerville
Brookline
Newton
Needham
Dedham
Norwood
Lowell
Watertown
Braintree
Quincy
Boston
Woburn
Natick
Framingham
Watertown
Frequently Asked Questions
Do you offer new and used office furniture?
Yes, we carry over 150 lines of new furniture, while used furniture is purchased on a case by case basis. 
What is the cost to get my product delivered?
Delivery costs are calculated by our installers based on many factors: the amount of product being ordered, the location to which it is being delivered, whether or not the building has a loading dock or an elevator, whether the building is union or non-union, and if the delivery can be done during regular business hours or if it needs to be done on overtime.
Because each job is different, it is best to call and get a quote from one of our knowledgeable salespeople. (Note that because of the complexities involved, getting a quote may take a few days.)
What is the difference between Benching and Cubicles?
As a general overview, cubicles are panel-based workstations that provide the most privacy from other employees; benching has either no or minimal panels and provides an open-style row of desks meant to encourage collaboration.
Cubicles can come in many sizes and configurations depending on the client's needs. Panels come in 39″, 47″, 53″, 67″, and 85″ heights, comprised of fabric, glass, and whiteboard finishes.
Benching or desking is typically used in smaller workspace configurations and can measure anywhere from 3′ to 7′. If privacy is needed, privacy screens with heights of 8″ to 24″ can be added.
What is the process for ordering office furniture?
We often get questions about the process of selecting and ordering new workstations or other significant office purchases. To help envision the process, we've outlined our basic steps:
We first suggest that our clients take a look at the examples on our website to help them get an idea of the systems they would like to see in their space, offering to answer any questions or make suggestions.
We then communicate with our clients to get a full list of their furniture and accessory needs based on the types of work that is being done in each area. After this discussion, we request a scaled CAD plan of the space in order to test fit and lay out the discussed furnishings. This process allows us to make sure the furniture will fit before it is purchased. Often during this process we will go to the site and perform field measurements to confirm the client's floor plan.
Once the layout is complete and has been approved by our client, we will create a 3-D visual to help visualize the furnishings within the space. Clients next select their choices of fabric, paint, and laminate colors.
After all of the details have been ironed out, we send an official detailed quote to the client, which needs to be signed and returned before the order can be placed with our manufacturers. We require a 50% deposit on all orders.
After the furniture is ordered, it typically takes about 3-4 weeks, depending on what was ordered, to reach our installer's warehouse. We will then call and schedule an install date for that week. Upon completion of successful installation, the client will be invoiced the remaining balance.
You may find it helpful to review our Helpful Tips for Office Moves and Installation & Purchasing Office Furniture.
What is a Privacy Screen?
Privacy screens (also known as privacy panels) are used as dividers between workstations to define boundaries and give employees both privacy and improved acoustics. They can come in fabric, lexan glass, laminate, and whiteboard finishes, and are available in many sizes to fit almost any workstation.
Depending on the client's needs these screens can be placed on top of or in between work surfaces, and even on top of cubicle panels. See examples of each on our benching page.
What is Sound Masking, and how can it help my office?
Sound masking is the introduction of an unobtrusive background sound similar to airflow that reduces distractions by making human speech unintelligible. (This does not mean that you cannot hear the person talking.)
A typical installation involves using 3″ speakers in the ceiling and a small 7″ x 5″ control box in the area where you want more acoustic privacy. For more information, take a look at our sound masking page.
What is Seated Privacy?
Often in a benching-style office there is a need for some privacy between workers. Seated Privacy uses 12″ to 16″

upmount screens

to separate workers and provide a sense of privacy while employees can still see those around them.
Does office furniture and design affect productivity?
Yes, there are many studies on how a properly designed and outfitted office can enhance productivity.
How many chairs can you fit around a Conference Room Table?
A typical conference room chair is about 22″, and as a rule you should leave 4″ on either side of the chair. So, expect to leave 30″ for each chair. A general rule is:
Number of chairs = table size or circumference / (width of chair + 8″)
For example, if you have a 60″x 36″ table and divide each side by 30″, the 60″ side would allow 1-2 chairs and the 36″ side would allow only 1 chair, giving a total of 4-6 chairs at that table. Note: with round or oval tables you.
What are some new trends in office design and furniture?
Resi-mercial –  a hybrid incorporating residential and office furniture in the same setting, Open office and open collaboration office furniture. Hotel and office is another combination trend.