Conference Room Office Furniture
How to Choose Tables and Chairs Designing or Updating a Conference Room
When you are furnishing a new conference room, it is important to consider the needs of your team. In choosing furniture that is functional and proportionally appropriate for the space, your decisions will depend on both the size of your space and the number of people you typically host in meetings. Conference tables should be large enough to accommodate all attendees and include plenty of space for papers, laptops, and other materials. Chairs should be comfortable and adjustable. If possible, choose a conference table that can be divided into sections so that smaller groups can work independently. Finally, make sure to provide adequate storage space for materials and equipment.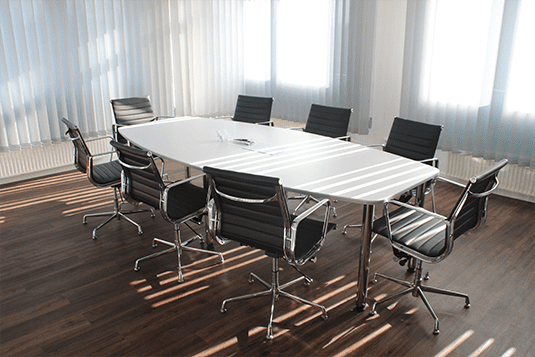 Conference Room Buyer's Guide
The Purpose of the Conference Room
Conference rooms come in all shapes and sizes. The traditional conference room is a large space with a table surrounded by several chairs that is used for meetings with guests or coworkers. Some conference areas serve solely as meeting spaces, while others can also be used for conference calls, training, job interviews, or company parties. To be flexible and efficient with their space, many companies choose to use conference rooms as multipurpose spaces. Investing in furniture that can perform different functions offers more options for using a conference room.
Conference Room Size and Measurements
When you are building out office space, take the time to measure everything with precision. From door and window placements to outlets and any extrusions you need to work around, multiple considerations affect how the furniture is laid out. Pay special attention to how furniture is positioned with respect to doors to avoid awkward entry and exit, especially when people are already seated.
Conference Room Design and Layout
The conference room is a space that must be designed with longevity in mind. For this reason, trendy furniture is discouraged. Instead, go for a cleaner and simpler design that won't become outdated and tired quickly.
Functionality is most important. Plan for a layout and furniture that ensures that people can use the room productively and comfortably. Thoughtful positioning of the conference room table, chairs, and the necessary electronics ensures that everyone can participate effectively.
It is important to keep in mind the overall goal of the space when you are decorating a conference room. Too much clutter or too many bright colors can be overwhelming and detract from the purpose of the room. Instead, try to create a calm and inviting atmosphere with a few well-chosen pieces. Consider adding real or artificial plants to give the space a finished and inviting look. Hanging artwork or installing storage furniture makes use of wall space. By focusing on your overall goal for the room, you can create a conference room that is both functional and attractive.
Natural window light can be an asset in a conference room, stimulating creativity and productivity. However, window treatments are sometimes needed to block exterior distractions or provide privacy. Consider how furniture is positioned in terms of natural light at different times of the day. People will avoid seats with the sun shining in their eyes.
Planning around a budget is important. Conference room tables are typically the biggest expense in office design and they vary in price. If you want a smart conference room, that technology is another investment to consider. To make the most of your budget, invest in durable, high-quality furniture that will stand the test of time.
A conference room table is the centerpiece of the room. Here are some table types to consider:
Rectangular and Square Tables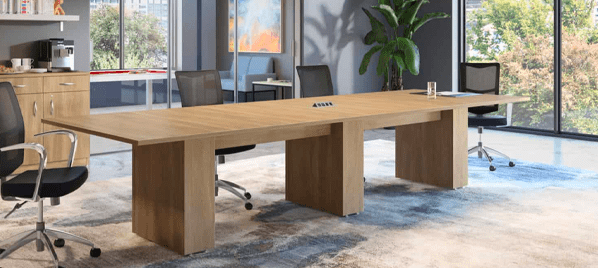 Rectangular and square tables work best in medium-to-large spaces. Some models come with extensions for adaptable configurations.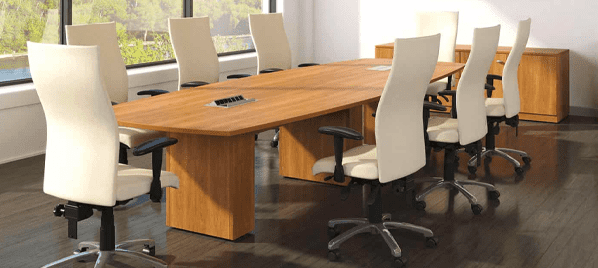 Racetrack tables have rounded corners that allow for more flexible seating arrangements and make it easier to move around the space.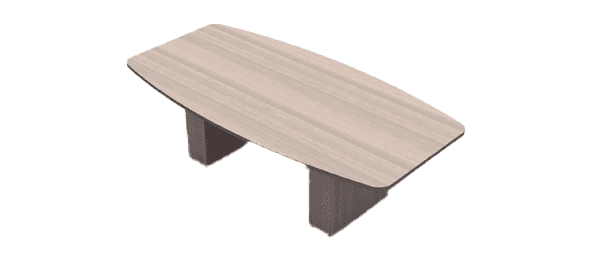 Boat-shaped tables are a blend of round and rectangular designs with wider rounded middle sections. This layout provides better visibility. When people on each side are not sitting in a straight line, it is easier to see people and screens.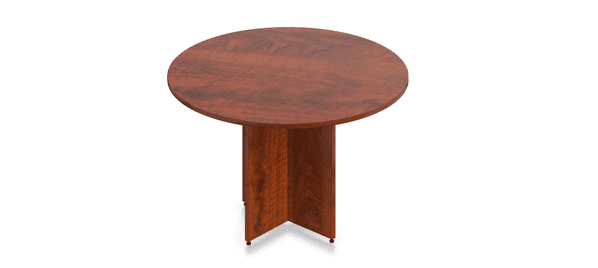 Round tables can save space or they can fit awkwardly in a conference room, depending on the room. It's particularly important to have a 3-foot walkway around the entire table to allow people to move around the room easily.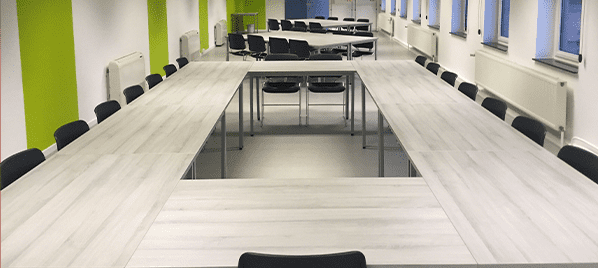 Modular tables can be adjusted for various needs. Some can be separated into smaller parts for breakout sessions while others can be rearranged into different sizes and shapes.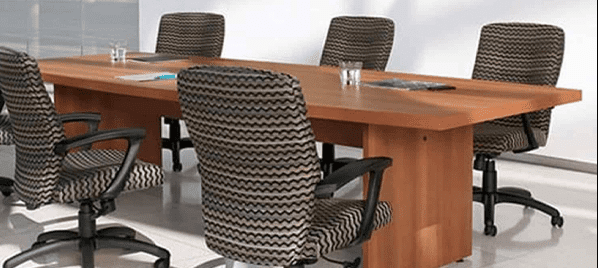 Boardroom tables are typically the largest and most high-end conference room tables.
To optimize your conference room setup, consider a power data module for tables of any shape. With a built-in power source, you can place and power projectors, phones, computers, and other electronic devices on the table surface without worrying about wall outlet placement and wire management.
Conference Room Table Size
The room's dimensions are the determining factors in furniture selection, especially for the table. A standard rule is that you should have 3 feet of space around any fixed furniture as a walkway.
When you allow for a 3' perimeter, a room that is 15' x 15' leaves a 9' x 9' space for furniture. In addition to a table and chairs, consider other conference room furniture you might need, including screens, podiums, whiteboards, and extra chairs around the perimeter.
Another standard rule is that the length of the table in feet translates to the number of people that can sit at the table comfortably. This rule works better for the most common table shapes: rectangular, oval, and boat-shaped tables. Image a 12' table with 12 people, 5 on each side and 1 on each end.
Standard table sizes are 8', 10', and 12', but larger tables, such as a boardroom table, can be 20' or longer.
In selecting conference room chairs, it is important to consider comfort, quality, fit, and price. Conference room chairs are often used by many people, so they should be adjustable for seat height and tilt tension. It is also important to consider how the chairs will fit at your selected table. With a wide range of styles available, conference room chairs can help define the look of your space.
Most offices need to balance the everyday use of a conference room with the occasional need for greater seating capacity. Can people wheel in chairs from desks or another location or do you need extra chairs that are stacked or nested somewhere? If the room has enough space, extra chairs can line the perimeter of the room.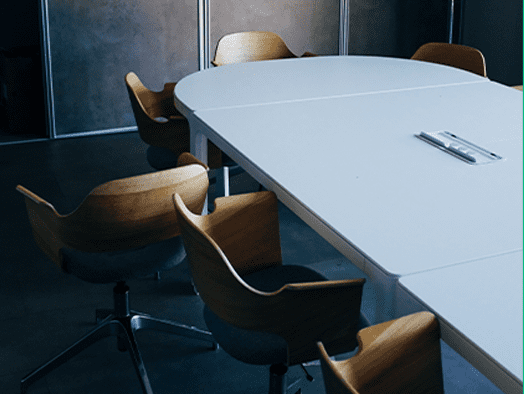 Conference Room Furniture Sets
Typically, conference room furniture comes in table and chair sets. Buying conference room furniture as a package ensures that the table and chairs fit well together and may help save money.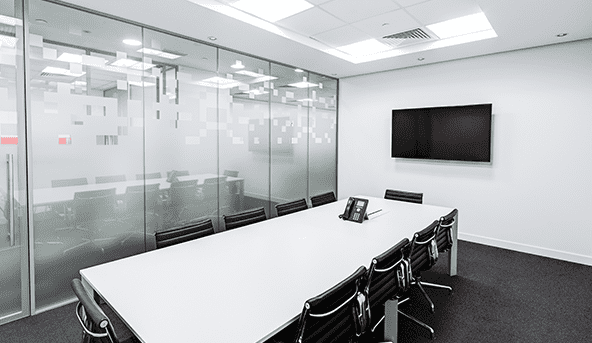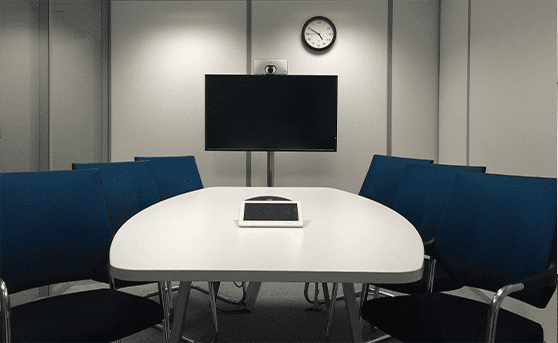 Conference Room Accessories
Whiteboards can be extremely helpful during meetings, as they provide a space for visual sharing and capturing ideas. If you are considering the placement of a whiteboard in your conference room, be sure to account for everyone's viewing angle. Ensure that everyone can see what is being written on the board.
When you are designing a conference room, it is important to consider any storage pieces that are needed. These pieces help keep the room organized and tidy by providing space for meeting materials. One storage furniture option is a credenza, which provides cabinet space for supplies behind closed doors as well as space for materials on top.
If you are looking for a way to organize and display a TV and other video components, an AV stand or media center is a necessary purchase. AV stands allow you to adjust the height and tilt of your screen to ensure that everyone in the room can see it comfortably. Media centers also include storage space, making them a great multipurpose option.
Frequently Asked Questions
What style conference room table works best in an office?
The style that works best in an office depends on factors such as the office's overall aesthetic, the room's intended use, and the preferences of the individuals who will be using it. However, a versatile and functional conference room table with a clean and modern design tends to work well in most office environments.
How wide is a typical conference room table?
A typical conference room table can range in width from 36 inches for a smaller table to 48 inches for a standard-sized table. However, larger conference tables can be as wide as 60 inches to accommodate more participants.
How do I choose the right boardroom table?
In choosing just the right boardroom table, consider the size of the room, the number of people it must accommodate, the desired style or aesthetic, and the functionality required. The shape of the table (rectangular, oval, round) and the need for features like built-in power outlets or cable management are additional important considerations. Ultimately, the right boardroom table should fit the space, facilitate communication, and align with the overall design and functional needs of the office.
What shape conference room table is most popular?
The rectangular shape is the most popular choice for a conference room table. A rectangular table offers a classic and versatile design that accommodates a larger number of participants and facilitates communication across the table.
How do I determine the size of the conference room table that works in my space?
First consider the dimensions of the room and the number of people you need to accommodate. There must be enough clearance around the table for comfortable movement and seating. As a general rule, allocating approximately 3-4 feet of space per person works best. Consider the shape of the table (rectangular, oval, round) and ensure that the table fits within the space without obstructing entrances or exits. Finally, consider any other furniture or equipment that will be in the room.
How many chairs fit around a 10-foot table?
A 10-foot table typically accommodates 10 chairs, with one chair placed at each end and four chairs on each sides. However, the number of chairs that can fit around a 10-foot table may vary depending on the width of the chairs and the desired spacing between them.