Joyce Contract Interiors – Office Cafeteria Tables, Cafe Tables and Chairs
Cafeteria Tables
Cafeteria tables are simple, but they are heavy-duty enough to withstand everyday wear-and-tear. Cafeteria tables are not like the long, folding tables you remember from high school! They can be modern and sleek to fit in with the aesthetic of your office. Cafeteria tables can seat any number of people to encourage relaxation and camaraderie. It's becoming common to add power to cafeteria tables to allow employees to charge their devices during break time. When you are choosing a cafeteria table, there are many things to consider, including material, height, shape, and size.
We also offer a wide selection of tall stools and cafeteria seating. Contact us if you have any specific needs for your office cafeteria area.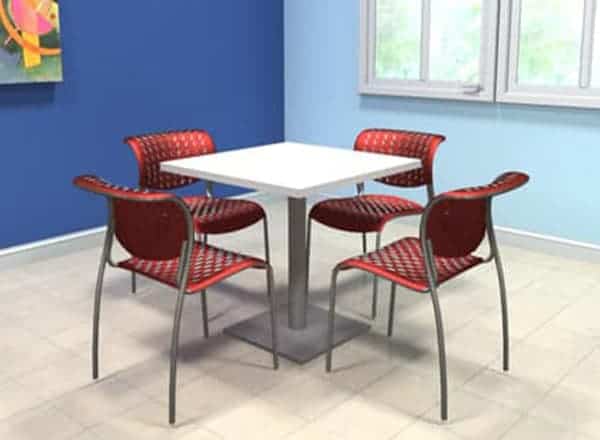 Cafeteria Table Material
Cafeteria tabletops are made of a durable material that can combat food messes and scratches. They are usually either a laminate or thick wood-like composite without at texture for easy cleaning. Through the years, legs and bases have often been made of metal, such as aluminum or steel, but now there is the option of wood legs or bases for a rustic look. If the legs and the base are metal, you can usually choose to make the finish an understated matte finish or an eye-catching polished finished.
Cafeteria Table Height
At one time, the standard height of a cafeteria table was 29" at seating height. Now, because of the variety of company environments, you can choose a different height to fit your leisure style and needs. Bar or counter heights at 36"H and 42"H, respectively, allow people to stand or sit on high-top stools. Lounge height, at 18"H, is for more casual seating areas, where the table is low enough to put your coffee down and lay back on lounge furniture. Many offices choose to have tables of several different height to better accommodate everyone's preferences.
Cafeteria Table Shapes and Sizes
Selecting round tables for smaller, more focused congregation is no longer the only option for cafeteria tables. They can also come in a rectangular shape to fit more people around the table and create a more "dining room" vibe, which is homier than having to fit around a small table. Legs are no longer just posts with four feet for stability. There can also be four tapered legs, one on each corner, for a simple, elegant aesthetic or the table have can a thick, angled base for an industrial look. O-legs on each end of a cafeteria table can create a futuristic feel, perfect for biotech or technology companies.