Office Space Design Services
Redesigning Your Office Space – with State Requirements in Mind
"Is it possible with the current furniture I have?" Absolutely – Joyce Contract Interiors can help you take your existing office furniture and redesign it so that you can apply the 6′ of physical distancing required by the state of Massachusetts (and many other states). This is a cost-effective way to keep employees safe and healthy. Call us at 978-251-2226, or email us at design@joycecontract.com to see how our designers can help.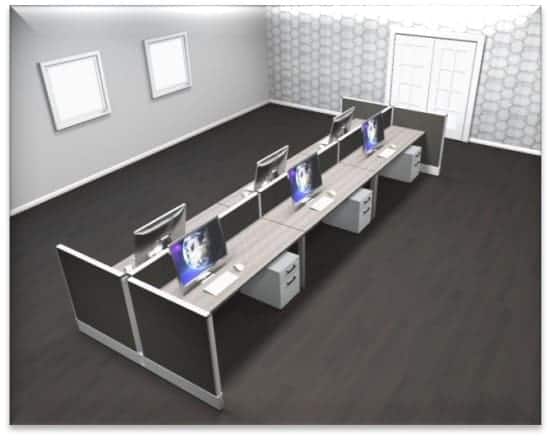 Typical benching-style workstations have people facing each other in rows, making it open and collaborative.
In this case, the client has:
A.Low 42" High Panels
B.24"x72" Worksurfaces
Mobile Pedestals
Existing benching unit with glass screens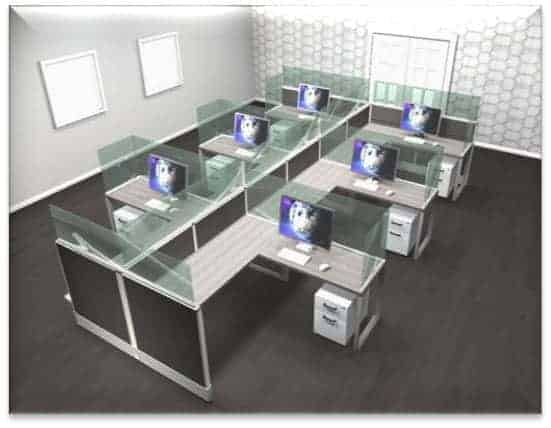 The proposed solution adds the following for more separation:
A. 24"x48" return to act as the new main worksurface so employees are no longer facing each other
B. 16" H clear glass or lexan on the panels to continue to encourage safe collaboration
C. 24" H clear glass or lexan on the worksurfaces for further separation of space
Our Office Design Process
After receiving a call or email, we set up a conference call for you to speak to a salesperson and one of our office designers to determine your office needs.
Once your needs are established, we will either come to your office and field measure your space or use a floor plan you provide to lay out the furniture in the most efficient way possible.
After the furniture selections are complete, one of our designers will work with you directly to coordinate finish selections based on your company's personal branding. Our designer will then provide 2-D (floor plan) and 3-D visuals to help you visualize your space.
After all decisions are made on the furnishings and finishes, we process your order and set up a date with our installation team, accommodating your schedule as much as possible.
The salesperson on the job will take on the role of project manager during installation to make sure that your questions are answered and that all of our agreements are fulfilled.
Joyce Contract Interiors also collaborates with other facilities professionals—including real estate and construction companies, architects, communications, and relocation companies—to form a complete project team.
Interested in Our Office Space Design Service?