Commercial Office Space Design & Redesign Services
Layout your furniture and create a floor plan with a modern office design that is optimized to meet the changing needs of your employees and workspace.
Feeling the impact of the pandemic-necessitated changes, businesses are trying to adjust to the new reality of the workplace. Many companies are looking for solutions to adapt to the hybrid work model and planning to redesign their offices to create more efficient spaces where employees actually want to work. Each business faces a unique challenge in designing a modern office space.
When it comes to office design services, there's no substitute for experience. JCI has more than 33 years of experience in the office furniture and design industry. We offer a wide range of services, from space planning to furniture selection. We work with you to create an office that is perfect for your business. Contact us today to learn more about our services.
It's easy to underestimate how complicated an office design or redesign project can be. A multitude of factors must be considered, including:
Lease
Project budget and lead time
Construction and permitting
Detailed measurements
Optimal spacing and flow
Office furniture
Rules, laws, and regulations for the building, city, and state
Furniture delivery and installation
Unpredictable product and labor lead times
Inadequate management of these considerations can lead to major project issues, such as going over budget, missing deadlines, or realizing, at the end of the project, that your new office design has significant unanticipated flaws. To avoid these potential pitfalls and to save time and money, hire an office design and furniture professional like JCI to act as your experienced partner, advisor, and furniture project manager.
Our Office Design Process

Step 1: Consultation Call
After receiving a call or email, we set up a conference call for you to speak with a salesperson and one of our office designers to determine your office needs.

Step 2: Proposal
Once we have established your needs and desired level of service, there are two possible next steps:
1.) If you only require design services, we provide a design proposal.
2.) If you need design services and furniture, we provide a design proposal. Note that when your furniture selections are made, 50% of the cost of the design proposal is credited back toward those costs.

Step 3: Obtain Measurements and Preferences
When the proposal has been accepted and CAD has been provided to us, we either come to your office and field measure your space or use a floor plan you provide to lay out potential furniture pieces in the most efficient way possible. We also use this time to obtain more information about your ideas, dreams, needs, and limitations for the furniture and the space.

Step 4: Create Floorplan
Once design and furniture needs are known, a floorplan decision is made. Our designer will then provide 2-D (floor plan) and 3-D visuals to help you visualize your newly designed space. Any necessary changes will generate revised 2D and 3D visuals.

Step 5: Furniture Selection
Next is the furniture-selection process. After furniture choices have been made, one of our designers will work with you directly to coordinate finish selections based on your company's personal branding.

Step 6: Final Quote
After all decisions are made about furnishings and finishes, JCI will provide a quote for the furniture stage of the project . When the quote has been accepted, we process your order and set up a date with our installation team, accommodating your schedule as much as possible.

Step 7: Installation
A JCI salesperson will take on the role of furniture project manager during installation to make sure that your questions are answered and that all of our agreements are fulfilled.
Joyce Contract Interiors also collaborates with other facilities professionals—including real estate and construction companies, architects, communications experts, and relocation companies—to form a complete project team.
Of course, budget is one of the most important factors to consider in the design of an office layout. Depending on how much money you have to work with, you may need to get creative with your design. If you are working with limited funds, try to find ways to make your existing office space work for you. This may mean utilizing modular furniture or looking for second-hand furniture options.
Cornell University's Ergonomics Laboratory found that small investments in ergonomic improvements can boost a company's productivity by 12%. If you're a start-up, you may not be able to address all of your office design needs at once, so focus on the most critical areas for your employees and business.
Hiring a professional office designer can help you maximize your budget. A professional can help you make the most of space and find creative solutions to common design problems. JCI's professional office designers provide this service, incorporating your individual needs and preferences into the quality design and recommendations prepared for you. We offer different price points for various budgets, guaranteeing the quality of our work and offering warranties. Contact us for more information.
Office design is the process in which the visions of the employers, owners, or company management are developed into a functional and decorative space that presents the company's brand and culture. The ideal design and layout are created through an optimal mix of aesthetics, worker productivity, and comfort needs, all of which reflect company culture. The design process should take into account the goals, culture, and branding of the business, the needs of the employees, and the furniture that will bring it all together.
What Is an Office Layout / Floor Plan?
An office layout, also known as a floor plan, creates an optimal workflow for the office space. To create a space in which people work and collaborate productively, the focus should be on flexibility and balance. You need:
Most importantly, plans that organize the office furniture and, therefore, the people in the office, to meet business goals.
A layout designed to be utilized flexibly that can be changed and adjusted to reflect evolving needs.
A layout style that balances appeal and utility in harmony. Balance may be achieved in a layout that includes zones that reflect wants, needs, tasks, and production goals.
What Are the Main Objectives of Your Workspace Design?
An office designer cannot create a workspace without first considering the primary objectives the space must accomplish. The office is where your team spends most of their time, so it should suit their needs and help them be as productive as possible. While, in the past, employees in individual cubicles were the standard for office layout, now the focus is on how effective and efficient the workplace can be. Some of the most common objectives we help our clients achieve with office design include:
Improve employee productivity
Encourage collaboration
Create a comfortable and enjoyable work environment
Reflect company culture
Maximize the use of space
Allow privacy when needed
Accommodate technological needs
Cost-effective design
Reuse of existing office furniture
Considerations for Your Office Layout
Sometimes achieving the goals of effectiveness and efficiency requires creative thinking. To create a productive and positive work environment, you must optimize day-to-day office space to fit everyone comfortably as well as include meeting rooms for employee-client interactions. Key factors to consider:
Type of Business
The type of business you run helps determine the office space you need. For example, businesses such as law firms require conference rooms for client meetings and private offices for attorneys. Start-up tech companies may need open workstations and a few small meeting rooms.
Size of Office Space
The size of your office space will determine how you lay out the room. If you have a large office, you will have more flexibility with your layout than if you have a smaller space. However, a small office can have an effective and efficient layout!
The Number of Employees
The number of employees is one of the most critical factors in office layout decisions. You need enough workstations and meeting rooms to accommodate your full staff, as well as space for common areas such as a break room, socializing spaces, and a reception area.
Typically, the work done by employees in the office space will determine the best office layout for your business. However, company culture, business size, and other factors also contribute to this decision. Fortunately, manufacturers have designed standard office layouts that can serve as starting points for determining an office layout. A closer look at each of these layouts reveals their pros and cons and helps you see how they may address the various unique needs of your business. They include: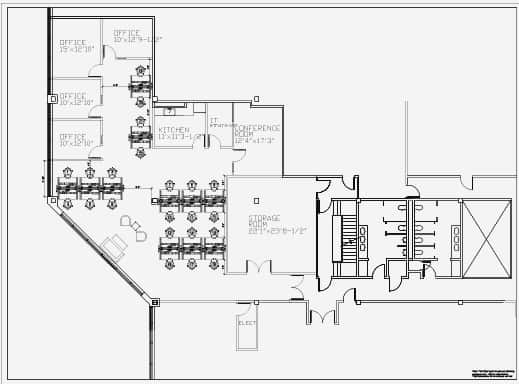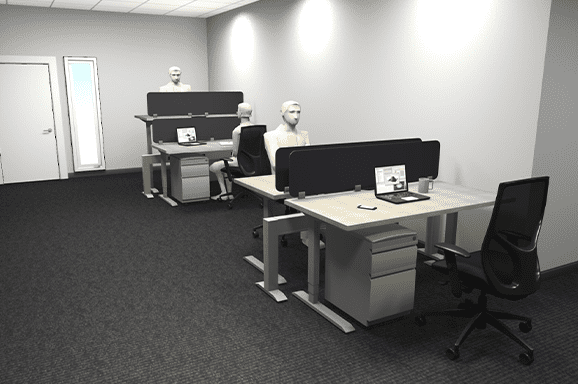 The open office layout has been the most popular layout over the past 10-15 years, particularly before COVID was a factor. The typical office used fewer cubicles and private individual offices in favor of more open and collaborative workspaces. In the open office layout, walls and dividers are used more sparingly to separate workstations. Instead, desks may be organized, or stacked, side-by-side. Desks may even be replaced with worktables or benching that can fit more workers into the available space.
While it may have been the most common layout option, the trend toward open offices is now starting to move back the other way, at least partially because of COVID.
Pros:
Encourages team collaboration and communication
Flexible seating arrangement that employees can reconfigure
Cost reductions that also save space
Cons:
Distractions/noise level
Less privacy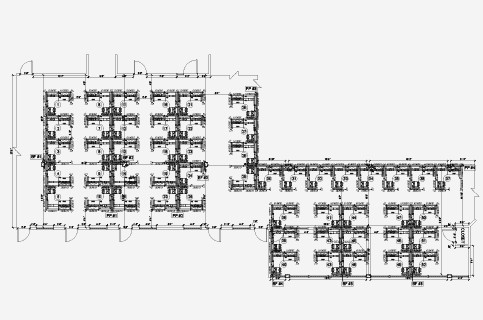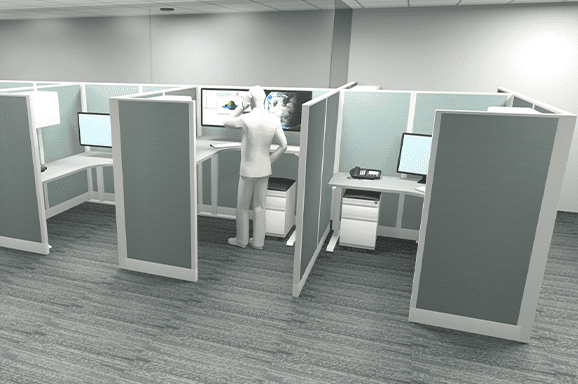 The cubicle layout is another typical workspace design. Before the open office layout became popular, most offices relied heavily on cubicles where each employee had a semi-private designated personal workspace. In cubicle-based arrangements, workspaces are separated by partitioning walls to create a cube shape. The vertical space created by the partition walls can be used for shelving, lighting, and more. "Cubicles" are often organized into rows and blocks. Typically, various departments within a company have their own areas within the office space; all employees of a department would have cubicles in the same block.
Pros:
Very economical use of space
Personalized workstations
Provides more privacy when needed
Cons:
Visually obstructed
Hinders communication and collaboration between employees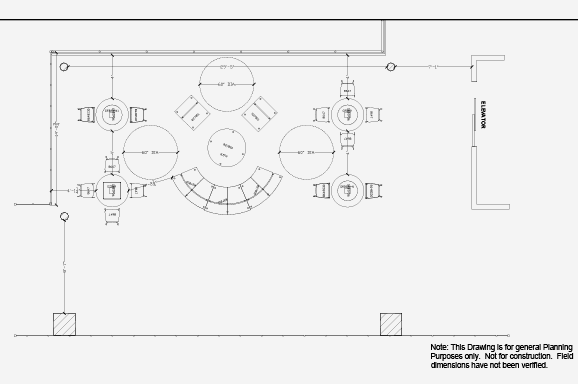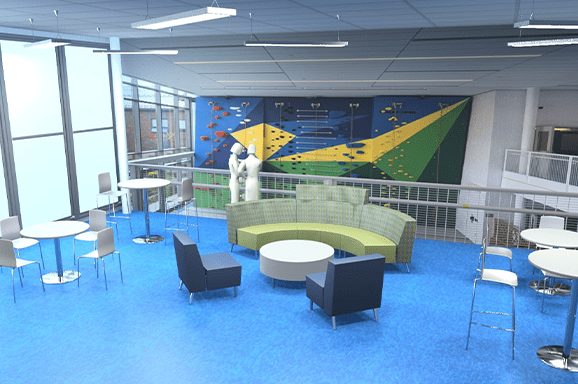 Self-employed individuals or employees who do not work within commuting distance of the office but still need office space may opt for co-working space that provides an office-like setting and a workstation. A co-working office is often privately owned and space is rented to individuals or companies for use. The design of these offices requires more flexibility, as it must consider a wider range of needs for people who use the space.
Pros:
Practical option for freelancers or start-ups
Increases chances of networking opportunities
No long-term lease needed
Cons:
Many distractions
No customization options available
May not serve the collective culture of the company as it grows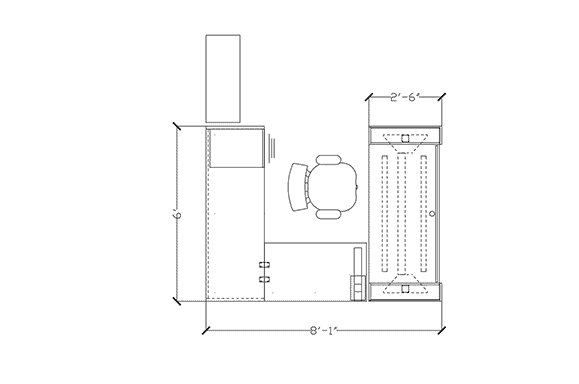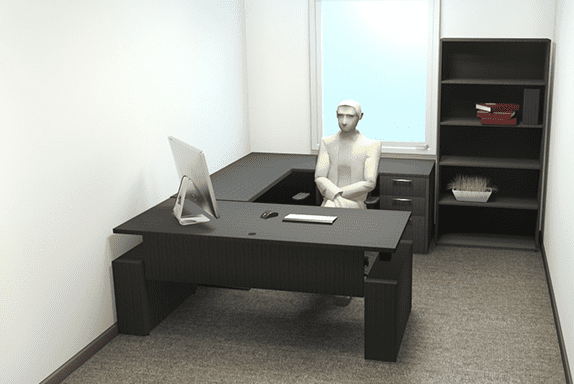 Within an office space, a private office is a room that is most often used by only one person, although sometimes multiple managers share a private office. It usually has a door for privacy, walls for separation from the rest of the office, and furniture chosen for comfort. Usually, members of a company's senior management have private offices.
Pros:
Offers more privacy for employees who manage people and hold many private meetings
Ideal for high-concentration tasks and projects
Provides a more comfortable space to satisfy senior employees
Cons: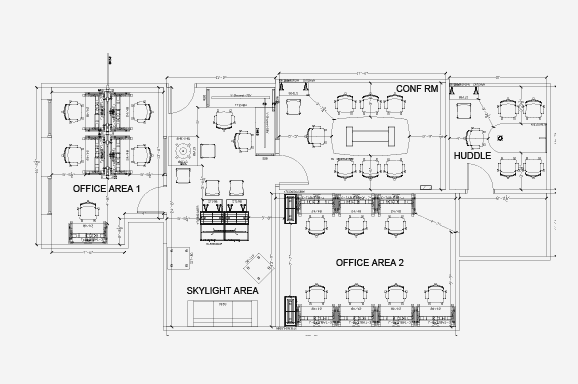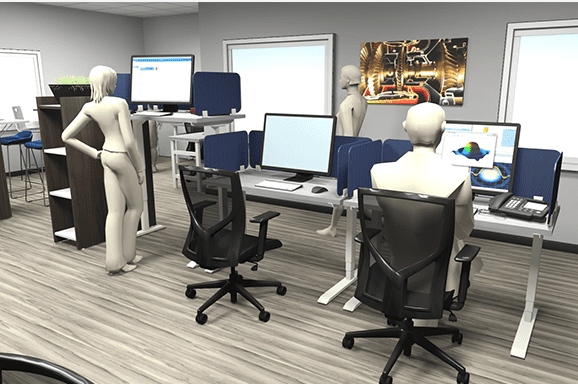 Before COVID changed everything, a "hybrid office layout" was an office design that blended elements of an open office with a cubicle layout to create a hybrid of the two types. Today when you say "hybrid" in the context of an office, people are usually referring to the modern hybrid work model where employees work from home some days and go into the office other days. Both concepts are important for office design.
A hybrid office layout that combines some private cubicle workspaces with elements of an open office layout is becoming popular. The hybrid layout aims to maximize the pros of the open and cubicle layouts while minimizing the cons of each. The primary goal of this layout is to open up space for collaboration while also providing plenty of private workspaces where employees can focus in a less-distracting environment. The key is to find an optimal balance of huddle rooms, phone booths, collaborative workstations, and private workstations (cubicles) to make the employees as productive and comfortable as possible.
The hybrid model allows for design choices that may change over time, even daily. It's important to note that technology innovation, especially technology that accommodates remote work and virtual collaboration, has favored the hybrid office layout and allowed for space savings. The hybrid layout accommodates how businesses are adapting the modern office layout based on the new hybrid work model. With some employees working from home at least a few days per week, offices do not need as many assigned workstations. The hybrid office layout is an excellent option for businesses with many employees on a hybrid work schedule.
Redesigning for the Modern Hybrid Office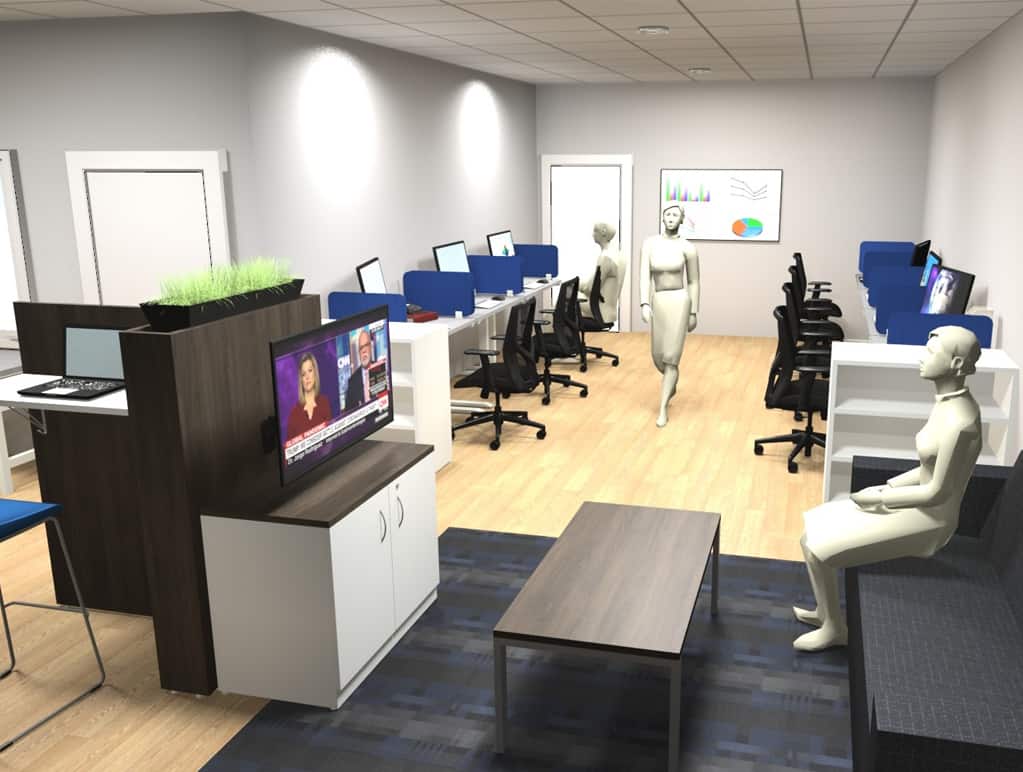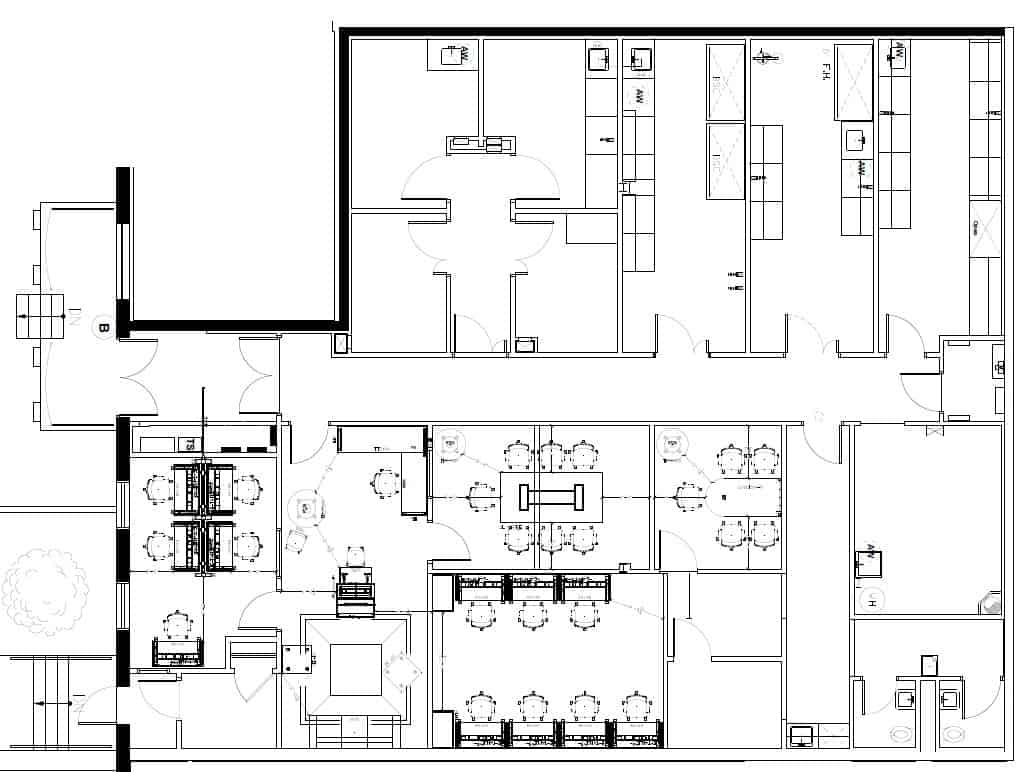 We are currently at an all-time low in terms of office space occupancy and demand for leasing office units. We are also witnessing a low likelihood that people are heading into offices every day (despite the peak of the pandemic passing. The current environment creates difficult decisions for many companies. Redesign the office, downsize the office, get rid of the office completely, or leave the office as-is? With three of these four of those approaches, companies are turning to office designers and furniture dealers to help them create solutions.
Hybrid workplaces appear to be the corporate office future for the large percentage of businesses that offer a hybrid-remote work schedule. Some companies are completely rethinking the idea of a permanent office; some have even decided that the purposes of an office are to socialize and collaborate. The thinking is that employees come into the office more to collaborate with coworkers than to just sit at a desk doing head-down work all day. It's important to design areas, or zones, where people can come in and work together collectively in addition to zones where distraction-free work can occur. The aim is to design a hybrid office where people want to come back to as opposed to have to come in.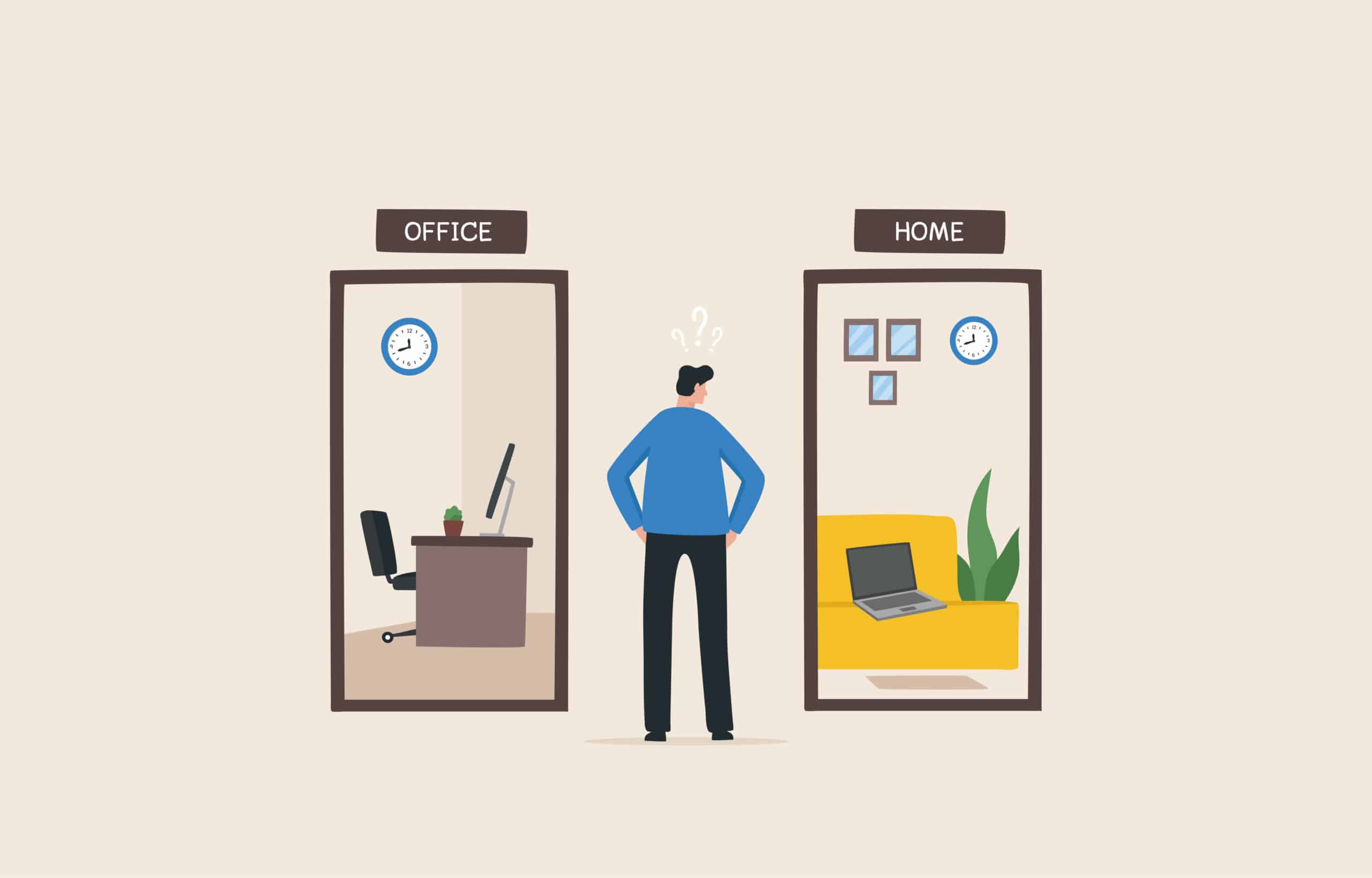 Many companies are still trying to figure out what working arrangements and office space layouts will look like. The bigger question may be: Can companies get people to come back into an office at all? The goal is to lure workers back in strategically; mandating a return can lead to an exodus of top talent.
There are many different ideas in circulation in terms of what a hybrid workspace looks like. However, one characteristic ties many of the approaches together: offices that are more flexible and changeable than offices have been typically. These offices may need to undergo additional change next year as businesses continue to adapt! Allowing for flexibility, modular office furniture is becoming increasingly popular in hybrid office designs. Another emerging approach is making the office more inviting by incorporating resimercial design and furnishing elements.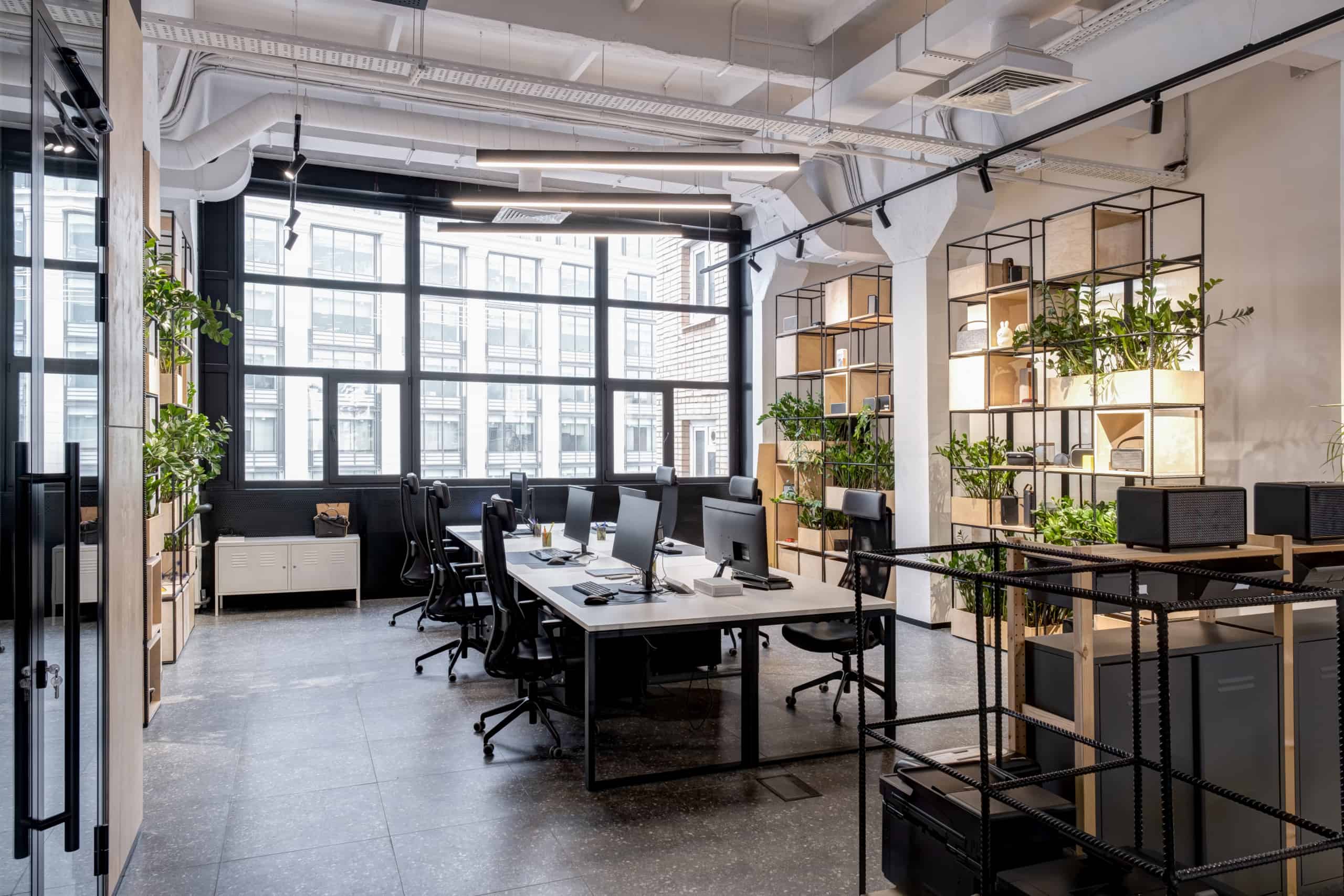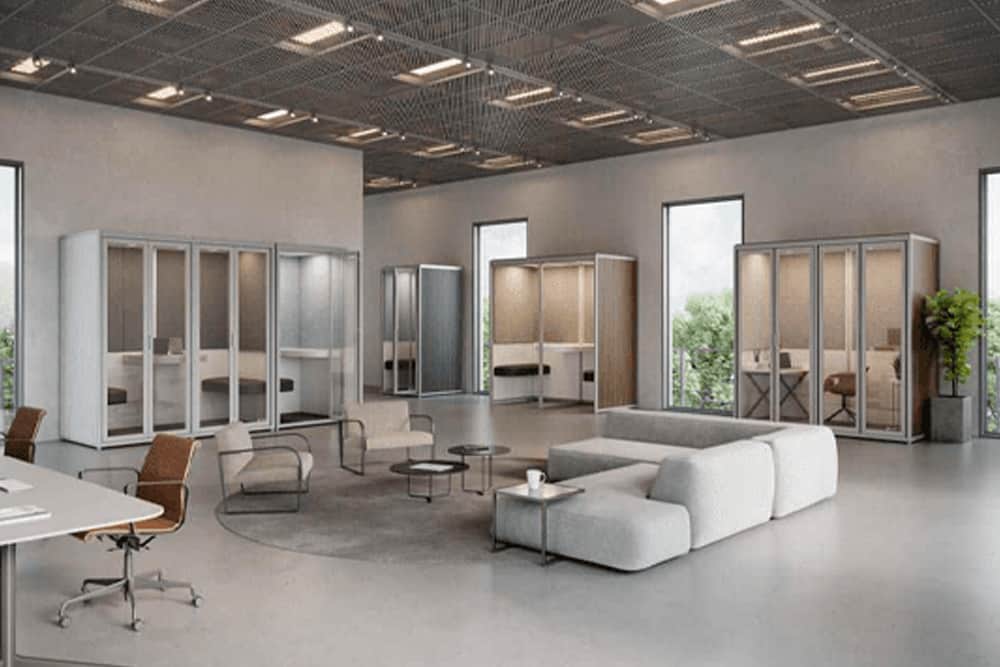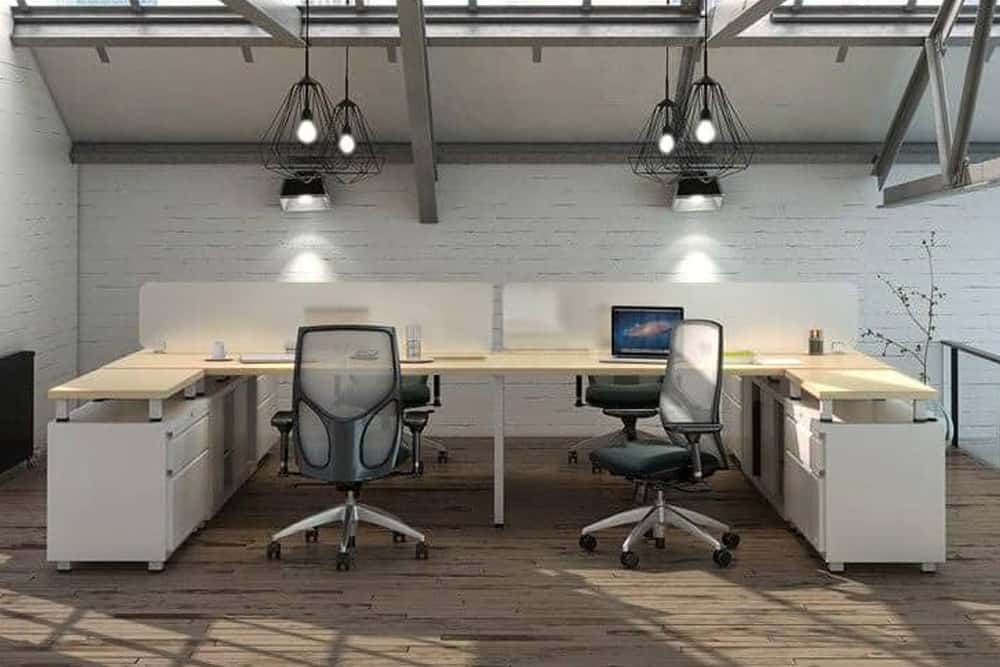 Resimercial furniture is softer and more comfortable than typical office furniture. These pieces make it seem as though employees are in a living room, with color and design details that try to make a workplace feel more like being at home or in a lounge or reception area.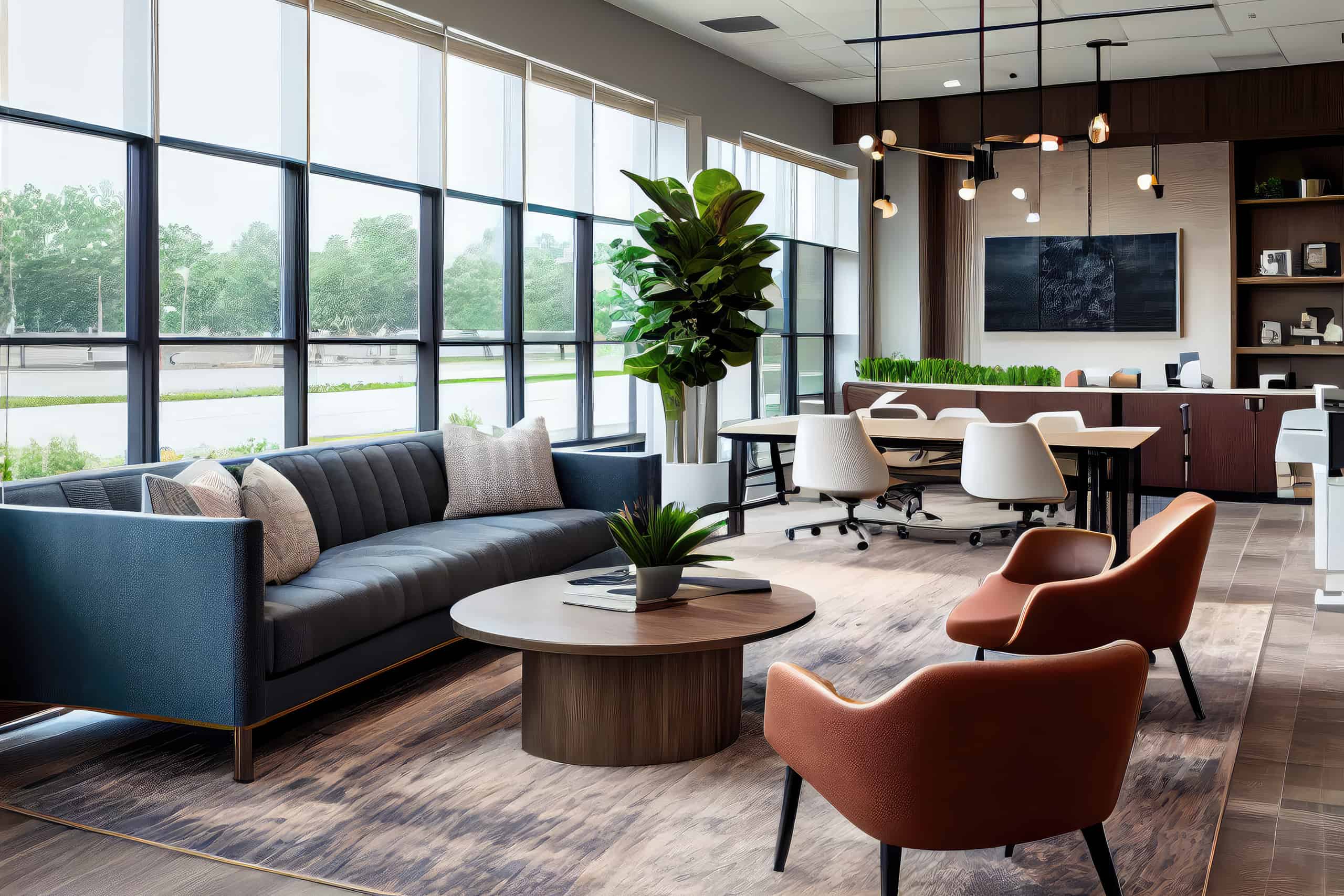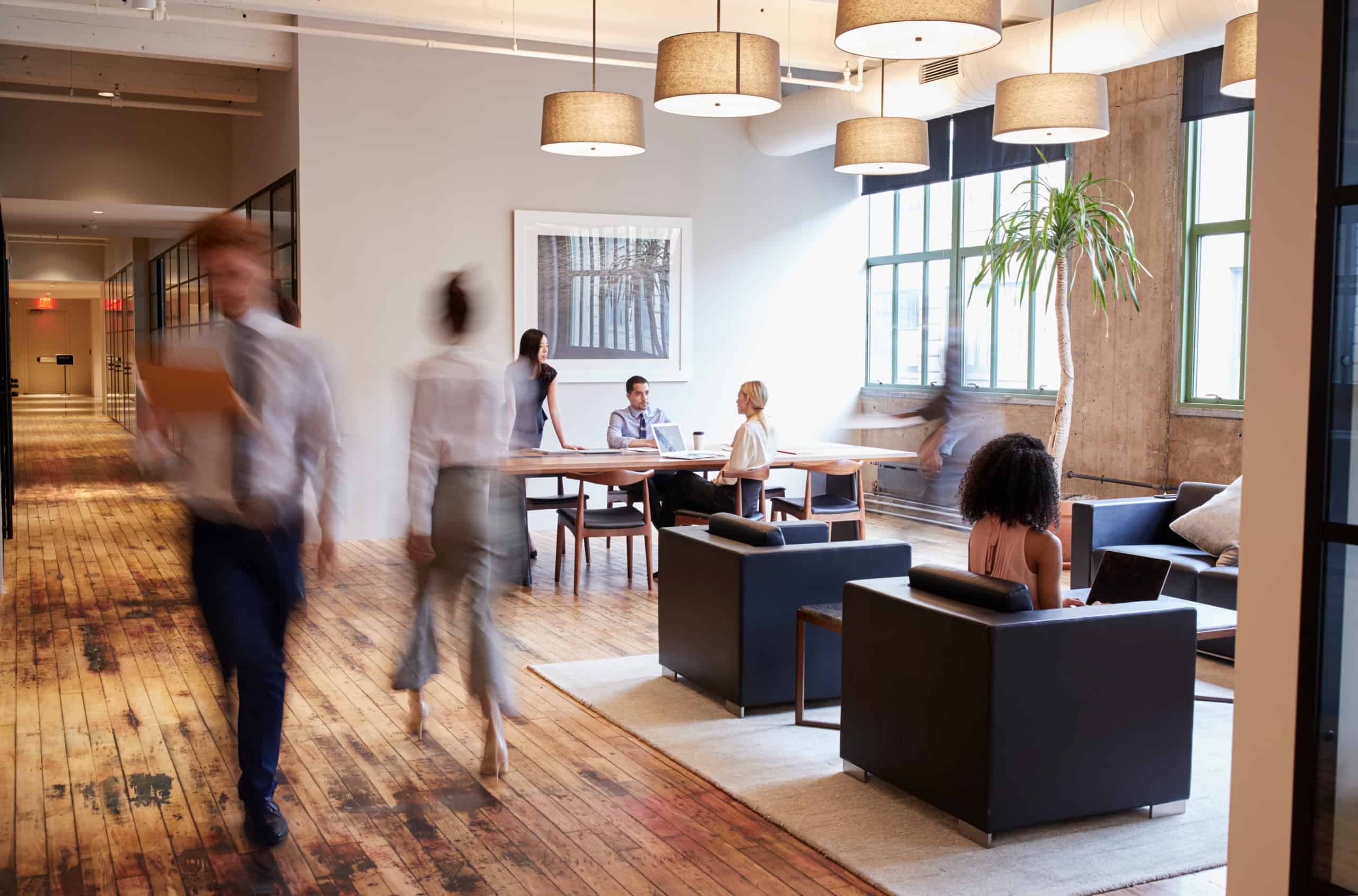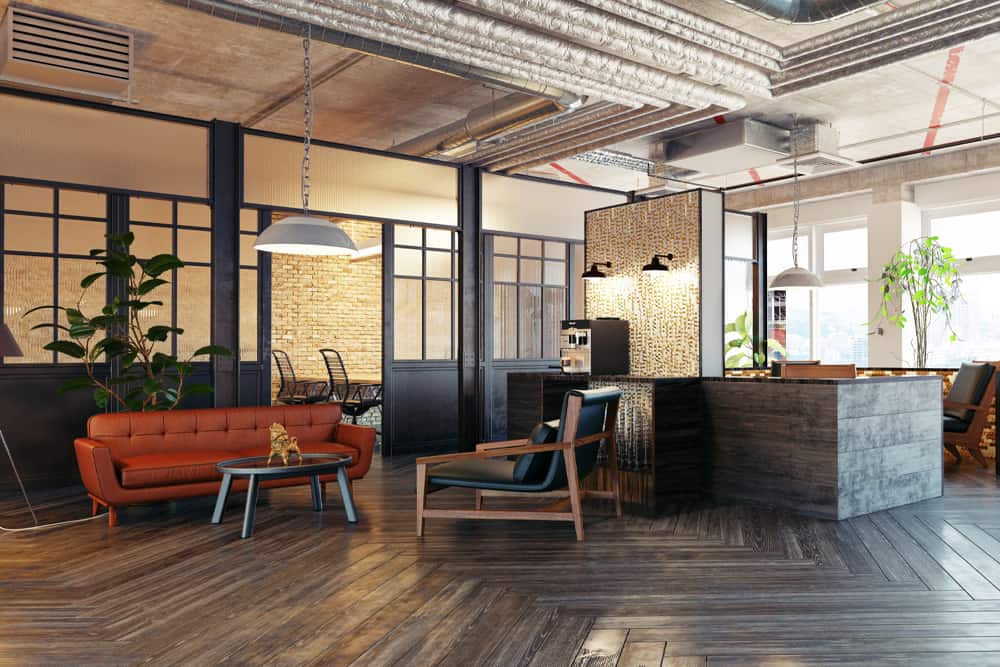 The Work Modes of Your Employees
Finding ways to facilitate workplace productivity is crucial in designing an office layout. Employers should consider specific "work modes" that employees are in throughout the workday. These
work modes include
:
Focus
Employees who need to focus on their work without distractions are in a "focus" mode. In this mode, they need access to quiet spaces where they can concentrate on their tasks and focus for long periods. Design your office to include smaller cubbies and install sound-absorbing furniture options like wall panels, room dividers, and modular pods to accommodate this mode.
Collaboration
Employees who need to collaborate with colleagues to complete projects successfully and on time are in "collaboration" mode. If your business has big, segmented departments, set aside separate "touchdown" areas for them, such as acoustic seating or carrels that can accommodate groups of three to five people.
Learning
To maintain a competitive edge, your employees must learn and develop new skills. When they are in "learning" mode, employees need access to comfortable spaces where they can focus on taking in additional information. To accommodate this mode, make sure to include private study rooms, small libraries, and rooms with furniture that facilitate formal and informal training. To save space and maximize office capabilities, use wall storage options for folding chairs, modular tables, and wireless tech mounts.
Socializing
Finally, when employees are in "socializing" mode, they need access to comfortable spaces where they can relax and unwind with colleagues. Consider creating socializing areas in your office where employees can take a break and recharge. These spaces could be anything from game rooms and fully-stocked kitchens to outdoor seating areas and balconies.
Tips to Help Create Your Best Workplace Design
Make a Plan
– Draw up a plan before making changes to your office. This plan should include your budget, a list of objectives, a sketch of your design, and a timeline. Once you have a plan, you will be able to stay on track and ensure that your office design project is successful. Get Rid of Furniture that Does Not Fit – One of the biggest mistakes companies make is hanging on to furniture that does not fit their space. If you have old, bulky furniture, get rid of it. Not only will old furniture make your office look cluttered, it can be an eyesore.
Take Note of Technological Requirements – In today's world, technology is a big part of most businesses. When you are planning your office design, consider the technological needs of your employees. These needs could include anything from computer monitors to Wi-Fi routers. Do not limit your tech needs to the present; consider future needs as well.
Variety Is Important – Create a space with different areas that allow employees to move around and find the space that best suits their needs. Consider spaces for private meetings, group work, and individual work. A truly flexible environment is comprised of different workspaces that can be reconfigured quickly to allow for various activities.
Include Your Employees – One of the best ways to create a successful office design is to include employees in the design process. After all, they are the ones who will be using the space. Ask for input and listen to suggestions; employees will have great ideas. Allow employees to arrange the furniture or decide how specific spaces will be used. Research shows that employees who have control over their workspace are more productive
Office Design Ideas & Inspiration
If you're looking for ideas or inspiration for your next office design project, explore the gallery below as well as our Projects page. Your office should be designed and furnished to meet your unique needs. The office layout and interior design professionals at Joyce Contact Interiors are standing by to help you with your next office design or redesign project.