Learn how Horsepower Technologies, a dynamic equine medical tech startup, partnered with Joyce Contract Interiors to build their ideal office

Horsepower Technologies Inc. ("HTI") is a Massachusetts-based startup dedicated to disrupting the $100B+ equine industry. HTI is commercializing a revolutionary product line that significantly reduces both the rehabilitation time and incidence of injury in sport-horses worldwide, and provides an innovative platform from which meaningful data about horse performance can, for the first time, be collected and analyzed. The company has successfully re-purposed existing human medical and material science advances, as well as existing sensor and data collection techniques and has re-purposed them to address an under-served and overlooked market. The company's first product, FastTrack™ launched this summer and has been successful with its early adopter base, a network of influential equine professionals.
Working out of an incubator space at the University of Lowell in Massachusetts, the startup recruited a team of top talent and began to develop products they believed could revolutionize the care and treatment of injured horses. In order to bring their products to market, however, the company required substantial expansion and a permanent office space. More importantly, they needed an office that would meet their demands and maximize their potential.
Horsepower's realtor referred them to Joyce Contract Interiors. The JCI team met with Horsepower leadership to discuss their goals and needs, and then set to work designing the office that would meet them. Here's how they did it.
Phase 1: Beginning the Design Process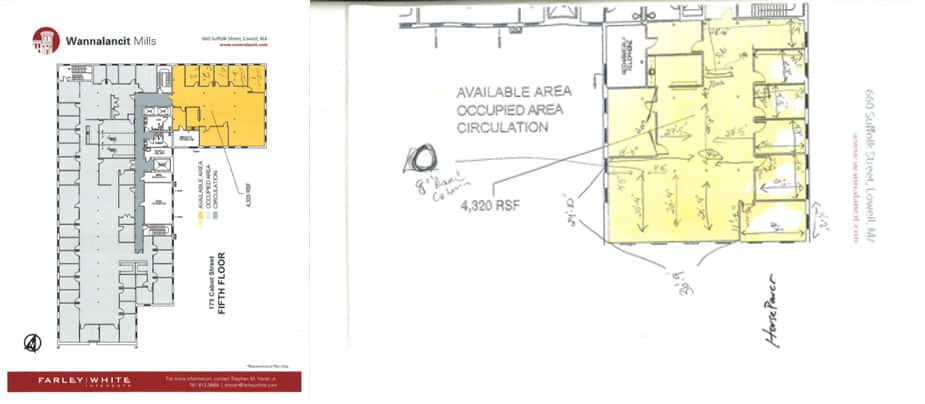 Initial Floorplan
The JCI team's first step was to meet with Horsepower leadership in order to determine their needs and goals. Horsepower's overall objective was to have an office that maximized productivity and attracted and retained top talent. They needed to build a workspace that would:
Facilitate the productivity goals of its employees
Keep employees happy and comfortable
Stay under their limited startup budget
Complete the process in 6 – 10 weeks
In order to design such a space, JCI consulted with the startup about the number of employees they needed to accommodate, and how many new employees they expected to take on in the near future. They also asked about what teams they had and what their needs were, how many private or collaborative workspaces they might need, as well as breakout spaces and meeting spaces, and IT needs. Finally, they asked Horsepower about what kind of brand they wanted to project and considered what aesthetic options would best reflect it.
Phase 2: Field Visit
After consulting with Horsepower about their overall goals, the JCI team visited the office location to measure the available space and take account of its layout. These measurements were crucial to developing design options that would meet Horsepower's needs, and an experienced furniture dealer like JCI brought just the right expertise and vision to conduct them.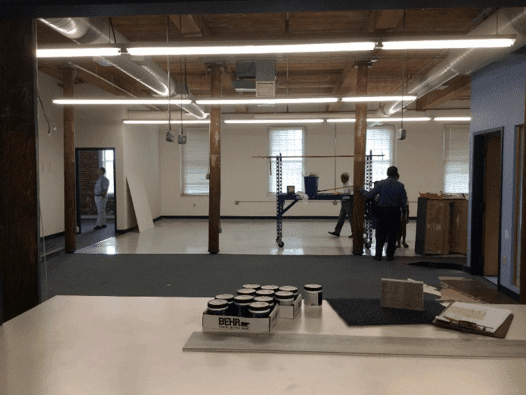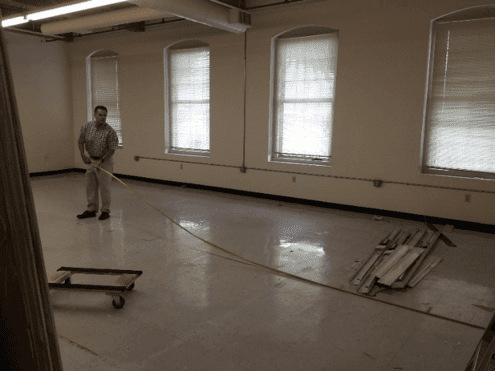 Before
Phase 3: Exploring Options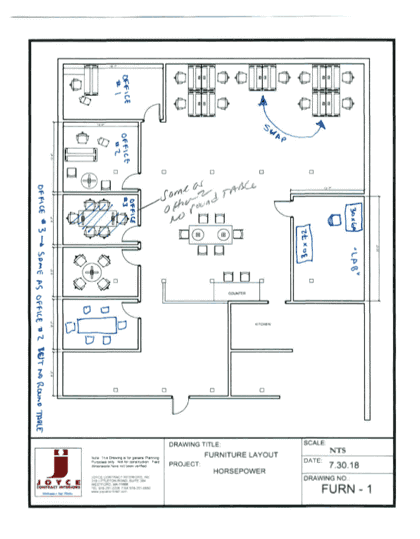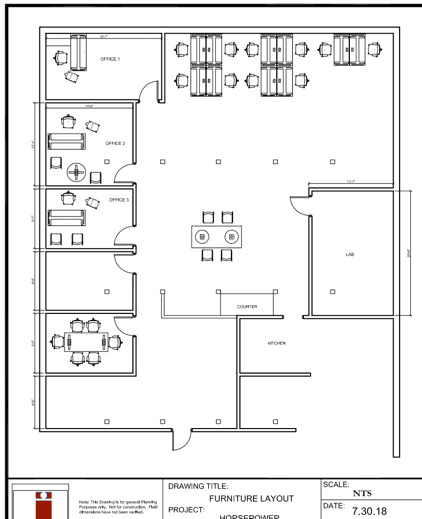 CAD Floorplan
After measuring the physical space, the JCI team was able to generate a few CAD floor plans that represented Horsepower's options. These plans took account of every detail, incorporated IT integration, and considered elements that would affect employee comfort, such as lighting and airflow.
Once Horsepower leadership had chosen their favored plan, the JCI team helped them to explore the various furniture items that would make their office a reality. They showed them samples and invited them to showroom tours, where they could assess the functionality and aesthetics of various items and determine which specific pieces would be ideal in their new office.
Phase 4: Purchasing
Once Horsepower had identified their desired furnishings, the JCI team went to work on ordering the specific items. They had the floor plan to guide them, but also had to consider fulfillment time, brand aesthetics, and budget. Fortunately, JCI had the resources to secure the required pieces within these constraints.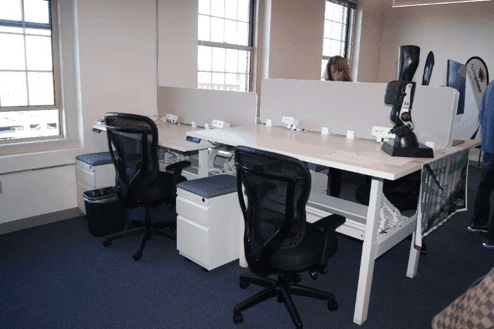 Phase 5: Delivery and Installation
With Horsepower's pieces purchased and ordered, JCI was able to manage all the logistical details of delivery and installation. This process included coordinating delivery times with building management and overseeing proper installation according to the floor plan, as well as IT integration. A final walk-through was conducted to ensure client satisfaction.

   After
Results
Horsepower moved into their new office under budget and well within the time frame they specified. Staff were pleased with their new workspace. The design optimized employee productivity, and the aesthetic projected the forward-thinking values of the company. When Horsepower required additional furniture to meet the needs of their quickly growing company, they returned to JCI with additional orders.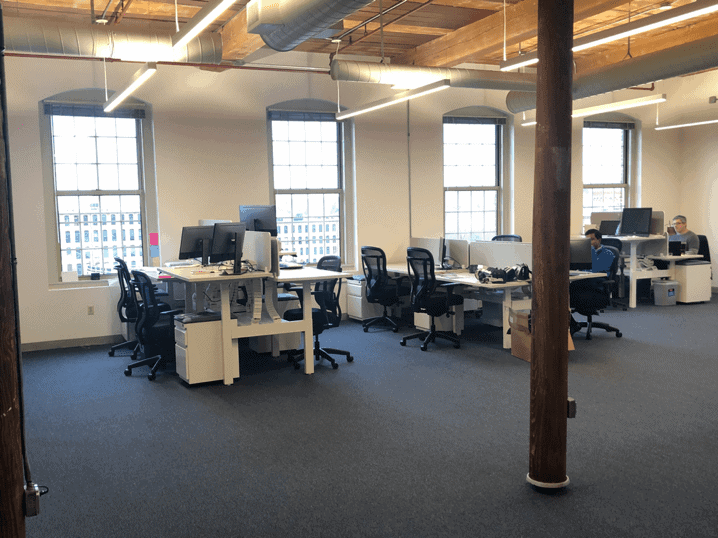 After