Looking for some inspiration to update your office but not sure what you are looking for? We have a wide variety of images below to get your creative juices flowing. Please keep in mind, these are custom made to order, so paint, laminates and fabric can be changed out (many times for no additional cost). Please call our office today and speak to a sales associated that can assist you. You can also send over a CAD plan to sales@joycecontracto.com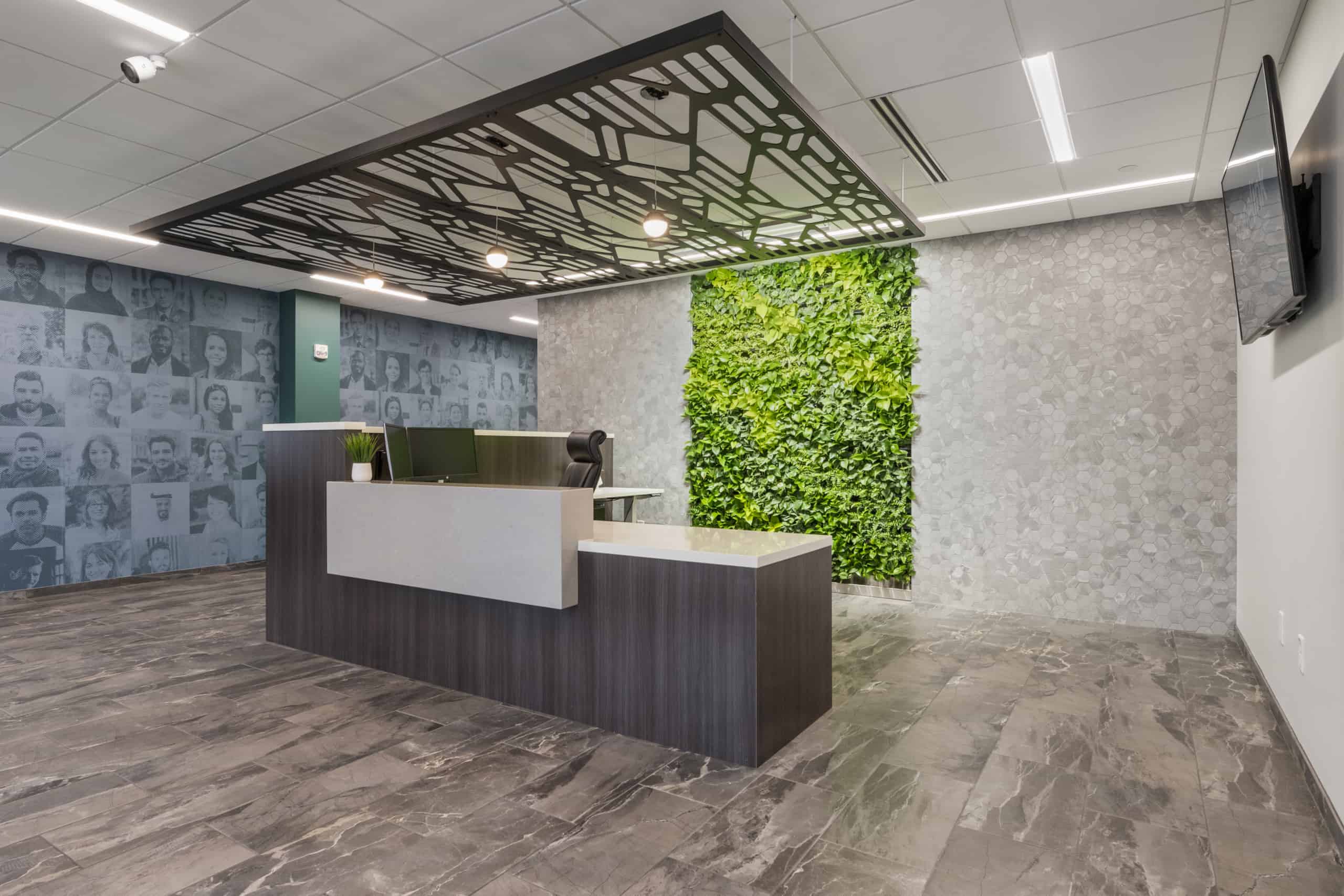 The reception area had a dual purpose: to be both functional and an eye-catching as the first impression customers have when they enter the building. Mission accomplished.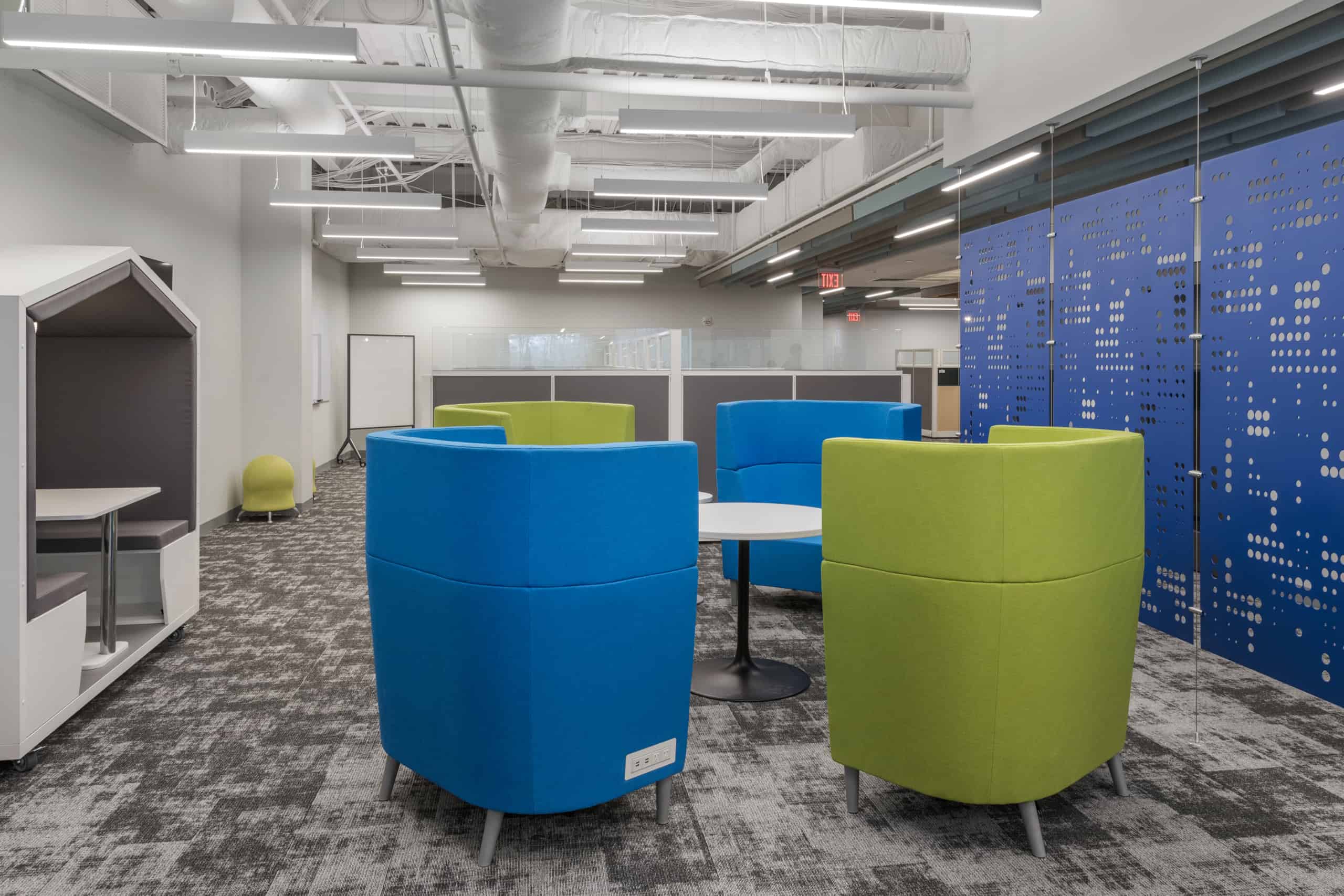 Fun, vibrant fabrics add a warm feeling to these Global River Personal Harbor Chairs. Adding an 18″ round laptop table creates a terrific space for collaboration. These are also available for hi-traffic areas and power can be added to charge up electronic devices.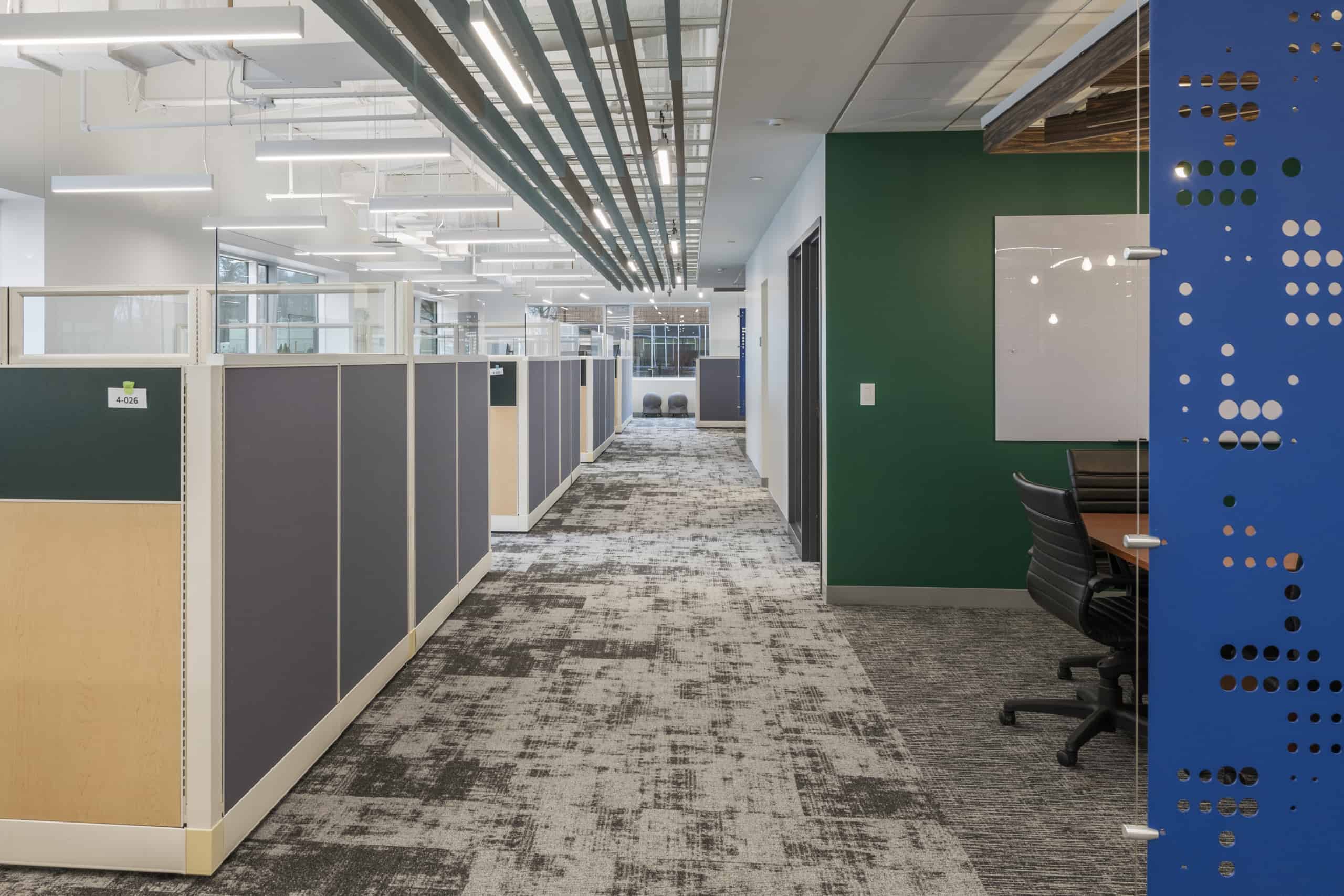 These bank of workstations have a mix of material: laminate panels, fabric panels, and clear-glass panels. Here is where you can have some fun and bring out a pop of color.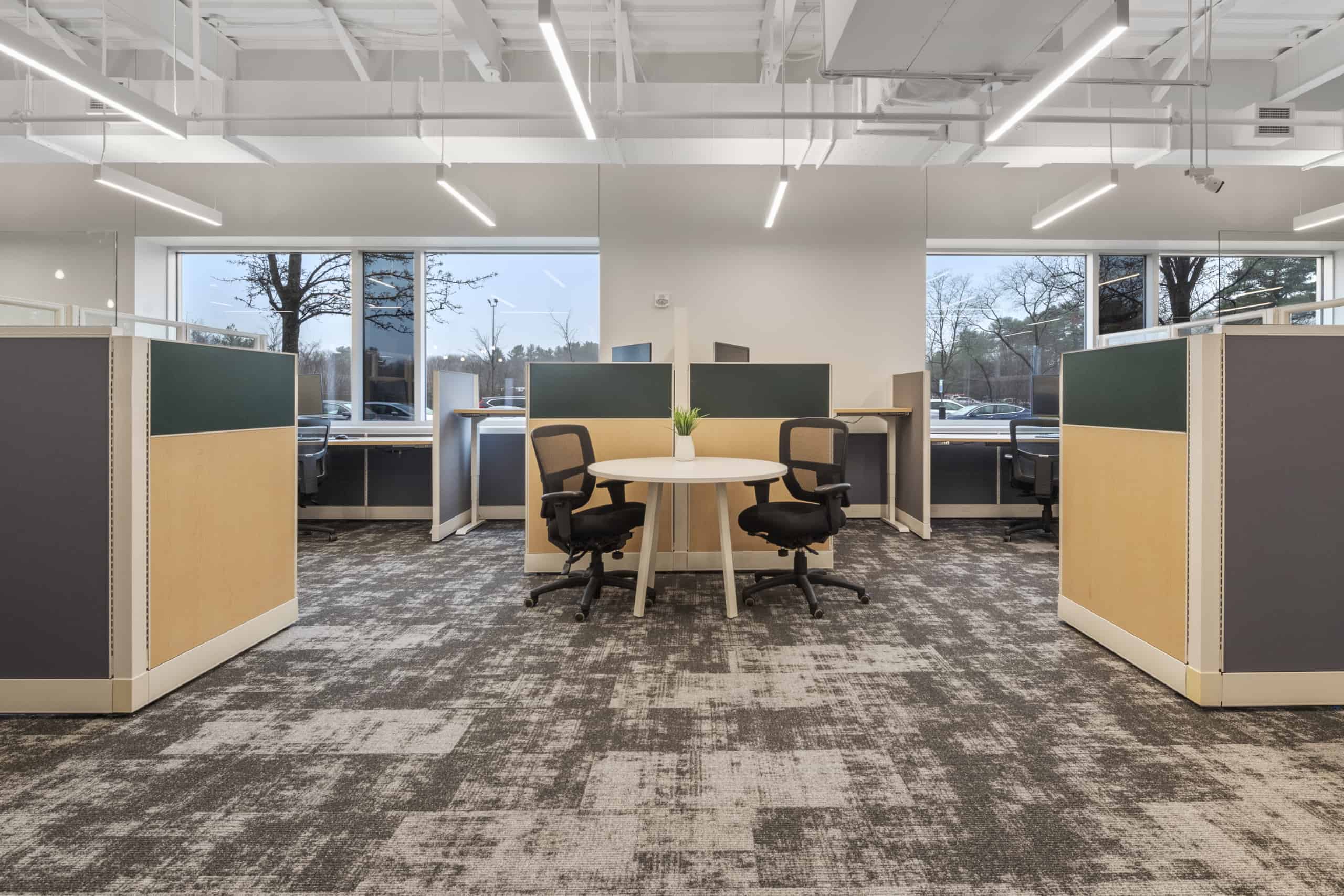 These engineering workstations have height-adjustable desks and small tables and chairs throughout the space. These areas allow for private meetings and collaboration among several employees.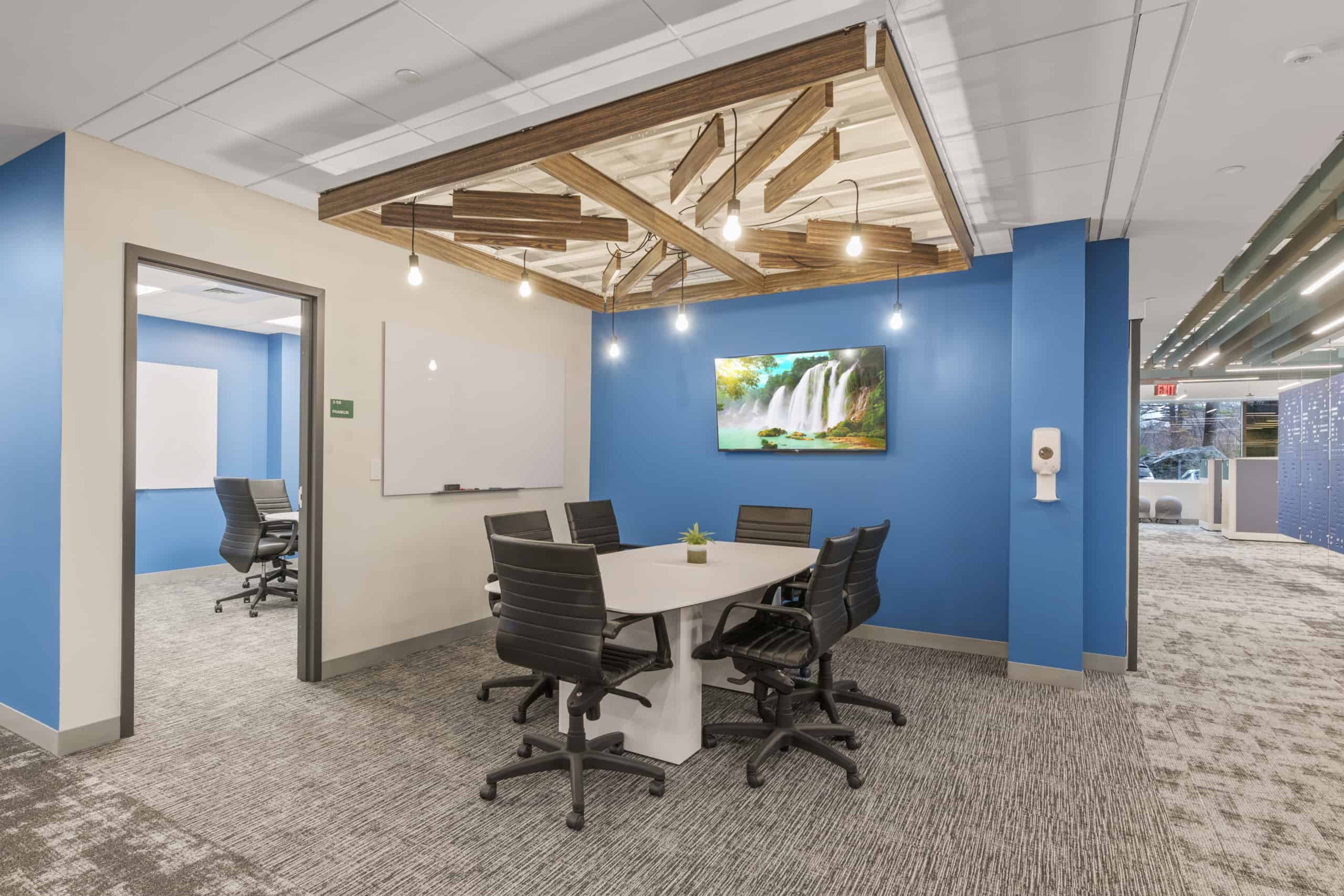 Having both a boatshaped table in a private huddle room, and an open huddle room, offers flexibly for meetings. Both shown with black conference room chairs.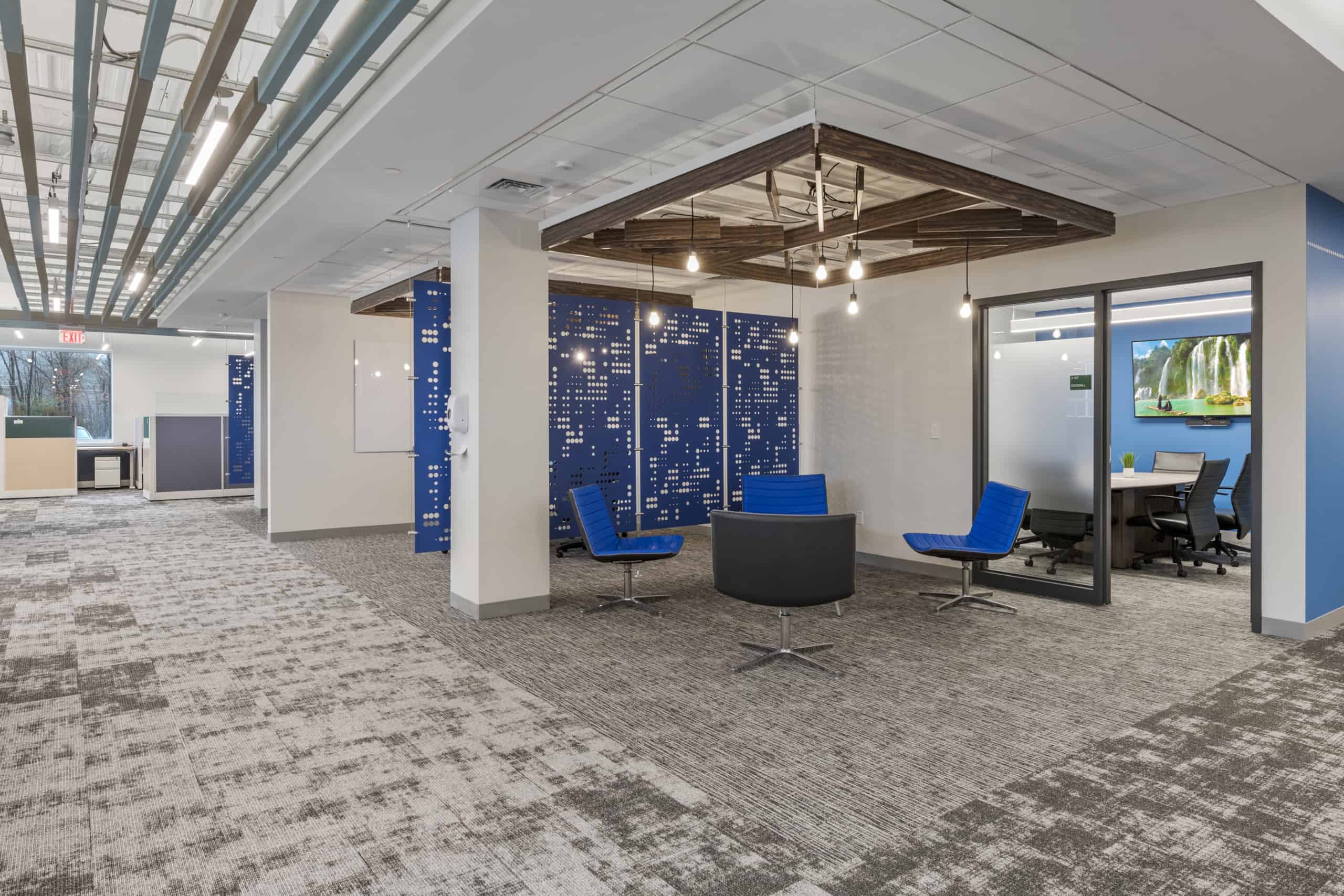 These huddle rooms were designed as areas for employees to collaborate. They include an open space in front with the chairs, and a closed huddle room with a door for more private meetings.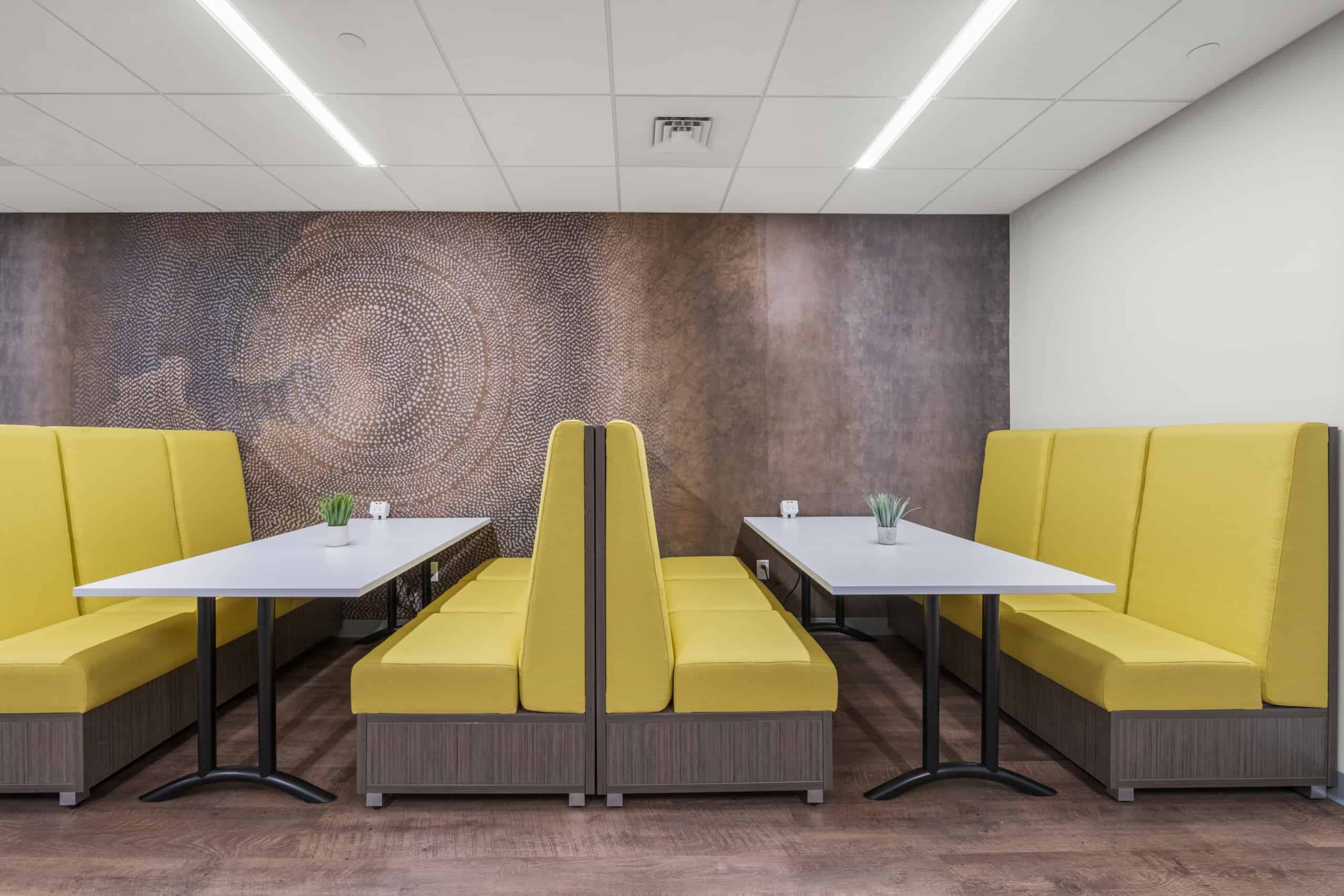 The client wanted a dual-purpose room that provided employee lunch space as well as an area in which they could take a break and enjoy conversation with coworkers. The LB Lounge sofas in a fun yellow fabric are ideal for that type of down time.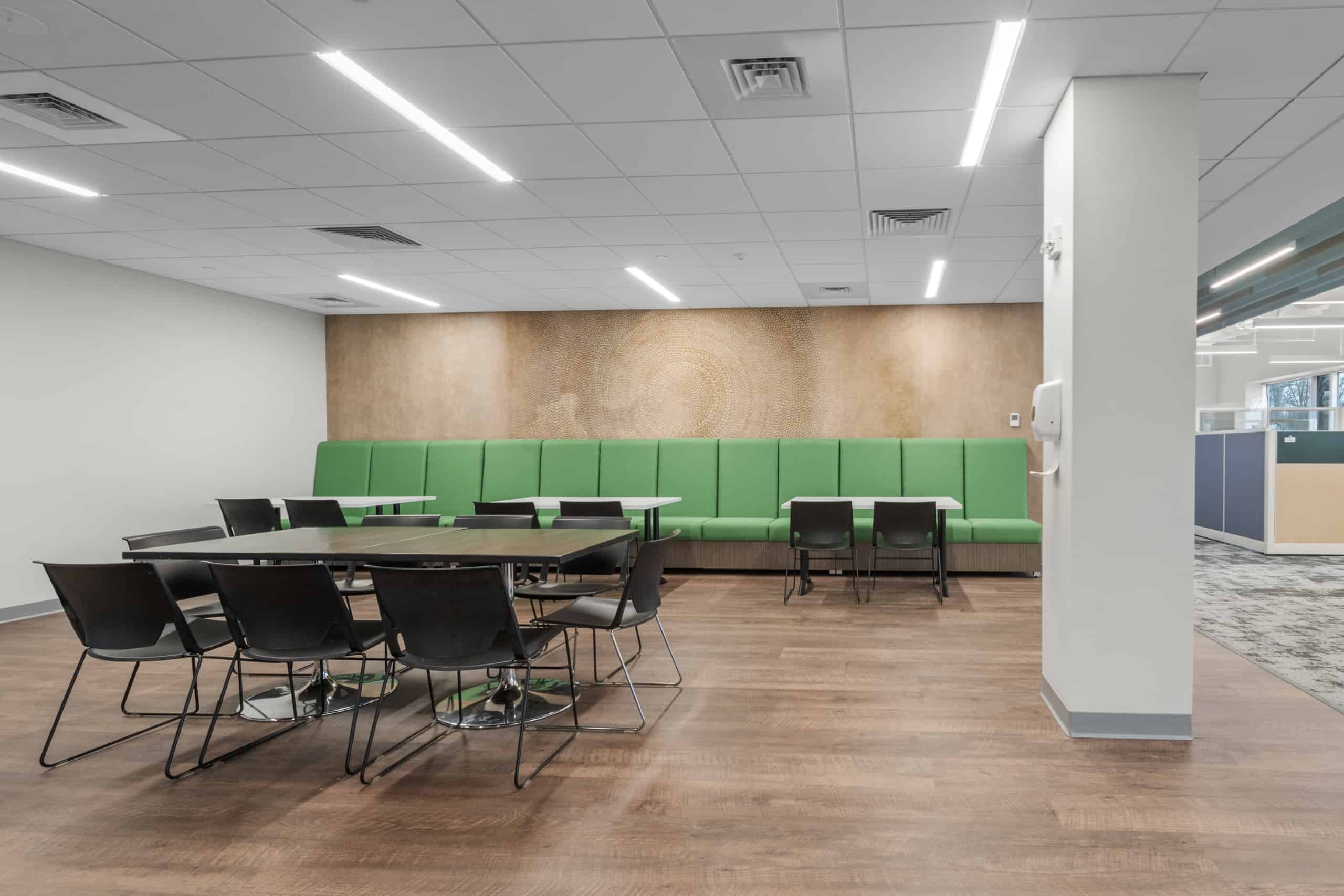 This is another multi-purpose room for lunch, breaks, and conversations. The LB Lounge banquet bench seating is seen in a warm green fabric along the back wall.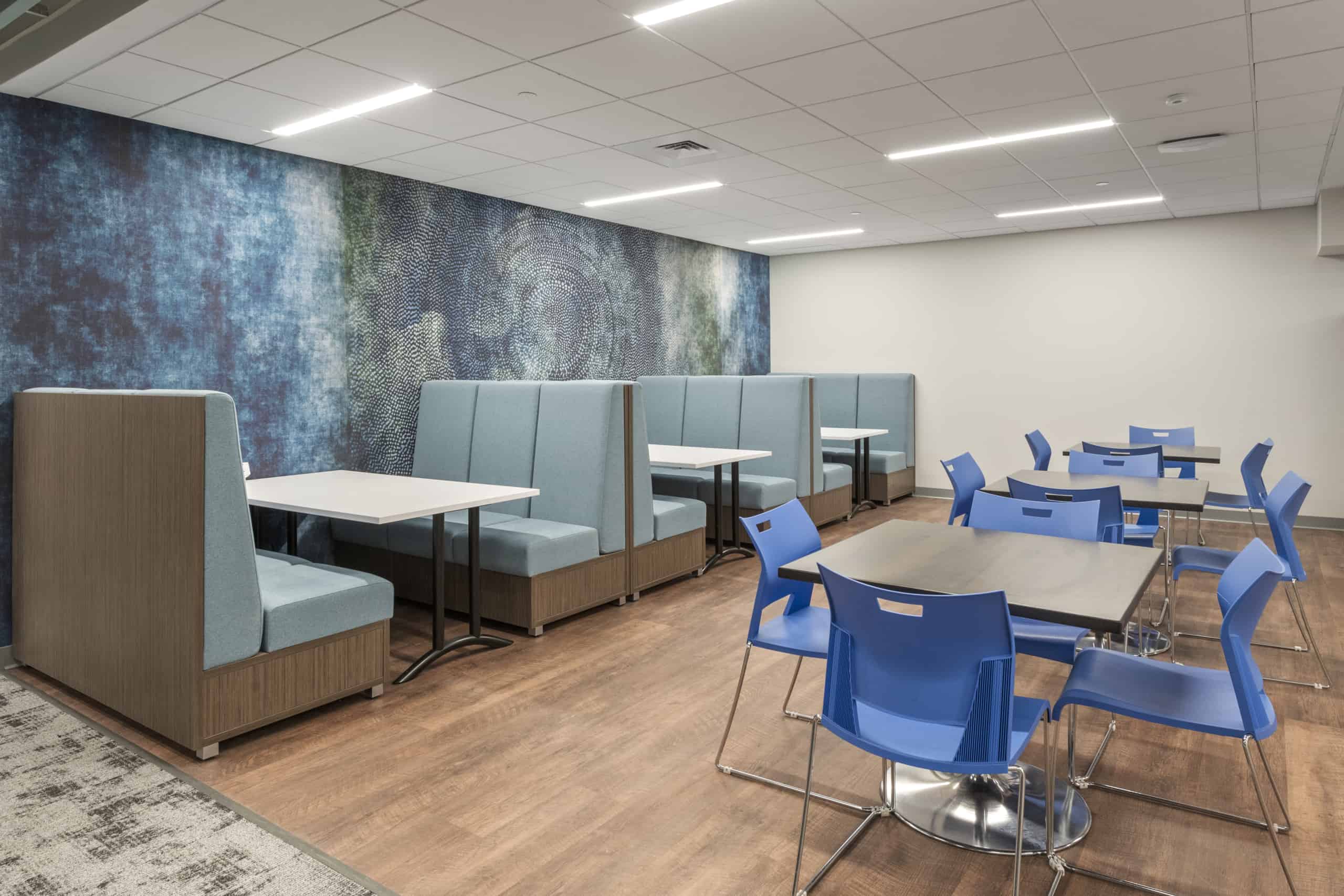 In this dual-purpose room, the client chose café-height tables and chairs, and LB Lounge seating. The Global Duet chairs are in keeping with the company's branding and add a nice pop of color to the lunchroom.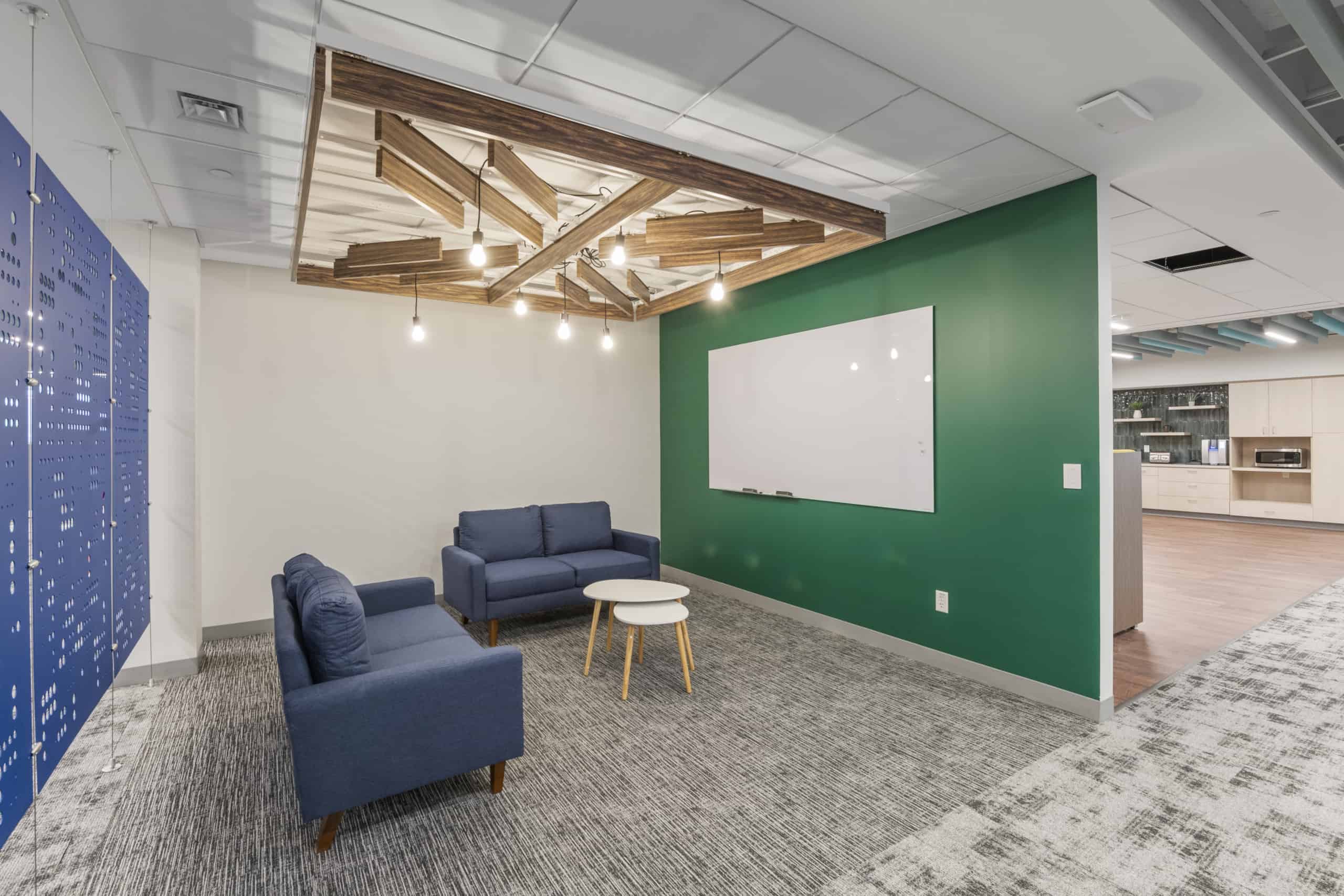 This space is typically utilized for casual breakout conversations. The Clarus white glassboard is a perfect compliment for any breakout and conference area.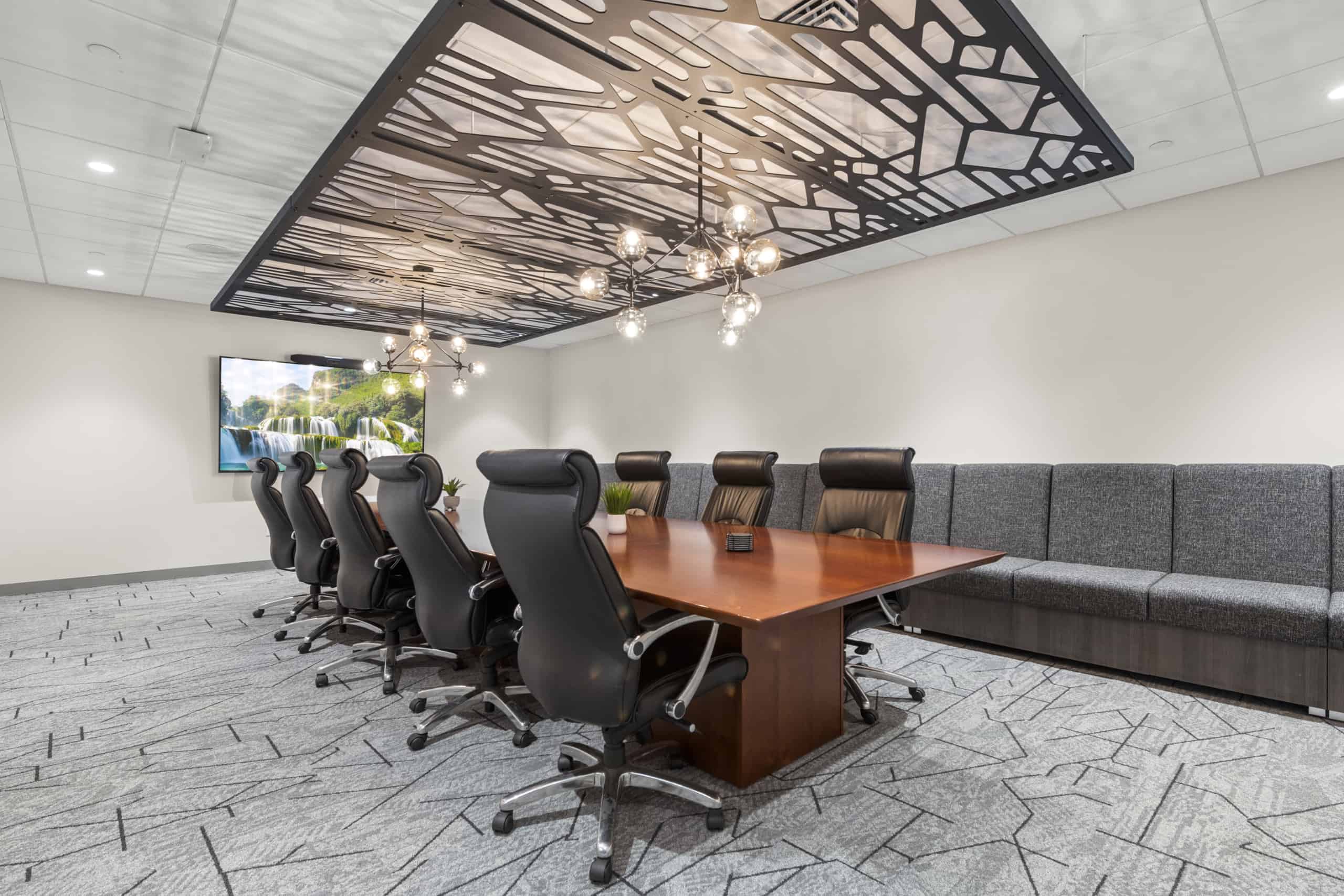 This elegant conference table was custom-made for TraceLink and seats 10-12 comfortably. The high-back Friant Madison conference chairs with chrome bases and arms add richness to the room.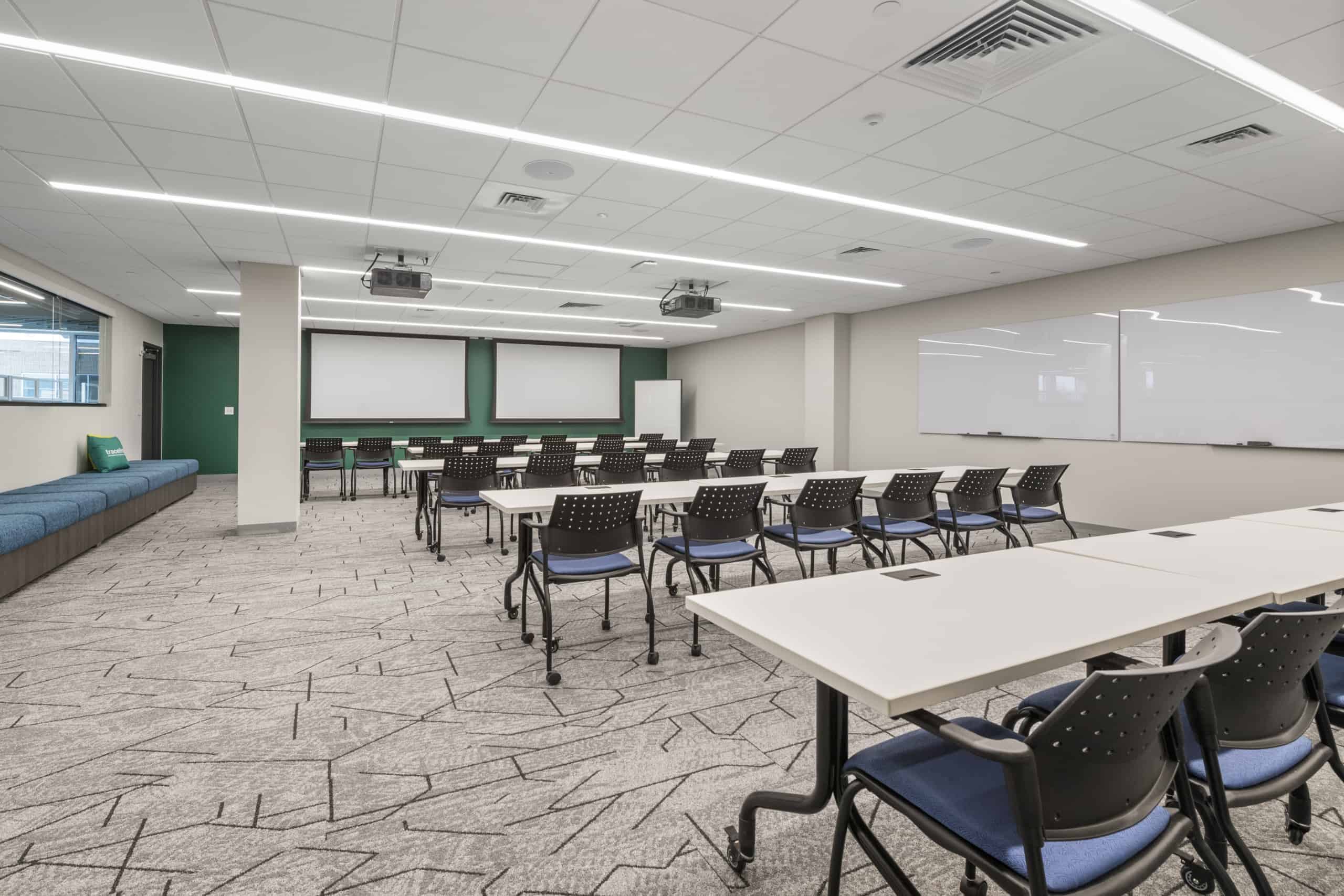 This training room was set up to be very versatile. The tables offer power for laptops or phone-charging. The tables and chairs are on casters, allowing for a variety of different configurations. The Global Sonic chairs' blue fabric seats tie in to the company's branding.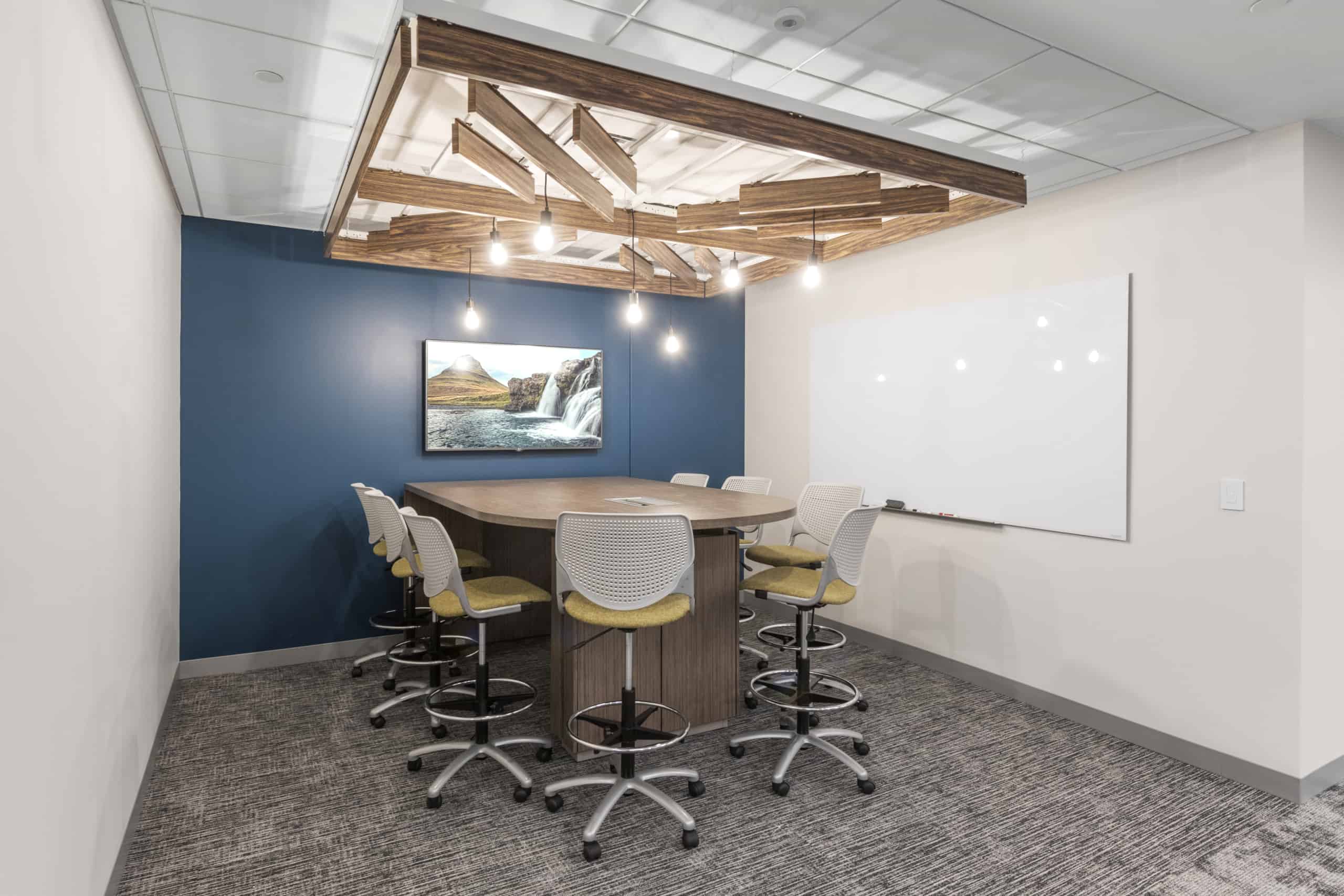 This huddle-room has a D-top hi-top table that seats up to 8 comfortably. Accompanying the table are the KFI Kool Armless Stool with a foot ring, and a white Clarus glassboard.
These bar-height tables and stools are perfect for a collaboration area where employees can work together on a project. Power in the middle provides laptop charging. The stools offer a sleek look, and comfort.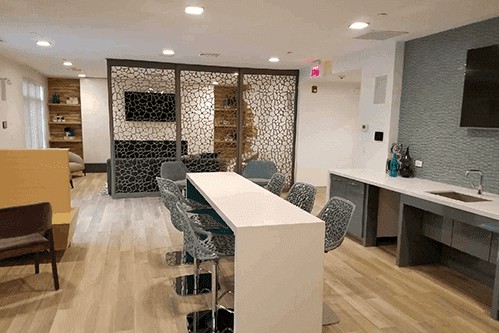 This hi-top table and stools are the perfect place for co-workers to meet for a quick meeting, impromptu gathering, or in this case, as a lunchroom.