How Brooks Automation, an equipment-manufacturing company, partnered with Joyce Contract Interiors to repurpose office space and create room for growth

Brooks Automation was founded in 1978 and is based in Chelmsford, Massachusetts. The company is a provider of automation, vacuum, and instrumentation equipment for multiple markets, including semiconductor manufacturing, technology device manufacturing, and life sciences. Through continuous innovation and enhancement, Brooks offers products that fully address the needs of even the most advanced and demanding applications—especially those in which a precisely controlled environment is critical to high quality, sample integrity, throughput, or yield.
When Brooks Automation concluded that they no longer needed 3,800 square feet of lab space at their corporate headquarters, they decided to replace the lab space with workstations, all within a fully occupied floor. The company's general contractor, Rick Canales of RW Hyde Construction, referred Brooks Automation to Joyce Contract Interiors (JCI). The JCI team met with Brooks leadership to discuss the company's goals and needs, and then set to work designing the repurposed space. Here's how they did it.
Phase 1: Beginning the Design Process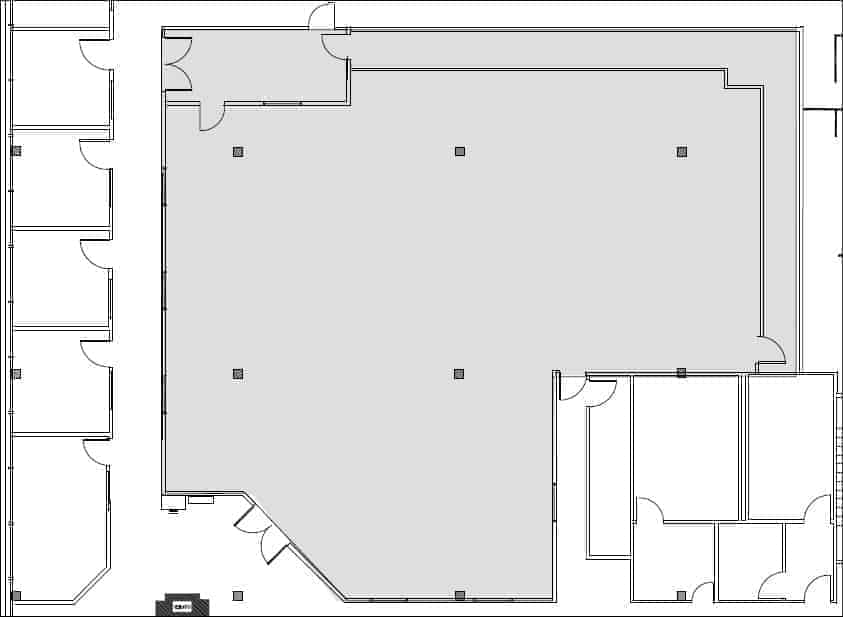 Initial Floorplan
The JCI team met with management from Brooks Automation to determine their requirements and objectives. The company's overall goal was to repurpose the existing lab space, creating additional office space with as many new 6×8 workstations as possible. The desired new workspace would have a smaller footprint per person yet preserve privacy and access to light for each worker. Other parameters under which JCI would design and complete the renovation included maintaining productivity and comfort for Brooks Automation employees and adhering to stated budget and time specifications.
JCI consulted with Brooks Automation personnel to develop a new standard 6×8 workstation. The new workstation, smaller than existing 8×8 stations, would allow a small footprint and be built from components selected to meet the personalized needs of the workers in that space, including a 6×6 electric height-adjustable desk. Other elements of the build-out, including carpets, ceilings, lights, and more under the direction of the general contractor, had to be considered and worked around as well.
Phase 2: Field Visit
After defining Brooks Automation's goals and needs, the JCI team visited the office location to measure and verify the available space and to examine and record its layout and field conditions. These measurements and examinations were crucial to developing design options that would fulfill Brooks Automation's requirements. JCI's experience, expertise, and vision would do the rest.
Phase 3: Design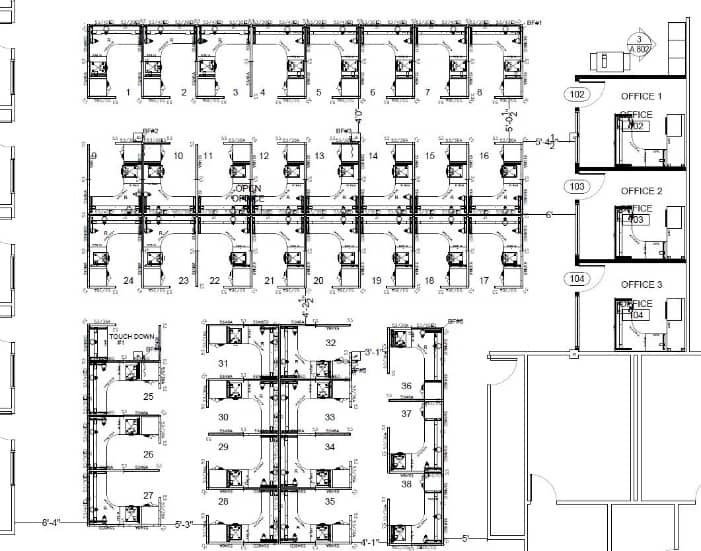 Proposed design
After measuring the physical space and noting its condition and limitations, the JCI team generated CAD floor plans that included both existing space and proposed design. The plans considered every detail, incorporated IT integration and other build-out steps, and included elements that would affect employee comfort, such as lighting and space circulation. The client wished to avoid the use of power poles in the workspace, and that request was kept as a priority as all decisions were made.
After the design plan was approved, the JCI team helped Brooks Automation build the ideal 6×8 workstation for their new space. Through showroom visits and discussion, JCI helped Brooks assess the functionality and aesthetics of various components and determine the specific pieces that would be ideal in the space and as a company standard.
Phase 4: Purchasing
When the workstations were designed and created, the JCI team ordered the specific items. Selections included 38 6×8 workstations and furniture for 3 offices, elements of a workspace that would house a total of 42 people. With a floor plan to guide them, JCI also considered fulfillment time, brand aesthetics, and budget. With their network and experience, JCI had the resources to secure the required pieces within these constraints.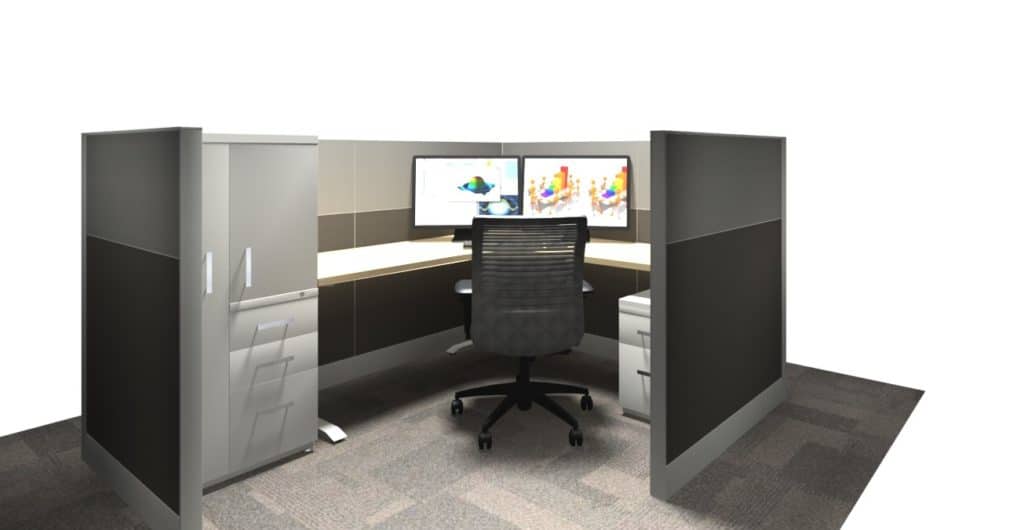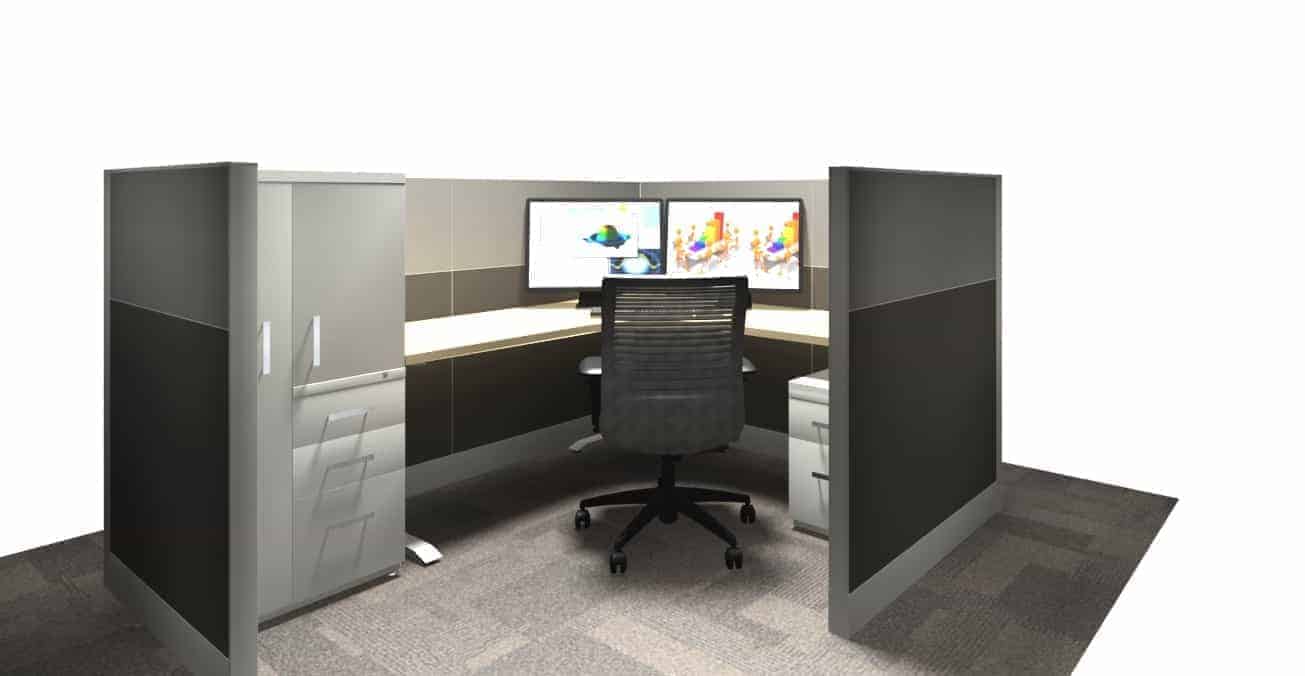 Visual of typical workstation
Phase 5: Delivery and Installation
JCI managed all the logistical details of delivery to and installation at the newly created space at Brooks Automation. This process included coordinating delivery/installation times with management and with EV&D contractor and overseeing proper installation according to the floor plan. A final walk-through was conducted to ensure client satisfaction.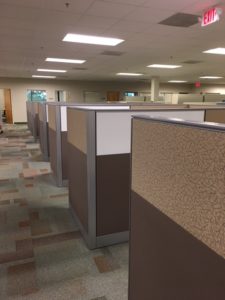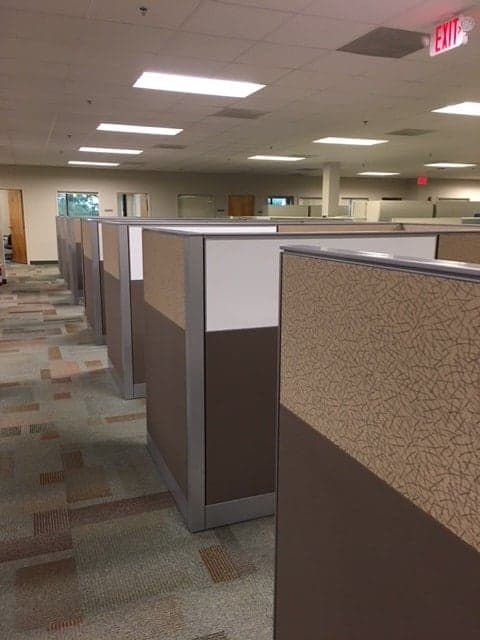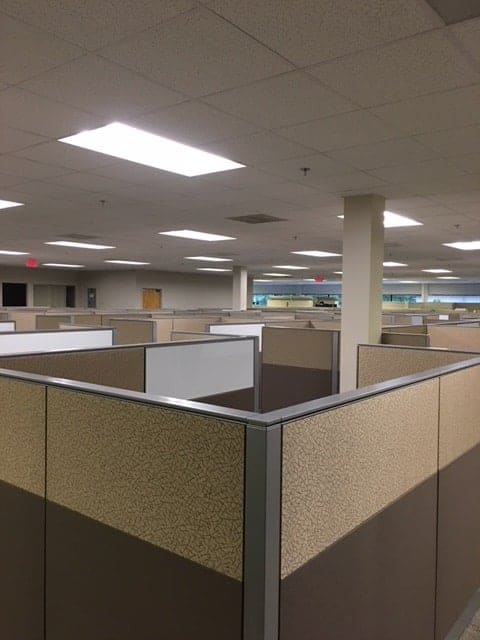 New Workstations
Phase 6: Expansion of Project
After the initial project of designing and furnishing the repurposed lab space was completed, Brooks Automation chose to expand and extend the plan, continuing its partnership with JCI. Brooks decided to replace all of the other workstations within the same section of the building, using the new 6×8 workstation layout. With the new JCI layout, approximately 40 more workstations were added to this area. Reusing existing storage towers in this changeover saved the client money.
This later stage of the project was completed in six phases over weekends in order to create as little disruption to the employees as possible. The workstation-replacement project occurred in October-December 2018 and was completed without incident or time/weather delays. Employees who left their old set-ups on Friday afternoons were overjoyed to find 100%-functioning new workstations on Monday mornings, allowing them to jump right back in to the work routine and appreciate their new environment.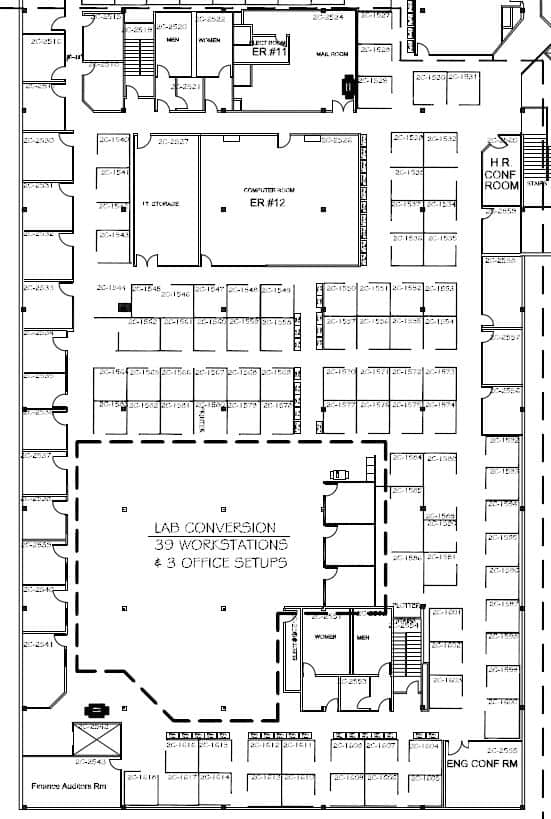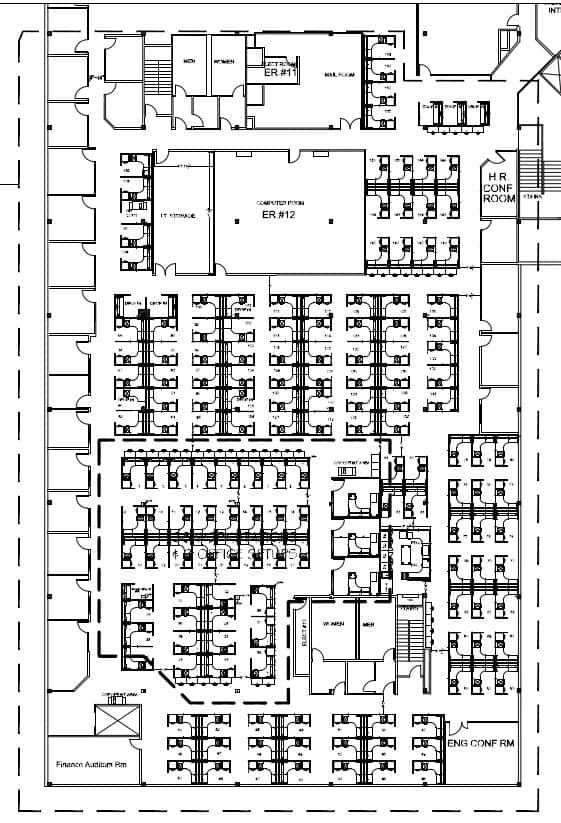 Partial second floor existing                                                             Final second floor layout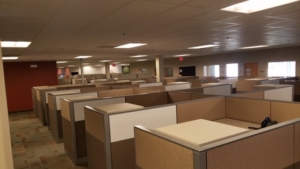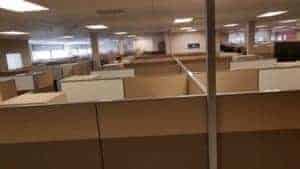 New workstations in expanded space                                                 New workstations in expanded space
Results:
JCI was able to meet all of the goals of this project with Brooks Automation. The original project was completed in the allotted time. The new workspace, formerly the lab, and the existing workspace upgrade in stage 2 of the project combined to create an overall smaller footprint per person. Workstations with 53"H panels create a space that is open and airy. Users have 6×6 electric height-adjustable table desks, a 53" storage tower, and a mobile pedestal with a cushion top for plenty of storage. The 53"H panel offers each worker seated privacy while keeping the overall workspace open.
Joyce Contract Interiors is proud of completing this successful renovation project with Brooks Automation and pleased to be the client's preferred furniture vendor.