Office Furniture Buyer's Guide
We understand that purchasing office furniture is a big decision and we're here to help you through the decision-making process.
We are a full-service office-furniture dealership that offers design, installation, and project-management services. We have a team of experienced professionals dedicated to helping our clients select the right furniture for their needs.
Feel free to browse through our categories of office furniture and our buyer's guide designed to help you learn more and become an educated buyer.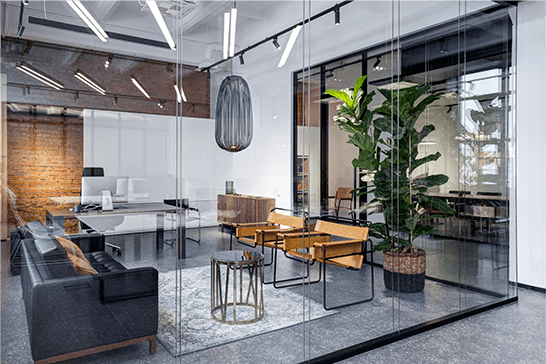 Browse Office Furniture by Category
Your Guide to Office Furniture
There are many situations in which your business might need to purchase office furniture. Large office-furnishing projects include: building a brand-new office for a new or growing business, redesigning a current office to account for staffing or business-level changes, and relocating your office to a new place. There are also office-furnishing projects on a smaller scale, including adding a few new workstations to accommodate new hires, updating existing furniture, or redesigning your layout to help your business and workforce evolve.
For projects of all sizes, it's important to account for various factors, challenges, and unexpected elements. Working with an office design and furnishing professional helps ensure that your project runs smoothly. When you buy office furniture, you should consider the big picture: your office design and layout. A 2-D plan with exact measurements, and later a rendering, will ensure that everything fits nicely, allows for smooth traffic flow, looks aesthetically pleasing, and ensures employee comfort, productivity, and collaboration. Based on the thoughtful and professional design, you can choose furniture that is functional, looks professional, and suits your budget. To keep your project on track, be mindful of lead times, delivery requirements, and installation parameters. Read more about the office furniture buying process below.
In this guide, we'll explore the many facets of office furniture, from layout styles to varying industry needs and tips for buying—and much more.
Office Rooms: Defining Spaces and Use Cases
Each room in an office has a different purpose; therefore, each room will require different types of furniture and design considerations. Furniture should suit the space available, the number of people who will use it, and how often people will use it. It's essential to consider where you and your employees will be the most productive.
Apart from traditional office or business settings, other facilities, such as schools, healthcare facilities, and government buildings, have different office-furniture needs. Rooms that need furnishing most often are collaborative spaces, private offices, meeting rooms, learning centers, reception and lobby areas, and cafeterias, kitchens, and dining areas.
Collaborative / Open Spaces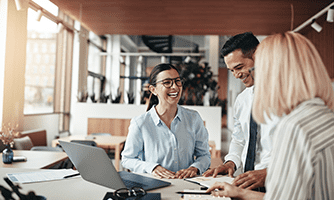 Collaborative or open spaces are where employees come together to work on projects, brainstorm, or just take a break. These areas need comfortable and stylish furniture that promotes creativity and collaboration. Accessories such as bean bag chairs, sofas, ottomans, and coffee tables are perfect for these areas.
Adding plants or greenery to these areas helps promote creativity and a positive work environment. These spaces often utilize Resimercial Corporate design techniques, which offer comfort and functionality to areas that aren't primary employee work areas but help better represent the company's overall culture. As more employers continue to welcome back their employees to the office, resimercial furnishings help create an inspirational environment conducive to higher productivity.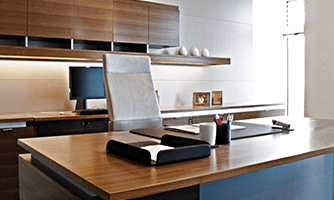 Private offices are more traditional workspaces meant for concentration and privacy. These areas usually consist of desks, chairs, filing cabinets, and shelving units. Many private offices also have a window, which helps bring in natural light and makes the space feel more open.
When you are choosing furniture for a private office, the desk should be the correct height for the employee and have enough space to store all necessary materials. The desk chair should be adjustable and comfortable, as the employee will spend many hours seated in it.
Reception and Lobby Areas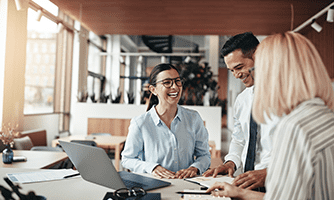 The reception or lobby area is the first thing visitors see when they come to your building, so it's essential to make a strong and positive impression here. These areas should have comfortable chairs, coffee tables, and end tables.
It's also important to have branding in mind when you are furnishing the reception or lobby area. This is an excellent opportunity to showcase your company's style and culture. Adding art, books, and magazines that reflect your company's values will help make a good impression on visitors.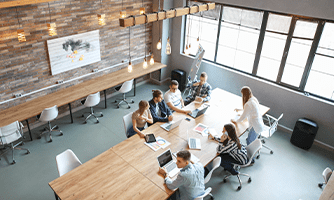 Meeting rooms are other vital spaces in an office or facility. These are spaces where employees can discuss projects, brainstorm ideas, or lead presentations. The furniture in meeting rooms should be comfortable, stylish, updated, and include all of the necessary technology.
Tables and chairs should be the correct size for the room's proportions and accommodate comfortably the number of people using the space; business owners often take their guests to meeting rooms for essential discussions.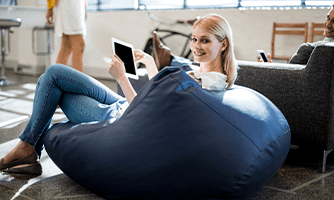 Many institutions are turning to more modern ways of teaching, which often include collaborative learning. This type of learning occurs in small groups and is led by a facilitator. The furniture in these areas must be comfortable in order to promote collaboration and allow learners to focus.
Cafeterias and dining halls are common in large offices; in these spaces, they might be private. In office buildings, dining areas and cafeterias are often shared by the tenants. These areas provide space for employees to take a break, have a meal, and socialize.
When you are choosing furniture for dining areas, it's essential to consider the amount of available space. Tables and chairs should be the correct size for the room's proportions and accommodate comfortably the number of people using the space. It's also important to choose pieces that are durable and easy to clean.
There are many office-furniture brands and manufacturers. It's important to do some research before purchasing. Some of our most popular brands include Global Furniture Group, Open Plan Systems, Friant, and Logiflex. Global Furniture Group is the 5th-largest multinational manufacturer, marketer, and distributor of office furniture and related products. The company began in 1966, and its revenue is approximately $1.1 billion. It's critical to consider the quality of the furniture, the warranty, and the cost when you are deciding on a brand or manufacturer.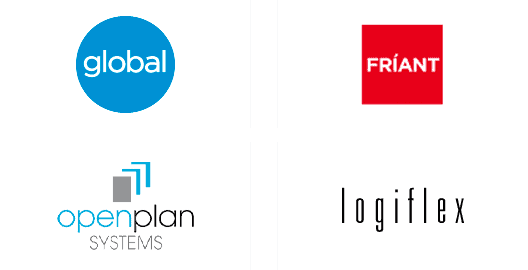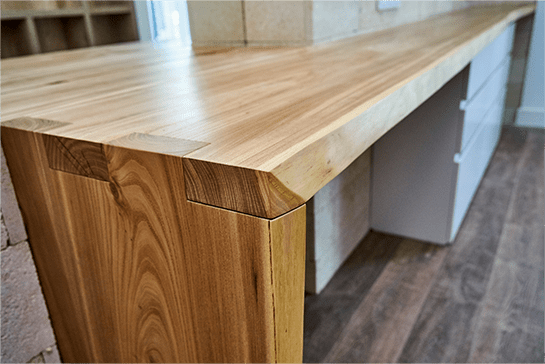 The material from which furniture is constructed is an important factor for several reasons. Of course, the material should be durable since office furniture is used daily and must last for many years. Materials should also be easy to clean and maintain.
Furniture material should contribute to the aesthetic of the space. For example, using natural wood materials will give a warm and welcoming feeling to an office. Using metal materials will provide a more modern and sleeker look. Additionally, it's important for materials to come from a clean and sustainable source to help contribute to a green society.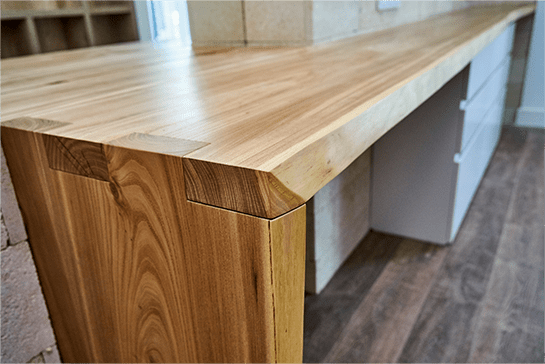 Your business industry or sector will help determine the furniture you choose. For example, a corporate office will have different furniture needs for furniture from a government or healthcare site. While countless industries require furnishings of various specifications, here we touch on corporate, government, healthcare, and education.

Corporate
In a corporate setting, the office furniture should be professional and stylish. The furniture should also be comfortable since employees will be sitting for long periods. Furniture in corporate spaces should be functional and able to accommodate the many needs of employees, including the need for storage solutions, ergonomic features, and technology integration.

Government
Durable and long-lasting furniture is essential when you are furnishing a government office. The furniture should also be comfortable since government employees often work long hours. The furniture within a government office should be functional and able to accommodate the many needs of government employees, including the need for storage solutions, ergonomic features, and technology integration.

Healthcare
In a healthcare setting, choosing comfortable and functional furniture is vital. The furniture should also be durable and able to withstand constant use by patients and healthcare workers. Of course, the furniture should be easy to clean in order to maintain the strict health and safety guidelines in managing a healthcare facility.

Education
In an educational setting, choosing safe, comfortable, and functional furniture is essential. The furniture must withstand the constant use of students and teachers. Social distancing remains a critical need; the furniture should be able to accommodate this requirement. Furniture in an educational environment should be easy to maintain to preserve a healthy learning environment.
Important Considerations When You Are Buying Office Furniture
Depending on the size and budget of your company or organization, there are several strategies for buying furniture. The most common is to purchase through a full-service furniture dealer. This is a wise approach because there is much more to selecting office furniture than simply looking through a catalog and ordering online.
The process should start with determining the needs of your company or organization and the type of furniture that will fit those needs. Once you have a list of the furnishings you need, you can begin to purchase. Let's discuss Employee Wellness, Functionality, Warranty, Flexibility, Aesthetics, and Ergonomics.
Employee Wellness and Comfort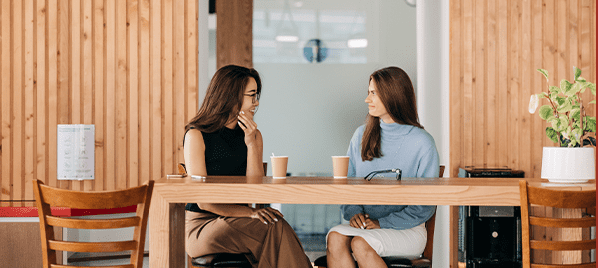 This is a relatively new consideration that is quickly gaining traction in the business world. Employee wellness programs promote healthy lifestyles and encourage employees to take care of themselves. Toward this goal, office furniture should encourage employee wellness and improve the health of those who use it, much like general wellness programs.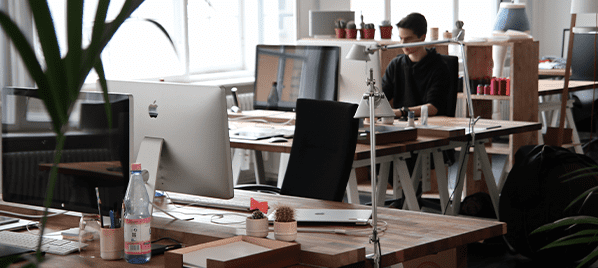 Multi-purpose office furnishings can help with your budget and create a flexible workplace. With so many workers shifting to a work-from-home hybrid model, it's important to use office space wisely. The goal is to ensure that the space can suit the ever-changing and evolving needs of employees.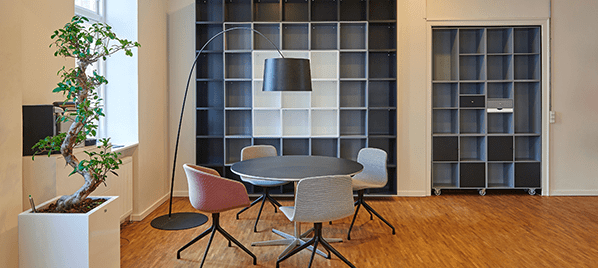 Consider the purpose of any furniture you are looking to buy as well as who will use it. For example, if you need a conference table, ensure that it's the right size for the room and has enough space for all attendees.
Keep in mind that you can maximize your budget by purchasing furniture that can accomplish multiple functions. This concept may be especially helpful in furnishing meeting spaces used as break rooms or workstations. Multi-purpose furniture is a smart way to save money and space, but it's important to make sure that the furniture is comfortable and ergonomic.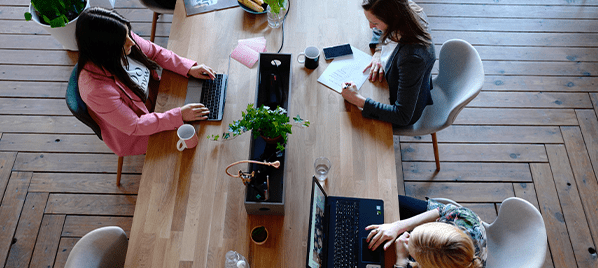 You get what you pay for when it comes to office furniture, and nothing lasts forever. With that said, it's essential to consider the warranty of the furniture you're purchasing. The warranty reflects the quality of the furniture and the manufacturer's confidence in the product. Of course, a longer warranty is always better, but read the fine print to understand what is and isn't covered. Remember that manufacturers base their contracts on expected use and care.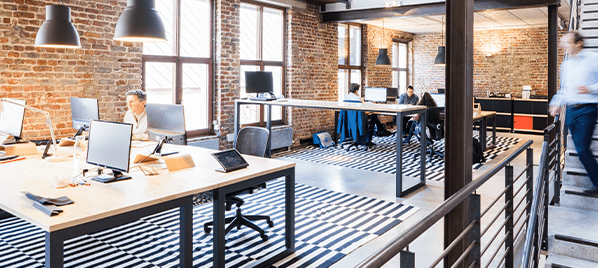 Monotony is a terrible thing in an office and severely affects creativity and productivity, so consider furniture style carefully. Furniture choice can communicate a company's core values, so the message must match the brand.
Brand-name furniture that equates to a high-end look and quality without the high-end price tag communicates that the company is doing well and knows how to make a smart investment. The furniture should be comfortable and inviting so that employees feel good about coming to work and spending time there. Improving the aesthetics of the office can:
Encourage creativity and collaboration
Improve employee productivity
Enhance the company or organization's image
Attract clients
Strengthen a team's connection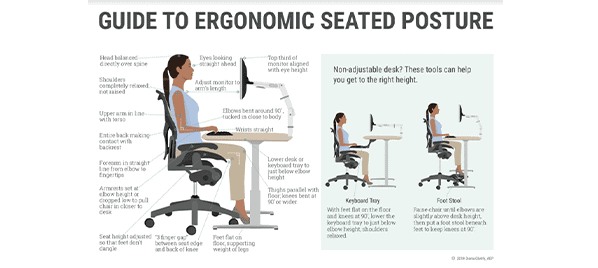 Product ergonomics is heavily discussed and is often the subject of company marketing and advertising. A company wants to be seen as an entity that cares about employee health and safety.
The term ergonomics is often used interchangeably with the term human factors. Ergonomics is the scientific discipline that seeks to understand and optimize human interaction with products, systems, and environments. Human factor is an interdisciplinary field that includes physical, cognitive, and social sciences.
What does ergonomics have to do with office furniture? A lot. When you are considering the ergonomics of office furniture, consider who will use the furniture. Poor ergonomics in the workplace can lead to:
Repetitive motion injuries
Musculoskeletal disorders
Carpal tunnel syndrome
Ocular discomfort
Fatigue
Higher costs
Decreased Productivity
Ergonomic furniture isn't a marketing ploy; instead, it's backed by medical professionals who believe in the benefits it offers.
The Buying Process: How To Buy
It's time to discuss the actual process of buying furniture. You can break down this process into seven stages: Consultation and Budget, Product Considerations, Design / Drawings, Furniture Selection, Quote, Ordering, Delivery, and Installation.

Step 1: Consultation and Budgeting
1 week (circumstantial and variable)
The first steps in any office-furniture purchase are to consult with a professional and establish a budget. Manufacturers can do this consultation in person or over the phone; have a clear idea of what you want to accomplish with your office furniture before meeting with a professional.
During the consultation, the professional will ask you questions about your needs and wants, and they'll also provide you with a realistic budget based on the information you provide. It's important to be honest during this stage and to ask questions so that the professional can give you the best possible advice.

Step 2: Product Considerations
1-3 days
After you've consulted with a professional and established a budget, it's time to start thinking about your specific needs and the types of products you might want to purchase. This stage should be an important collaborative brainstorming session that will have a significant impact on the office-design process.

Step 3: Design / Drawings
1-2 days
If you're working with an office design professional, that person will be able to help you with the design and drawings. The professional will need to use a floor plan that you provide or will have to measure the space in person. Next, the professional will coordinate with you to proceed with 2-D and 3-D rendering, using the furniture selections to help visualize the space.
However, if you're doing the design and drawing stage yourself, many online resources can help you with this process.

Step 4: Furniture Selection
1-5 days
After designing your space and selecting the furniture you want to purchase, it's time to get quotes from different manufacturers. This process can be time-consuming as you consider aesthetics, ergonomics, costs, and functionality, but it's important to compare prices and get the best deal possible.

Step 5: Quote & Ordering
Within 3 days
After you've designed your space and selected the furniture you want to purchase, it's time to get the quote from the manufacturer. Contact the Account Manager to input your order and ask that person to get back to you; the size and complexity of the order will determine the timeframe for this step.
Once you've reviewed the quote, sign it—and then it's time to place your order. Provide your contact information, delivery address, and payment information to the Account Manager.

Step 6: Delivery & Installation
3-5 Weeks
The delivery timeframe and installation process will be determined by the size and complexity of your order. However, the pandemic has taught us that you can count on lead times to be longer than initially estimated. Therefore, it would be best to expect delays, between staffing difficulties and sourcing materials.
What to Look for in Office-Furniture Providers
Purchasing office furniture is a big decision, but the process can be smooth and seamless with preparation and the right professional team. Here are things you should look for in office-furniture providers:
A comprehensive understanding of the different types of furniture and how they are used
The ability to help you design your space and select the right furniture for a pleasing custom design
A commitment to customer service and a smooth delivery process for your business that extends beyond payment completion
Project-management services to keep the project organized, on budget, and on track.
The provider must be able to follow all rules and guidelines for the building and the town or city.
A team that is experienced and has a proven track record of success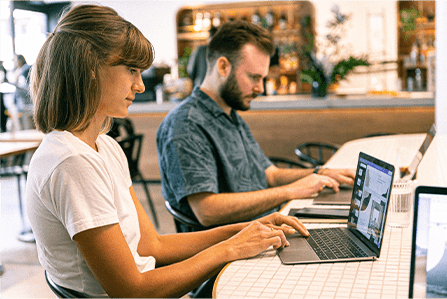 Frequently Asked Questions
Do you offer new and used office furniture?
Yes, we carry over 150 lines of new furniture, while used furniture is purchased on a case by case basis.
Does office furniture and design affect productivity?
Yes, there are many studies on how a properly designed and outfitted office can enhance productivity.
What happens first: buy office furniture then design the office accordingly, or start with office design, then buy furniture?
We always recommend starting with the office design and work to select furniture that will fit the design, decor, and aesthetics desired.
Is office furniture an asset? Should it be depreciated?
Office furniture is an asset and can always be depreciated, but you should consult with your accountant as the tax rules change yearly.
What is ergonomic office furniture?
Ergonomic furniture is furniture designed and manufactured to work with the human body. There is also passively designed ergonomic furniture which is designed with less controls.
What is modular office furniture?
Modular office furniture is furniture that can be easily moved and reconfigured.
What are some new trends in office design and furniture?
Resi-mercial –  a hybrid incorporating residential and office furniture in the same setting, Open office and open collaboration office furniture. Hotel and office is another combination trend.
How has COVID impacted office furniture and design?
Covid has resulted in differing mindsets of office space utilizations: Fully remote, Hybrid model, and full in person return. 
Covid has also resulted in supply-chain issues resulting in longer shipping times and increased prices.
How should you approach office design for the hybrid workforce?
It is dependent on the philosophy of the company and is taken on a case by case basis. Some companies may want employees to return and have their own desk while others may leave more collaboration space for employees who do not come to the office as often.
Should our office design and furniture be an open layout?
Marketing, sales and creative departments, are typically in a more open and collaborative space 
Finance, HR, engineering, and accounting, are typically behind closed doors or at private work spaces
What is the difference between Benching and Cubicles?
As a general overview, cubicles are panel-based workstations that provide the most privacy from other employees; benching has either no or minimal panels and provides an open-style row of desks meant to encourage collaboration.
Cubicles can come in many sizes and configurations depending on the client's needs. Panels come in 39″, 47″, 53″, 67″, and 85″ heights, comprised of fabric, glass, and whiteboard finishes.
Benching or desking is typically used in smaller workspace configurations and can measure anywhere from 3′ to 7′. If privacy is needed, privacy screens with heights of 8″ to 24″ can be added.
What is the process for ordering office furniture?
We often get questions about the process of selecting and ordering new workstations or other significant office purchases. To help envision the process, we've outlined our basic steps:
We first suggest that our clients take a look at the examples on our website to help them get an idea of the systems they would like to see in their space, offering to answer any questions or make suggestions.

We then communicate with our clients to get a full list of their furniture and accessory needs based on the types of work that is being done in each area. After this discussion, we request a scaled CAD plan of the space in order to test fit and lay out the discussed furnishings. This process allows us to make sure the furniture will fit before it is purchased. Often during this process we will go to the site and perform field measurements to confirm the client's floor plan.

Once the layout is complete and has been approved by our client, we will create a 3-D visual to help visualize the furnishings within the space. Clients next select their choices of fabric, paint, and laminate colors.

After all of the details have been ironed out, we send an official detailed quote to the client, which needs to be signed and returned before the order can be placed with our manufacturers. We require a 50% deposit on all orders.

After the furniture is ordered, it typically takes about 3-4 weeks, depending on what was ordered, to reach our installer's warehouse. We will then call and schedule an install date for that week. Upon completion of successful installation, the client will be invoiced the remaining balance.
You may find it helpful to review our Helpful Tips for Office Moves and Installation & Purchasing Office Furniture.
How long will it take for us to receive the furniture?
Typical lead times are about 4-8 weeks depending on what you are purchasing. Some products may be ordered and received faster as part of a quick ship program, but in those cases the types of furniture and finish options may be more limited.
What is the cost to get my product delivered?
Delivery costs are calculated by our installers based on many factors: the amount of product being ordered, the location to which it is being delivered, whether or not the building has a loading dock or an elevator, whether the building is union or non-union, and if the delivery can be done during regular business hours or if it needs to be done on overtime.
Because each job is different, it is best to call and get a quote from one of our knowledgeable salespeople. (Note that because of the complexities involved, getting a quote may take a few days.)