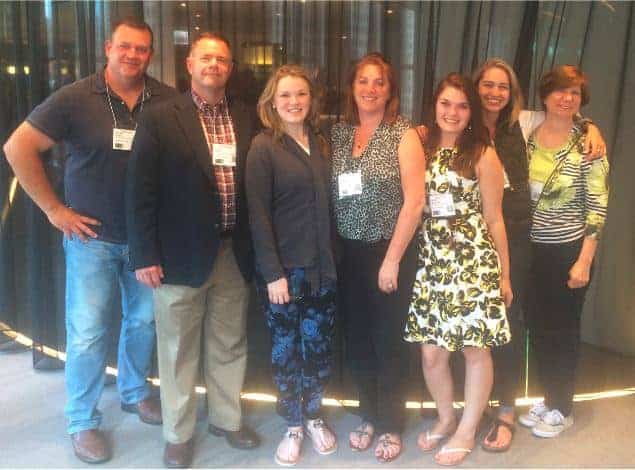 On June 16th through the 17th, the whole Joyce Contract team traveled to Chicago to attend NeoCon, the largest office furniture and design showcase in the United States. It is important for us as furniture salespeople and designers to keep up with the latest trends in the industry so that we can offer the best selection to our clients, and from what we saw we are right on the mark!
The biggest push this year is toward benching and height-adjustable tables, for which Joyce Contract offers many different styles and configurations. As you may have read in my previous blog titled, "Open Office – The good and bad," benching-style offices have become increasingly popular during the emergence of the millennial workforce. They allow for more people in a work area, and a more open style of collaborative offices. Many people have debated the efficiency of this style of office, but as we have reiterated, balance is key.
In regards to height-adjustable offices, we are starting to see more technology being implemented to these pieces. As people start to become more health conscious at work, we believe these stations will become important. Not only can it become monotonous to sit all day at work, studies have proven it is bad for your health; so why not give employees the option to stand? Some health insurance companies are even offering discounts to those who install these desks in their space. The amount of time an employee stands can be tracked with an app which monitors the time the station is at standing or sitting height.
Another important feature that we saw was acoustic paneling. As benching has become more popular, so have acoustics due to increased noise in the office. Paneling can be seen as unattractive, so many companies are looking for unique ways to integrate this item. Luckily, many manufacturers stepped up to the task at Neocon with acoustic shapes that can be applied to walls, ceilings, and in hanging applications. These can be very appealing to buyers because they appear more like a fun art installation rather than just another piece of office furniture.
Overall, we were very impressed with the items we saw on our trip and will soon be incorporating more innovative manufacturers to our already growing list! Keep up to date with our latest and greatest products here on our blog, or check out our always updated website at Joycecontract.com
!