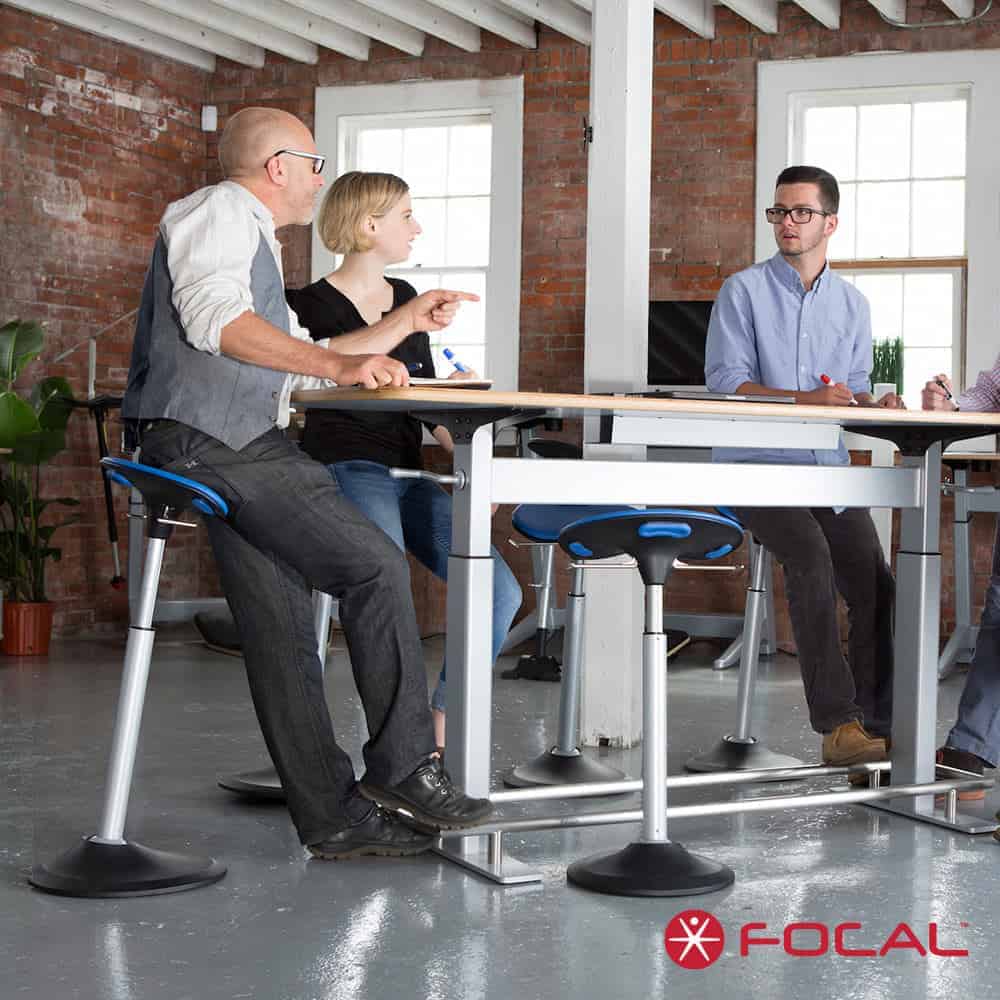 If you work in an office setting, at a place of employment or from home, you may sit upward of 8 hours a day. New research suggests that sitting for such long periods of time can have negative effects on posture and health, including increased risk for heart disease, obesity, and diabetes. To combat these effects, researchers suggest shifting from a seated position to a standing position every 2 hours, which is easier said than done. To accomplish this, desks need to be height-adjustable or you would need something on top of the desk to place monitors and keyboards at the proper height. Focal Upright, an innovative furniture line founded by Martin Keen, provides alternative solutions to the seating crisis using ergonomic chairs and desks specially made for the task.
Martin Keen, also the founder of Keen Footwear, came up with the idea for Focal Upright when he himself was having trouble sitting for long periods of time. He discovered that he was more creative while standing, but he could only stand comfortably for 1-2 hours at a time before his back or feet began to hurt. His own dilemma got him thinking about how to create a chair that would support his body enough to allow him to stay standing; thus the Focal Seating line was born.
Consisting of the Mobis, Locus, Pivot, and Mogo chairs, the Focal Seating line provides an alternative and ergonomic alternative to the traditional way we work. Keen designs revolve around a standing-height style of desk because it lets the individual maneuver easily between a standing and seated position simply by leaning onto the tilted chair. Each chair uses a padded seat, similar to the design of a tractor seat, as well as an adjustable swivel/tilt metal base that allows for easy movement throughout the day. The tilted position of these chairs helps the user interact with the body's natural equilibrium to encourage good posture, and also engages the body's core. Each chair can be ordered with a cushioned or non-cushioned footrest for those who need a little extra support.
The Focal Upright line contains a series of height-adjustable desks and conference tables to go with the seating line, as well as many accessories including mounting brackets for computers, LED lighting, and cable management trays. Although these desks are designed to pair with the Focal Upright chairs, a height-adjustable desk is not required with a Mobis, Locus, Pivot or Mogo chair. You can pair any standing-height desk or table with the chairs, and start improving your work experience today! For more information, contact Joyce Contract Interiors at 978-251-2226 or info@joycecontract.com.