Technology allows us to be mobile and move around the office and even work remotely. Multiple generations working together under one roof with diverse working styles, have completely changed the way an office flows and interacts. Designing office workzones is now becoming the solution and norm with the ever evolving office.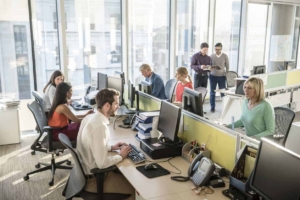 Primary Zone  – This is an employee's individual personalized space. It can be a closed office, workstation/cubicle or open benching unit. It is the space an employee hangs his/her hat and calls home. Many companies allow the employee to make it their own by hanging artwork, family pictures and adding personal objects. This zone helps with a sense of belonging.
Meeting Zone – Conference rooms are designed for customer visits, presentations and are used for specific large internal group meetings. Huddle and closed break out rooms are used for smaller meetings and quick breakout sessions
Quiet Zone – Phone rooms, think pods, quiet nook and library offices. These are areas that are dedicated to private use and where a higher level of concentration is needed.
Ancillary Zones – These area are becoming the most popular and desired zones. They consist of break out areas, open lounges, coffee bars, kitchen and game rooms. They are designed to be informal, collaborative, social and fun. This helps cultivate relationships and foster creativity within the company.
Joyce Contract Interiors can help in designing office workzones that fit your individual needs. Call us at 978-251-2226 or email at sales@joycecontract.com to speak to a manager and design specialist.