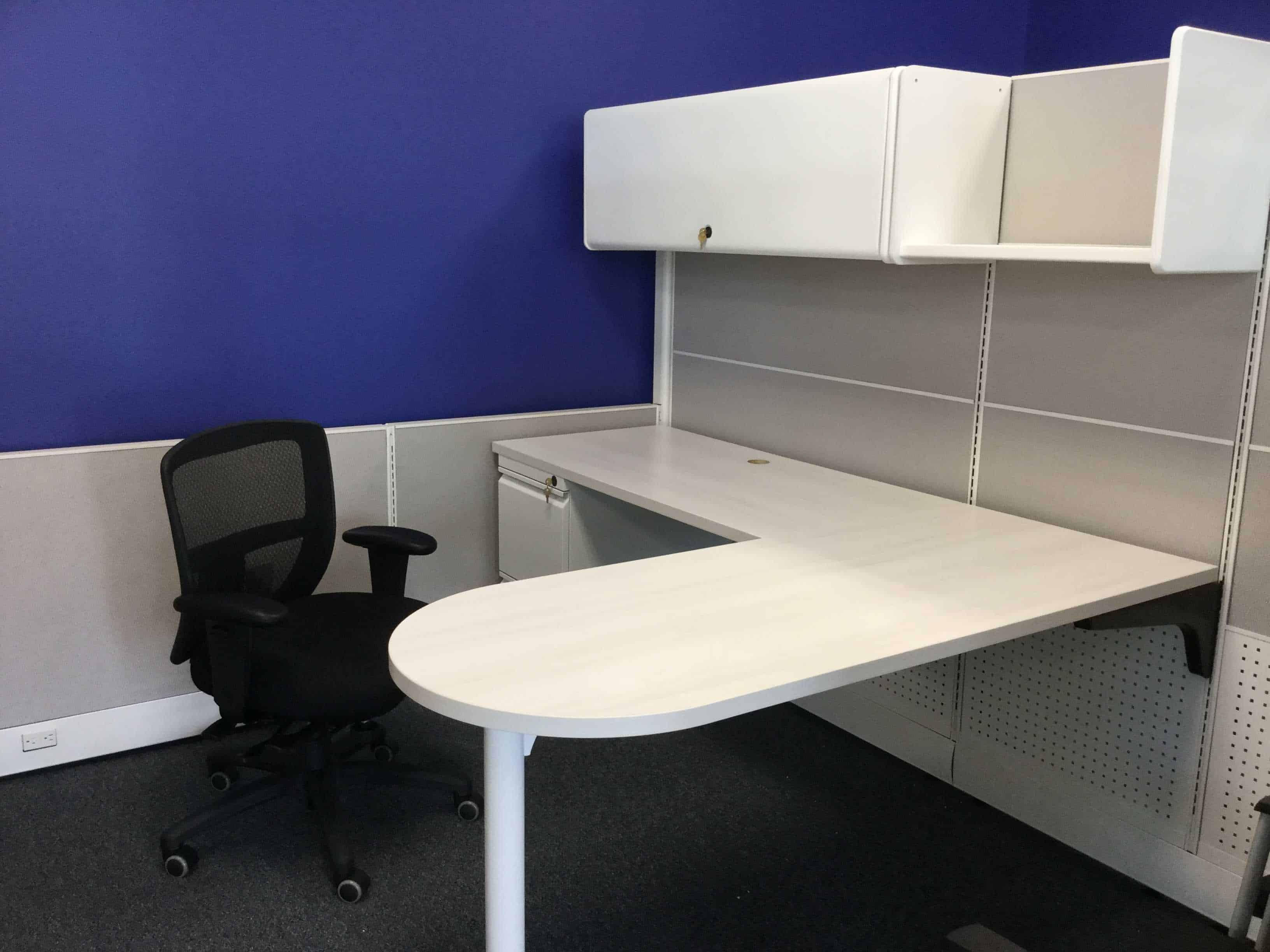 Are you looking to create that perfect balance between fun and sophistication in your office? Well, we think our client hit the nail on the head.
ICNE is an insurance agency that recently moved to the Westford area. The company was looking to create an office space that was professional, modern, bright, and open. Their new building was the perfect starting point, with two exterior walls consisting of mostly windows, and minimal interior partition walls. This arrangement allowed for a very open floor plan with plenty of natural lighting and great sight lines from the main road.
When you first enter the space, you are greeted by a light and modern transaction counter that matches the design of the cubicles that were chosen for the space. Two bright yellow stools add a touch of color to the otherwise neutral palette. The space has some visual separation, thanks to the placement of the cubicles along the back wall. This back wall is accented in the company's vibrant blue, which allows the workstations to make a bold statement within the space. By lowering the panel heights and adding clear glass to the cubicle design, natural lighting flows to each person's workspace.
The kitchenette area of the office space is separated using the same fabric and stacked-glass-style panels to allow light to flow into the space. The kitchenette features two high-top tables with stainless steel bases. To create a cohesive look, the tabletops are made of the same white laminate used in the workstations. The same style stools of the transaction counter, here in blue and yellow, add color to this space.
The conference room is outfitted with a simple racetrack conference table in a darker wood-tone laminate. The table is accompanied by black-tufted leather conference chairs that provide a more formal feel. Chrome accents are brought in using the table and chair bases, as well as the power unit in the center of the table.
Using a more neutral palette for their furnishings, ICNE created a very professional work atmosphere, adding visual interest with bright pops of color. Incorporating your company's branding is a fabulous way to add some color—through wall colors, art, fun fabrics on furnishing, and even through accessories. The use of glass and stainless steel elements throughout a space creates a modern and chic feel, while the addition of wood tones brings in a warm and inviting vibe. The perfect balance of fun and sophistication!
Create a space that will welcome your employees!
[Best_Wordpress_Gallery id="5″ gal_title="ICNE"]