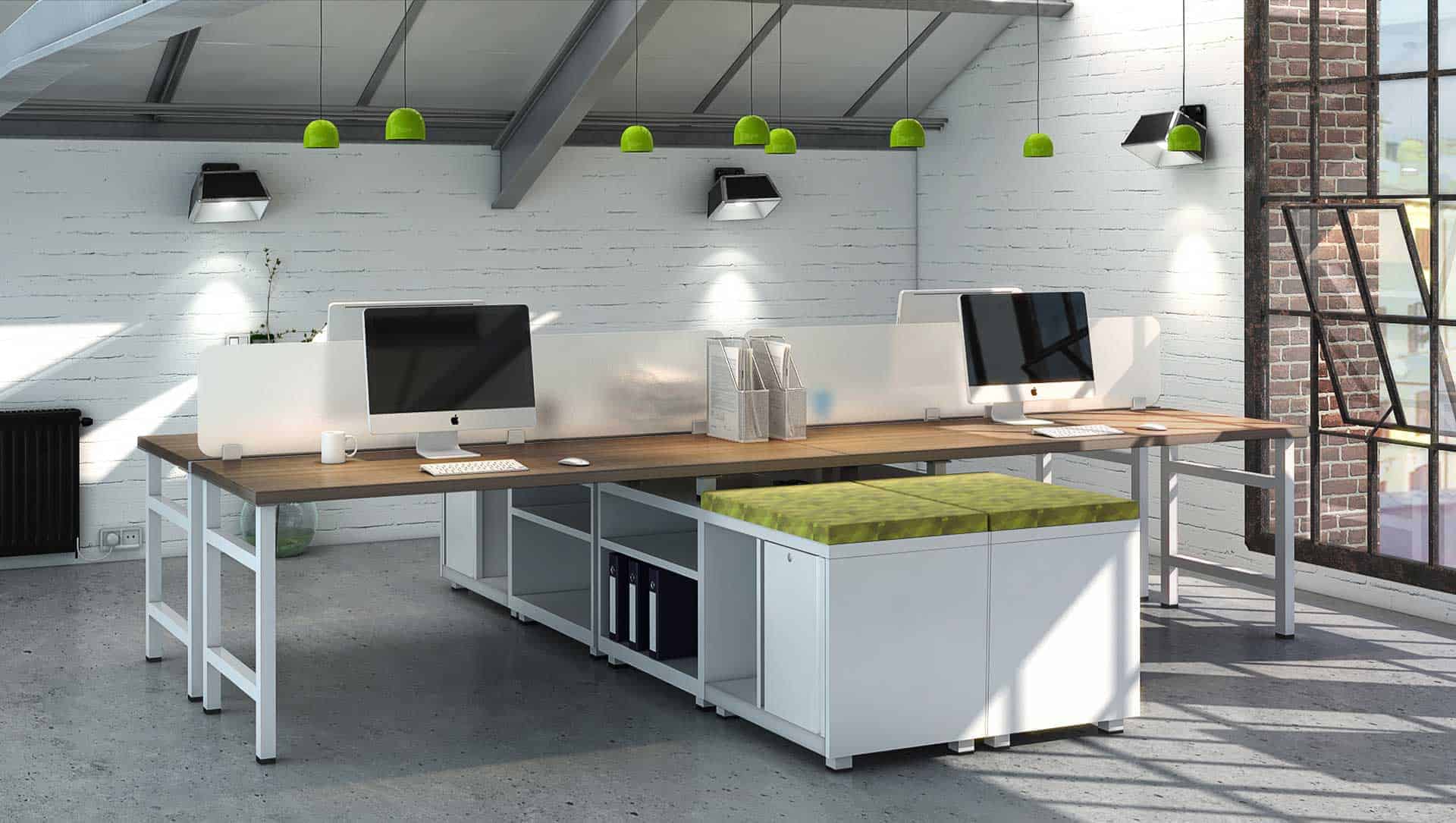 Are you looking to create a more collaborative office, but don't want to follow the open office trend? Joyce Contract Interiors is here to help with some exciting products that can transform your office and give you the perfect balance of open space and private offices.
As the open office trend continues to be popular in the industry, many companies are starting to find that lowering office and cubicle walls has created an added amount of verbal and visual distraction that was non-existent beforehand. For some, the extra noise is a good sign of a more collaborative office, while for others the added distractions have decreased productivity. Some have turned to sound masking or white noise machines as a solution, but for others this just isn't enough. A big part of having a more productive office is having places where employees can not only escape distractions, but also places where more private and confidential communication can be done. A solution we have continued to see is the creation of small rooms, fit for 1-4 people, furnished simply with a desk and some seats and nothing more. These spaces are called huddle rooms, and are great for intimate meetings and phone conferences.
Still, some people enjoy the atmosphere of the open office and are just looking for a quick, cost effective, and minimal construction solution to add some more privacy. Joyce Contract Interiors has a few solutions to keep the walls low and get the office back up to speed! We have added items like movable partition walls, movable whiteboards, HUSH wall applications, and floor to ceiling wall applications to our list of products. All of these items can be used to create smaller areas within an open space.
One solution to break up the office is to add movable partitions. Urban wall is an innovative movable partition product that comes in many configurations and sizes. This movable wall can have tackable fabric, laminate, white board, and clear or frosted acrylic. This is a great way to provide separation between pods of people or noisy areas, while still keeping the office fresh, open and modern.
Another solution is movable Whiteboards. In an office, the need for writing surfaces is infinite—a quick note here, a solution there—so placing whiteboards into your space can serve dual purposes. By placing whiteboards between groups that often collaborate, you provide a usable area while also creating a visual barrier that makes people feel like they're in a more private area. These white boards can come in many shapes and sizes, be magnetic, reversible, and even have areas of fabric that notices can be tacked up on.
Acoustical applications are also very popular; with so many choices and ways to implement them, they are sure to be a perfect solution to any space. For those looking to keep an open and collaborative atmosphere, there are a few different applications. One is to apply the acoustic panels on the ceiling in a suspended manner. The assortment of this type of acoustic is endless and can create fun art-like installations. You can also use the suspension method as a way to create floating walls that can also act as partitions. Wall applications, which are very similar to the artistic ceiling applications, can bring some of the company colors into the space in a creative manner.
Finally, floor-to-ceiling architectural walls  are a great way to create temporary huddle rooms and offices. Although these walls are treated like drywall in terms of needing proper lighting, HVAC, and sprinkler systems, they are a great way to separate a space quickly. They can look like a fabric cubicle, be made of glass or laminate, or a mix of all of these. These spaces provide a good amount of acoustical value and allow the business the freedom to take them with them if they move to a new space or building.