How Businesses Can Adapt the Workplace to Meet the Changing Needs of the Hybrid Remote Workforce
By now, you've certainly heard about the biggest office design trend of 2023—the hybrid office. Early-adopters, LinkedIn among the most notable examples, have been receiving considerable coverage within the office-design and furniture industry. Companies facing the challenge of empty desks within the office are looking for ways to reduce costs and change the office layout to meet the needs of the changing workforce. The solution is the hybrid office design. Read on to learn more about the hybrid office and for insights on how to embrace the evolving modern workplace.
The COVID-19 pandemic has forced businesses to rethink the way they design their offices.
The way offices are designed has changed drastically in the past few years, largely due to the COVID-19 pandemic. Before the pandemic, most offices were designed with the assumption that employees would be working in the space full-time. However, as more employees began to work remotely, companies realized that they could save money by downsizing office space. This realization led to the trend of moving to a hybrid work model, where employees split their time working from home and working in the office.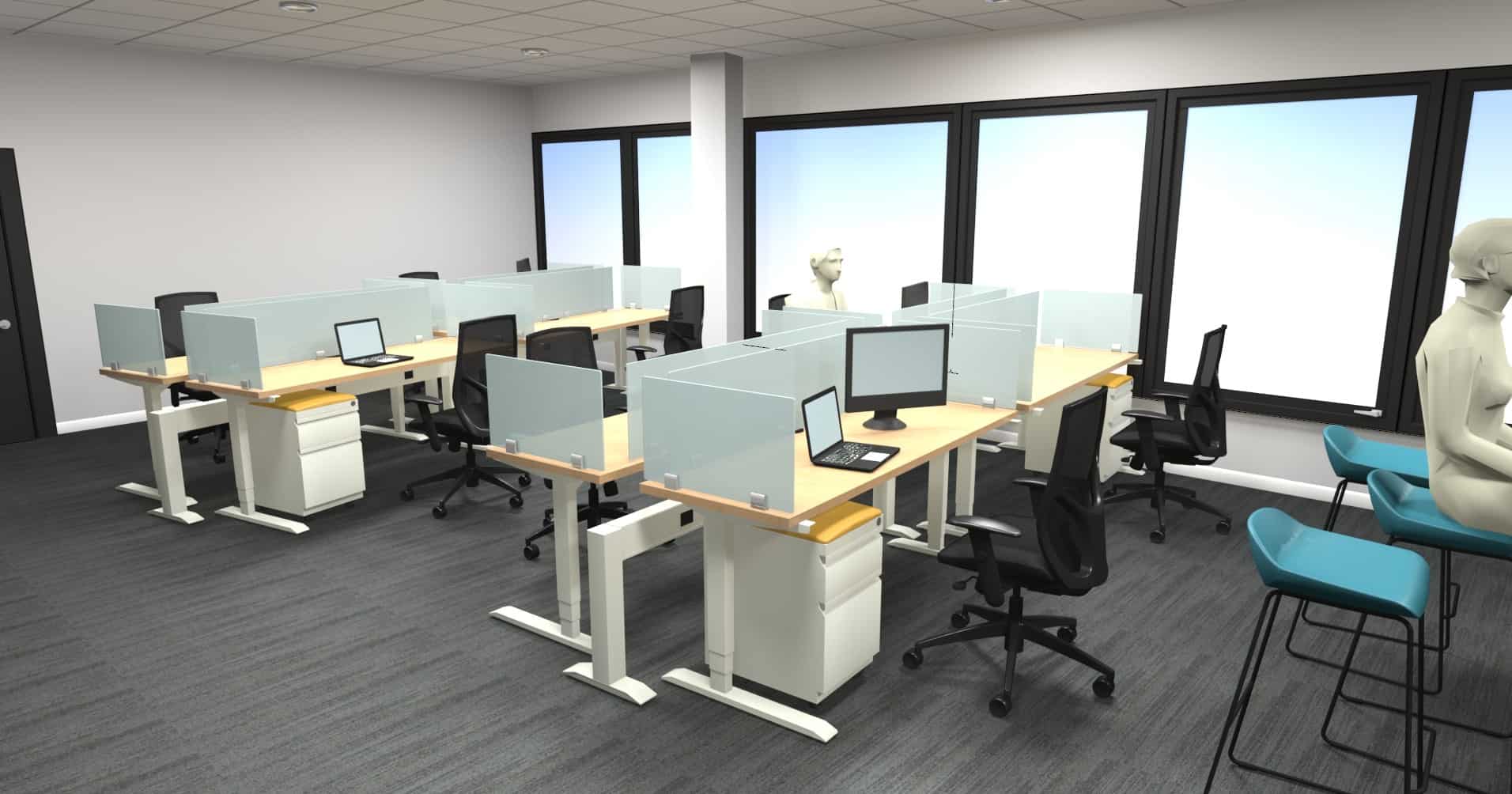 What is a "hybrid office" or "hybrid workplace?"
This is an interesting question! First, the hybrid office is a physical location that combines both functional and aesthetic layout and furniture considerations. The hybrid office is also a concept that is governed by company policy; the concept helps define how employees split their time between working at the office and working from home. The goal of both definitions of the hybrid office is finding the right balance among reducing company overhead, increasing employee productivity, and achieving employee satisfaction. Employers want to attract and retain talent while keeping costs low and output high. A hybrid-office solution is a vital element in reaching these goals.
Is hybrid office design important?
Hybrid office design is important, because traditional office designs often fail to meet the needs of the modern hybrid worker. Whether a cubicle-based design or an open-office plan, traditional layouts have been based on most employees being in the office and at their assigned workspaces Monday through Friday from 9:00 am to 5:00 pm. Today, close to 80% of workers who can do their jobs remotely are working from home at least part-time. And, 60% of workers are "extremely likely to change companies" if they are not offered remote flexibility, as sited by the Gallup poll. As employers look to adapt and downsize office space to save money and meet emerging needs, a new approach to office design is needed.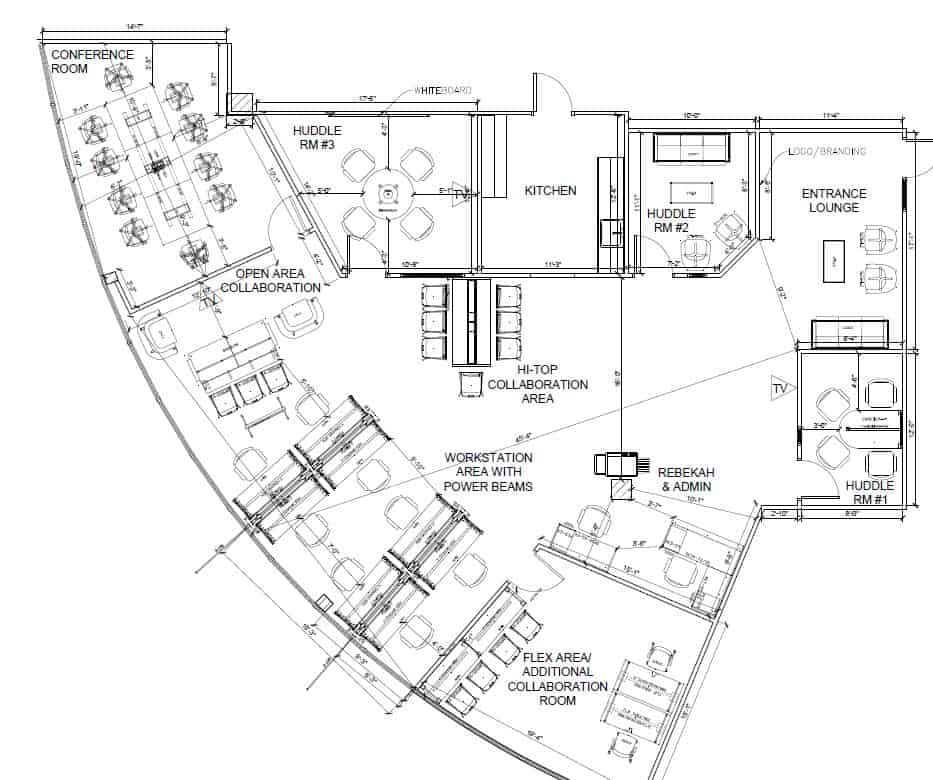 What is the difference between traditional office design and design for the hybrid workplace?
There are several approaches to answering this question, but the answer is basically an emphasis on flexibility over rigidity. The traditional work schedule was very rigid; most workers were in the office from "9-to-5" each weekday every week. Most office layouts were also very rigid. All employees had desks where they sat every day. The focus was on routine and productivity.
The hybrid office should be about flexibility. Flexible policies allow employees to set their own schedules for days in the office and, perhaps, for the hours they work. Flexible office layouts and office furniture help businesses maximize space and balance varying employee preferences and needs.
Arguably, the biggest difference between the traditional workplace and the hybrid workplace is the type of activity that the office is designed to prioritize. Previously, the top priority was providing a dedicated desk where an employee could focus and complete work. Today, that type of high-focus work can be completed at home just as easily as in the office. In the hybrid model, the primary purposes for coming into the office are to socialize and collaborate with coworkers and to make connections that are more difficult to achieve virtually. A flexible workplace offers a variety of spaces for formal in-person and virtual meetings, informal collaboration and networking space, and areas with desks for individual work projects in between. The flexibility element is essential to these office layouts and office-furniture selections because most offices will no longer have an assigned desk for every worker, or even the workspace capacity for all local employees to be in the office together on the same day. Flexibility is also what workers want; it helps attract and retain talent.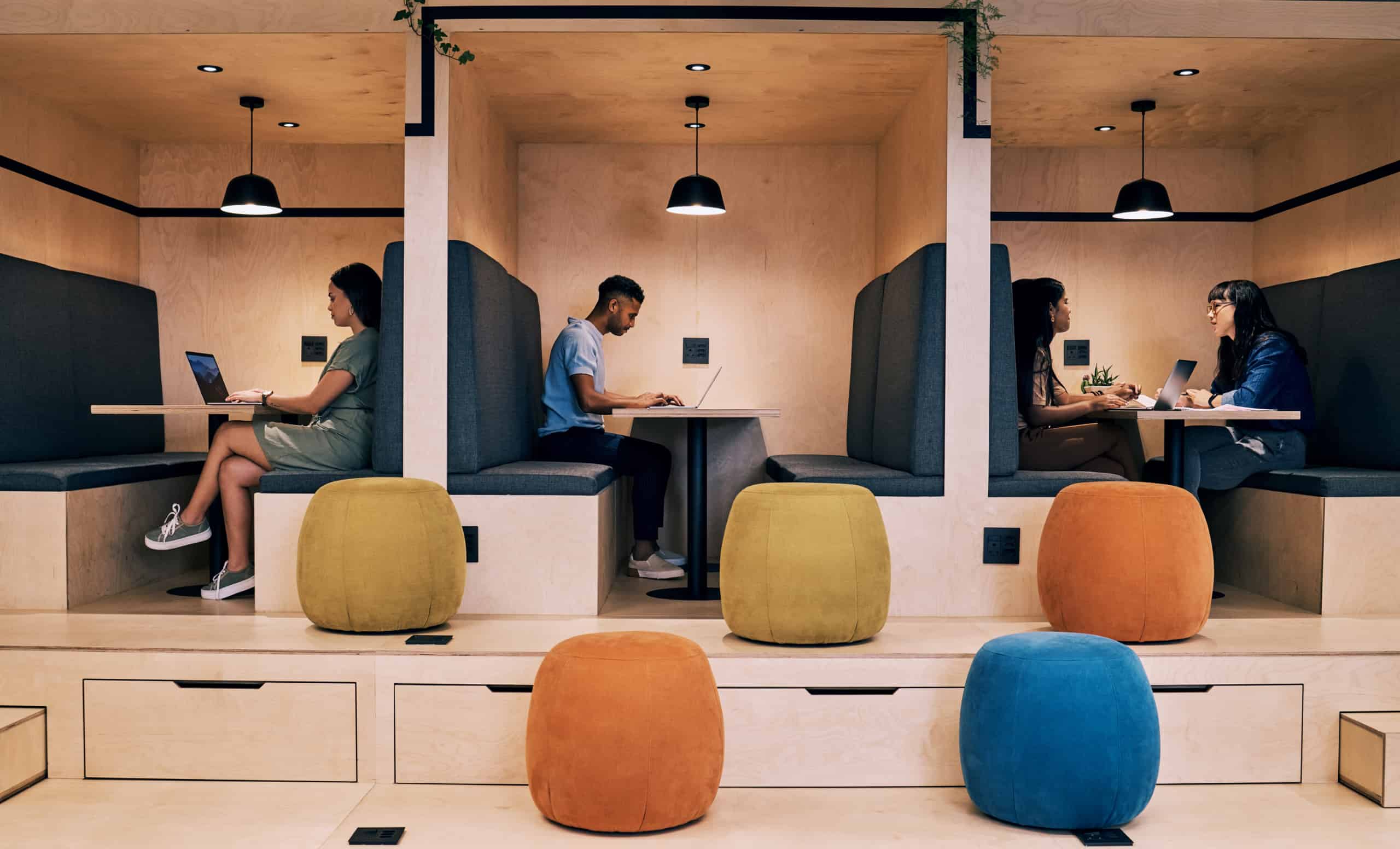 How the hybrid workspace is changing office design
Decades ago, most offices were packed with rows of cubicles, because that was the standard for office design. Then the open-office trend took over and cubicles were replaced by more benching style workstations. Walls were removed to open up the office aesthetic and to squeeze more workers into smaller space. Just as the open office was waning in popularity and cubicles were making a comeback, the pandemic came along and changed everything (again).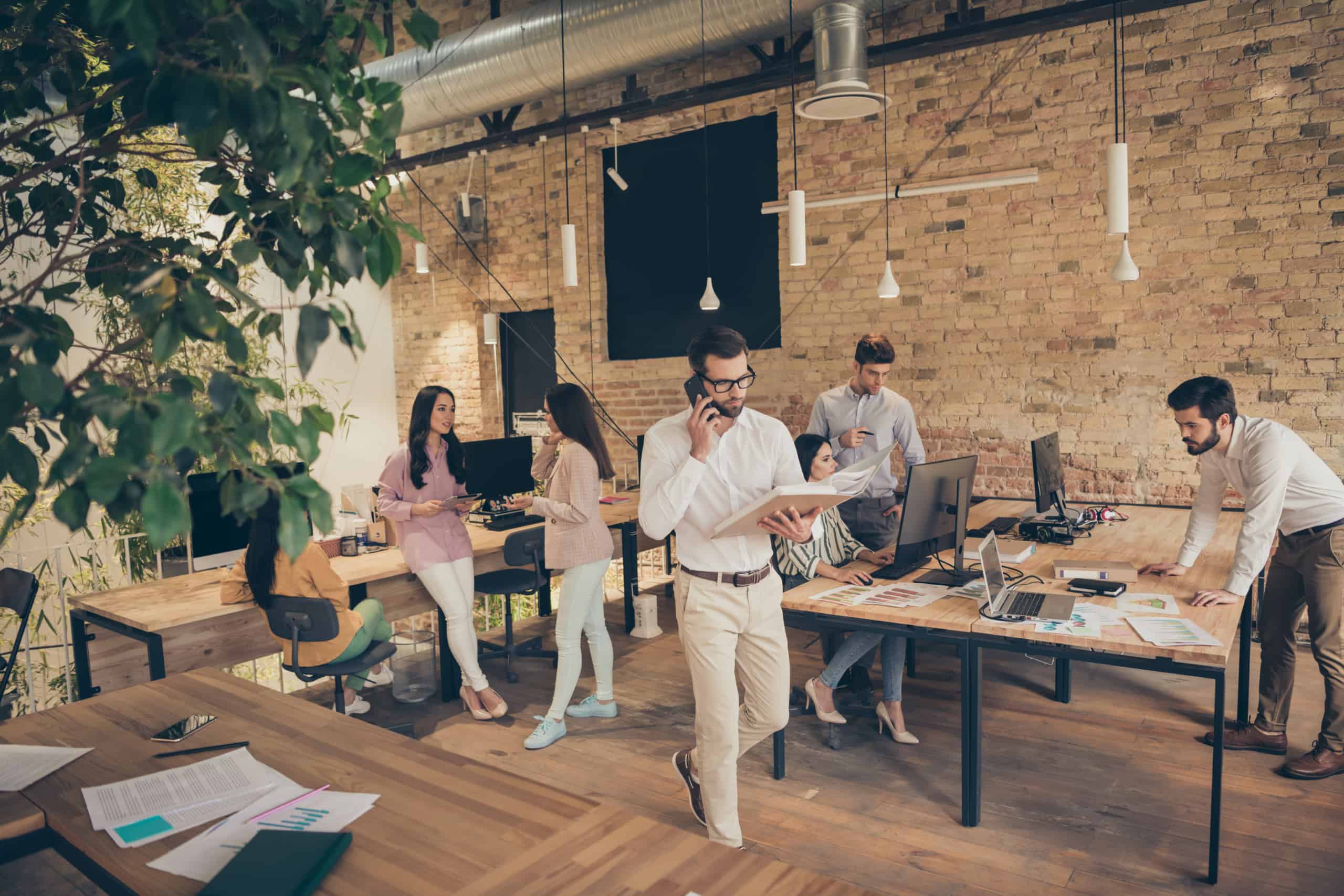 Let's explore how today's increasingly popular hybrid office design is currently changing layouts and furniture.
More flexible arrangements, including hot-desking, are replacing the traditional model of employees being tied to their assigned desks all day. Hot-desking allows employees to choose any available desk in the office based on their needs and the office population at the given time. This arrangement supports a more dynamic and collaborative work environment, as employees have the freedom to work in different areas of the office depending on their tasks or preferences.
Many companies are leaning into resimercial furniture and designs to make the office feel more inviting. Yes, there are still desks to work at, but collaborative spaces start to feel more like hanging out in the living room or in a comfortable lounge. As a casual and comfortable environment, the workplace is more appealing and can foster a sense of community and connection among employees.
In this evolving work landscape, technology plays a crucial role in enabling employees to work from anywhere. With advancements in digital tools and communication platforms, employees can collaborate effectively and stay connected regardless of physical location. This flexibility allows employees to work from coffee shops, their backyards, or even the beach while maintaining productivity.
Why Employees Need an Office                     
Why Employers Need an Office
Collaboration with coworkers                                                                     – To develop company culture
Professional-training and career-development sessions                       – To provide space for employee-client meetings
Formal in-person meetings with clients or coworkers                           – To improve employee productivity
Access to secure equipment or documents                                               – To encourage collaboration
To learn company culture
Office furniture that adapts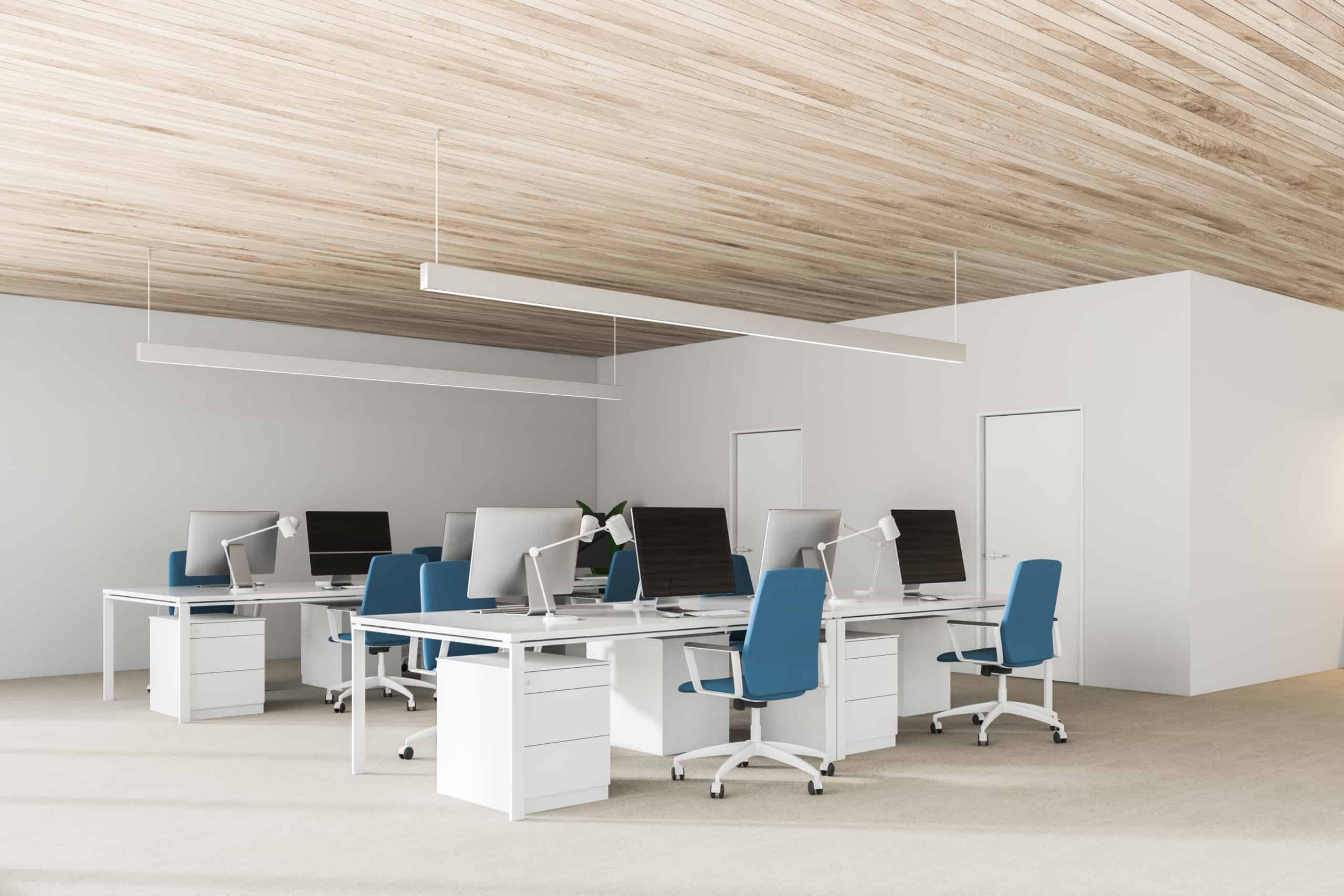 With the rise of hybrid work, employees are hot-desking and moving around the office. Office furniture serves more as temporary employee seating and plays less of a permanent-workstation role. The furniture in all of the various zones of the office must provide secure internet access and mobile-friendly features like charging ports.
Offices have evolved into spaces where employees can gather and engage in discussions, both collaborative and social. With more emphasis on collaboration and engagement, and less emphasis on individual workstations, offices must dedicate additional space to collaborative areas. And with more space for collaboration, there is less space for individual workstations.
The volume of employees working in the office and the nature of the work being done can vary considerably from one day to the next. The office layout and furniture must be able to adapt to accommodate focused individual work, casual in-person collaboration, formal in-person meetings, virtual meetings, and private phone calls.
With so many different work preferences and functional needs, office designers must do more with less space. By creating different zones, designers can divide up the office space using flexible and adaptable office furniture.
Modular Furniture
Modular office furniture is designed to be flexible and adaptable to changing needs. Modular desks, benching, workstations, cubicles, and different types of walls or partitions are the most common examples of modular office furniture. With a creative plan, these furniture elements can be combined to create a truly adaptable office space. Using modular furniture, space can change as your needs change. We are all still learning and collecting data and insights about the hybrid workplace. What you think might work when you design a hybrid office may not work out the way you planned. Were too few individual workstations implemented after you overestimated the need for collaborative spaces? Modular cubicles and desks can adjust how the space is used. Is there a lot of daily collaboration that distracts employees and makes it difficult to complete individual work assignments? Utilize divider products to create more privacy in certain zones. With modular furniture, there are endless possibilities that accommodate the unique needs of an office.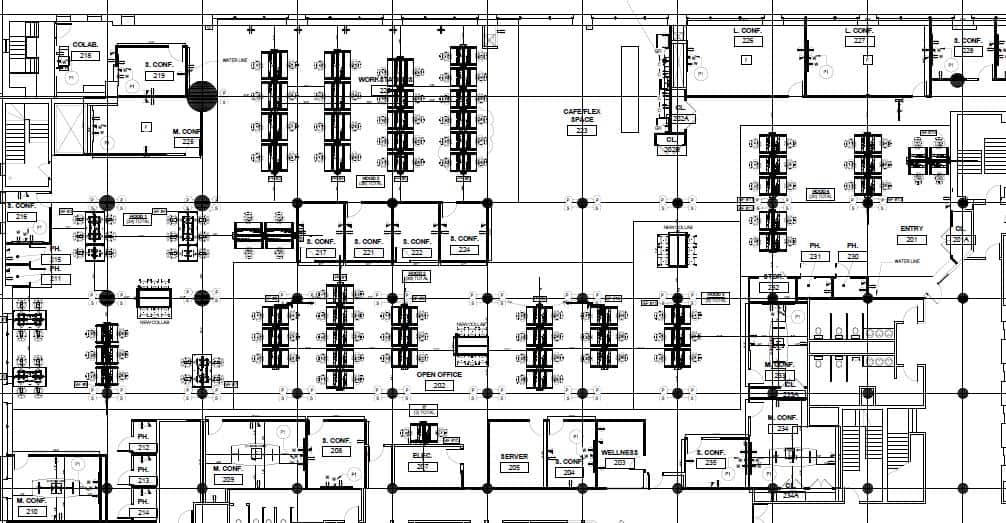 Zones
In designing the hybrid office, a deep understanding of how the office will be used is critical. Zones are created to serve the different purposes people have for going into the office. The overall understanding starts with an outline of employee needs, of what encourages employees to come into the office, and of what ensures an effective work day. In today's competitive talent market, an office must appeal to employees. It is also crucial to consider the needs of the business; after all, productivity pays the bills and employee salaries. Here is a look at how certain zones can be tailored to serve important office needs.
Open areas resemble the open-office model, but as a scaled-back version. Open workspace is meant for getting work done in a more collaborative environment.
Focus areas give employees space to complete work that requires quiet and concentration.
Phone booths or meeting pods typically accommodate one or two people. They are great for phone calls, private meetings, and virtual meetings.
Kitchen and Lounge areas should not just be space to eat or get coffee, but space to socialize and relax for a bit.
Meeting rooms can be small, like a huddle room, or large, like a conference room, or any size in between. Meeting rooms hold more formal collaborative sessions, such as training, team meetings, or group conference calls.
Breakout areas are for less-formal collaboration. They may be used for more spontaneous workplace chats or to socialize during break time.
Multi-use areas are, of course, designed to serve multiple functions. An example of a multi-use zone might be a bullpen that is used for an informal meeting or collaboration session as well as workspace for individual projects.

Increased Collaboration
One of the primary functions of the new hybrid office is collaboration. Virtual meetings are great, but they fail to deliver the full experience of in-person collaboration. While employees may be able to do their own work at home just as well as in the office, meetings and collaboration may be more successful in the office. To accommodate these meetings, the hybrid office should have a larger ratio of collaborative space to individual workstations. Here are some are considerations for increasing office collaboration:
Having multi-use areas where workstations are arranged in a collaboration-friendly layout.
Making collaborative areas more appealing by offering softer lighting, more comfortable seating, and interior-design elements that make the space feel more like a living room than a corporate office.
Putting collaborative areas in the middle of the office and in higher-traffic areas and corridors. This way, the collaborative zone is visible and top-of-mind, as well as convenient for quick access.
Including other perks near collaborative areas, such as drinks and snacks or even fun games or other activities that coworkers can enjoy together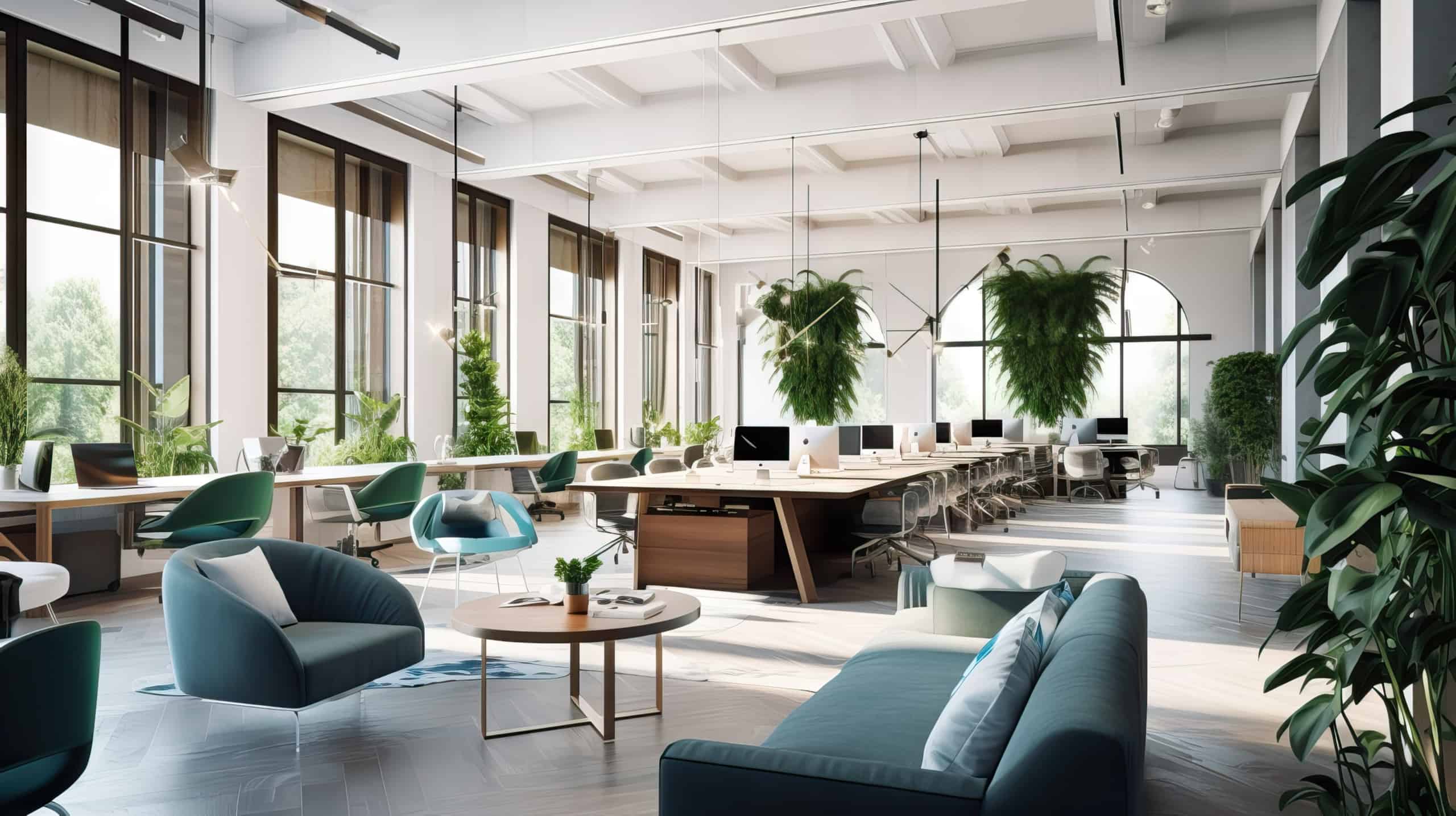 Amenities Make the Difference
Companies want the office to be attractive to employees in order to encourage them to come in and use the space. There are creative ways to offer that encouragement. One is to provide office amenities that make the in-office space enjoyable, less stressful, and more productive.
Fitness and food amenities are impactful because they offer employees a convenient way to stay healthy and save time (no need to go to your local gym) and money (fewer groceries needed). On-site cafés, restaurants, and cafeterias let employees enjoy tasty food from the comfort of the office building and take a much-needed break during the day. Some offices are getting fancy, combining treadmills with standing desks so employees can keep active while they work.
One aspect of the amenities discussion is the resimercial layout that make certain zones feel like a lounge or living room. Other amenities and benefits may include:
Company-sponsored mobile phone plans and internet service for employee homes
Team-building events and getaways
Flexible schedules
Lots of plants
Areas to stretch out and take a short nap to recharge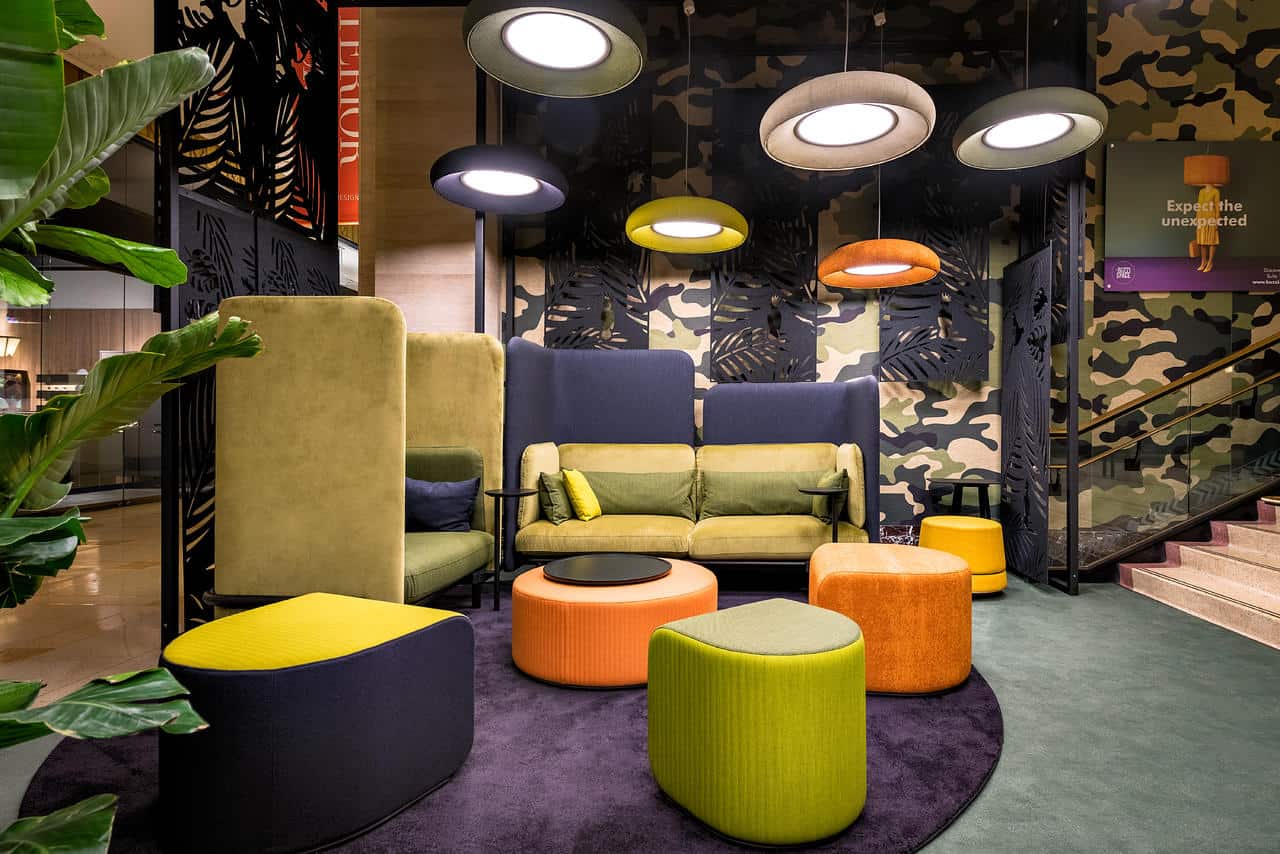 Budget Challenges and Lowering Costs
Redesigning an office and purchasing new furniture is costly. However, many companies are designing more hybrid workplaces because there are opportunities to lower existing costs. Office overhead is often one of the biggest company expenses. If an office is at less than half capacity most days, which data suggests is true for the majority of businesses right now, companies may be motivated to downsize and lower overhead. This is both an opportunity to cut costs and an opportunity to improve the functionality of the office so that it is equipped for the hybrid workforce. The office becomes a more desirable place to work, too! Each company is unique, so the decision to create a hybrid workspace should be analyzed carefully considering all of the pros and cons associated with a downsize and redesign project.
Hybrid office design trends that reduce the spread of illnesses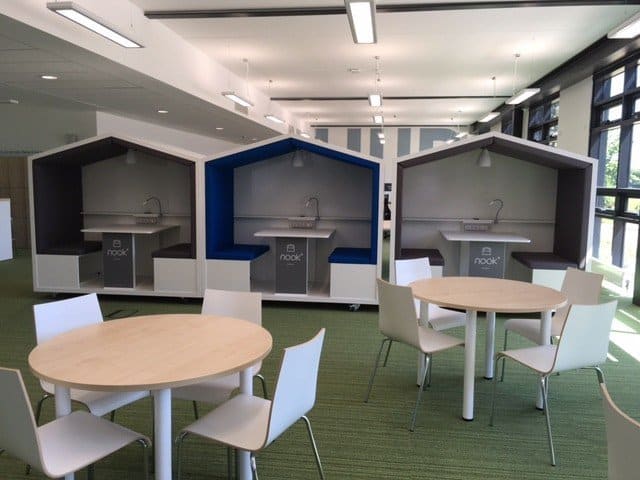 Office design in the post-COVID era focuses on productivity, collaboration, cleanliness, safety, employee engagement, and adaptability. Here are some additional wellness-oriented key trends taking shape in hybrid office design:
– Pods of three to four team members. These pods allow employees to work together but maintain social distancing.
– Desk distancing. Desks are spaced further apart to reduce the risk of disease transmission.
– Outdoor meeting areas. These areas provide safe and comfortable space for employees to meet.
– Small conference areas. These areas can be used for smaller meetings and team collaboration.
How to Design & Furnish Your New Hybrid Office
If you have made it this far, you are likely sold on the idea of adopting a hybrid office design. While this article offers a lot of information, here are the sequential steps we recommend that you follow for an office redesign project.
Brainstorm Your Goals and Objectives
What is your office missing currently? Where is it falling short in meeting the changing needs of your workplace? What are you hoping to achieve with a hybrid office design?
Consult an Office Design and Furniture Expert
There are so many factors to consider in an office design project that it would be nearly impossible to think of everything unless you have a wealth of experience. We highly recommend working with an office design and furniture vendor early and often while you are making office-design decisions.
Obtain Measurements of the Space and Discuss Preferences
Don't trust architectural plans, as they are almost never accurate. Your office design and furniture partner will take precise measurements in the context of your project needs, preferences, and existing furniture.
Identify Specific Needs and Priorities
How many workstations are needed? How much of the office space should be dedicated to collaborative areas? How many focus rooms are needed? These are the types of questions to answer at this step.
Decide on a Floor Plan
Based on the previous steps, your designer will draft floor plans for you to review and provide feedback on, ultimately working toward a final layout.
Choose Furniture
Explore websites and catalogs, review furniture-dealer suggestions, and choose the furniture you need for this new office design.
Finalize Furniture Quote and Order
Place your order! By now, your furniture and design partner will have coordinated lead times, delivery dates, and installation plans.
Delivery and Installation of Furniture and Decor
The final step! Make sure your building is aware of your deliveries and has approved the delivery and installation schedule.