The number of new businesses starting to embrace and accept the open-plan trend is growing. This comes out of a need to build more minimal and collaborative work environments for their employees. We, at Joyce Contract Interiors, a furniture dealer and design firm, have noticed a growing interest in Desking and Benching systems. We are seeing more companies abandoning conventional boxy cubicle designs for more collaborative and interactive workspaces.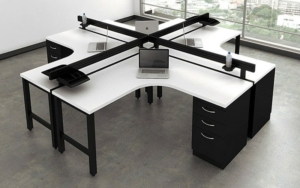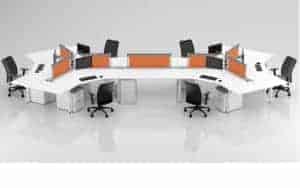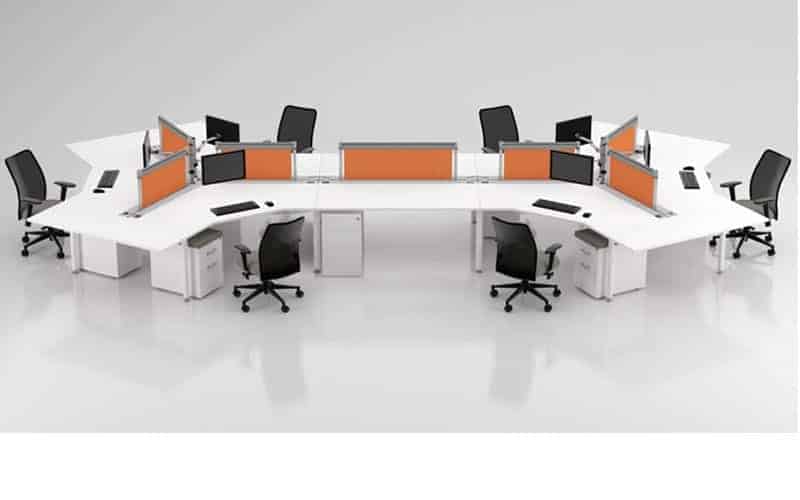 The Fundamentals
Desking and Benching Systems takes the cubicle walls down and clusters employees in an open environment. In essence, allowing people to be interactive, creative and collaborative instead of being closed up behind walls and office doors. If desired, privacy screens can added to define an individuals workspace. These screens are available in acoustic fabric, laminate, frosted glass or whiteboard. The goal still remains to create an open, exciting energetic filled office but giving employees a sense of their own space. Storage units such as fixed or mobile pedestals can be added.
Benefits:
● Advancing collaboration and communication between teams.
● Make is easier to reconfigure if needed.
● The cost is low when accommodating large numbers of staff in one small section.
● A smart use when it comes to maximizing real-estate and improve ROI by augmenting floor space when set side by side with old hat desking.
● Resilience in use – workstations, hot-desking, business meetings, and all that jazz.
Desking Systems
On the other hand, is more adaptable, giving you more room (no pun intended!) for being creative in complementing your office furniture arrangements. They typically are in harmony with panels and warrant formation of 'Clusters' of desks, for a particular group of people to work and collaborate. Desking also delivers some storage options, privacy screens, and leg support with its standard combinations, which is something it has in common with benching. The privacy screens can be frosted glass or fabric. In addition, the 'storage spines' act as a divider/power carrier.
Benefits:
● More room for innovation provided by a multitude of options and configurations, giving the ability to manipulate the landscape with fewer restraints.
● Makes it possible to create detached working spaces to increase concentration and productivity.
● With the help of panels, it is easier to reduce noise and control acoustics.
● More storage options to fulfill your entire storage requirement.
Still, have questions and concerns about our Benching & Desking systems? We are keen to answer and address every one of them. Call or contact us and give us the pleasure to help you set up a benching or desking system that suit all your office needs.
Joyce Contract Interiors, Inc.
319 Littleton Road, Suite 304
Westford, MA 01886
Phone: 978-251-2226
Fax: 978-251-0550
mailto:info@joycecontract.com