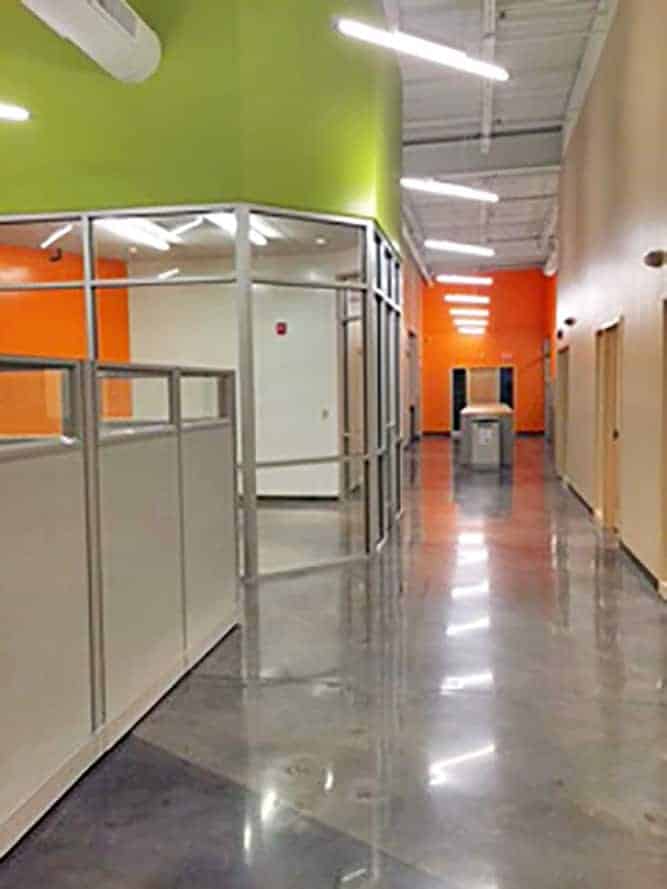 Having worked with Joyce Contract Interiors at their Chelmsford, MA locations, Best Fitness invited us to take a look at the new space and come up with designs that incorporated the company colors and ideals. Samantha and Dan worked alongside the end-users and the architectural team to come up with the best solution possible, one that would satisfy everyone's needs. Working with the existing architecture of the space, Samantha was able to design a creative "off-the-wall" style cubicle that provided the perfect balance of space and acoustic privacy. Adding glazed glass stackers on top of the panel system allowed natural light to filter into the cubicles without over-exposure or disruption. Outside of the cubicles, Samantha created a storage area using three drawer laterals, which also doubled as a high-top meeting and collaboration area by the placement of laminate tops across the span of the files.
The client wanted to maintain a consistent look throughout the office; the private offices needed to have the same feel as the open area cubicles. Using the same light-maple laminate Samantha was able to create large, L-Shaped desks that incorporate a frosted glass modesty panel to mimic the glass stackers of the panel system. Tackboards in the same fabric as the panels were used on the walls. Dual-monitor arms were installed to help increase efficiency. The offices were finished with orange desk and guest chairs that kept with the Best Fitness branding and add a pop of color.
In addition to these workspaces, Best Fitness also needed to create two conference rooms within the new space—one larger boardroom-style conference room and one smaller quick-meeting space. In the larger conference room, a HON preside conference-room table was specified because it allowed the client to pull the light-wood-grained laminate into the space and accommodated the power needs. This table offers hollow bases that allow the electrical system to be wired up through the base. This placement results in a clean look, but still allows quick access through a hidden door panel. A smaller HON preside table with aluminum T-base legs was specified in the same wood tone for the smaller of the two conference rooms, keeping a cohesive look. These spaces were finished with matching 9 to5 Aria chairs in the same orange-mesh back and black-fabric seat as the offices.