Visit our showroom to see our pods in-person, including the Cubicall as seen on Shark Tank.
About Office Phone Booths
Looking for a way to take back your privacy? Cubicall offers modern phone booth privacy pods that are an efficient solution. The booths and pods help increase productivity and morale by providing small offices and common spaces for employees to enjoy some privacy and a place to focus. Phone booths can be customized to fit within your company's aesthetics and can be transported between offices. These phone booths can also tie into the building's sprinkler system. Want to see it in person? Schedule an appointment to visit our Westford, MA showroom to sit in the 2 Series in person.
Advantages of Office Phone Booths
Privacy
Maintain focus in an isolated area that cuts out distractions.
Sound Absorbing
Frequency absorbing materials and design make for an acoustically sound experience.
Easy Installation
Booths ship flat and most models can be built within 45 minutes with just a few tools.
Customization
Design a booth with custom colors, materials and custom graphics to match your branding.
Choose a Size for Your Office Phone Booth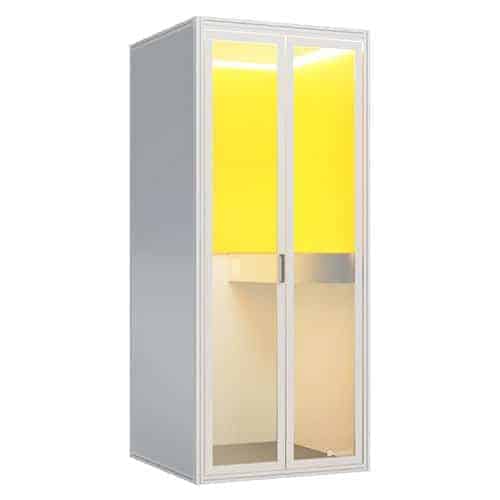 1 Series: Solo – 1 occupant, standing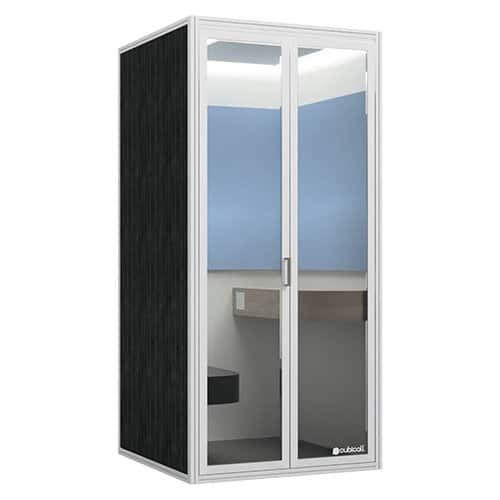 2 Series: Standard – Up to 2 occupants
4 Series: Meeting Room – Up to 4 occupants
Cubicall OneSeries
Features
WOOD DROP CEILING WITH FAN
LED LIGHTING SYSTEM
ACOUSTIC INSULATED WALLS
BI-FOLDING ALUMINUM DOORS
DOUBLE PANE TEMPERED GLASS
MOTION/OCCUPANCY SENSOR
ALUMINUM EXTRUSIONS
LAMINATE DESK
2 USB CHARING PORTS
1 ETHERNET PORT
3 ACOUSTIC PANELS
4 LEVELING FEET
CARPET
1 STANDARD THREE PRONG ELECTRICAL CORD
FOR BACKSIDE PLUG-IN
1 UL LISTED COMPLIANT ELECTRICAL OUTLET
15AMP /125 VOLT
NO SEAT (can accommodate a standard size stool)
Dimensions
outside: 37.15" x 37.15" x 87.15"
inside: 34" x 34" x 84"
desk: 42" x 34" x 13.5"
acoustic panels: 33.75" x 42.75" x 1"
weight: 650lbs
Cost – $5,995.00
Freight/delivery and installation
additional cost based on location
and field conditions
Cubicall TwoSeries
Features
WOOD DROP CEILING WITH FAN
LED LIGHTING SYSTEM
ACOUSTIC INSULATED WALLS
BI-FOLDING ALUMINUM DOORS
DOUBLE PANE TEMPERED GLASS
MOTION/OCCUPANCY SENSOR
ALUMINUM EXTRUSIONS
LAMINATE DESK
HAND STITCHED LEATHERETTE BENCH
2 USB CHARING PORTS
1 ETHERNET PORT
3 ACOUSTIC PANELS
4 LEVELING FEET
CARPET
1 STANDARD THREE PRONG ELECTRICAL CORD
FOR BACKSIDE PLUG-IN
1 UL LISTED COMPLIANT ELECTRICAL OUTLET
15AMP /125 VOLT
Dimensions
outside: 41.15" x 41.15" x 87.15"
inside: 38" x 38" x 84"
desk: 34.5" x 38" x 13.5"
seat: 18.5" x 38" x 12.5"
acoustic panels: 36.75" x 46.75" x 1"
weight: 700lbs
Cost – $6,995.00
Freight/delivery and installation
additional cost based on location
and field conditions
Cubicall FourSeries
Features
2 X WOOD DROP CEILING WITH FAN
2X LED LIGHTING SYSTEM
ACOUSTIC INSULATED WALLS
2X BI-FOLDING ALUMINUM DOORS
2X DOUBLE PANE TEMPERED GLASS
2X MOTION/OCCUPANCY SENSOR
ALUMINUM EXTRUSIONS
OVERSIZED LAMINATE DESK
2X HAND STITCHED LEATHERETTE BENCH
4 USB CHARING PORTS
2 ETHERNET PORT
4 ACOUSTIC PANELS
4 LEVELING FEET
2X CARPET
1 STANDARD THREE PRONG ELECTRICAL CORD
FOR BACKSIDE PLUG-IN
2X UL LISTED COMPLIANT ELECTRICAL OUTLET 15AMP /125 VOLT
Dimensions
outside: 41.15" x 81.5" x 87.15"
inside: 38" x 76" x 84"
desk: 34.5" x 38" x 27"
seats: 18.5" x 38" x 12.5"
acoustic panels: 36.75" x 46.75" x 1"
weight: 1,400lbs
Cost – $11,995.00
Freight/delivery and installation
additional cost based on location
and field conditions