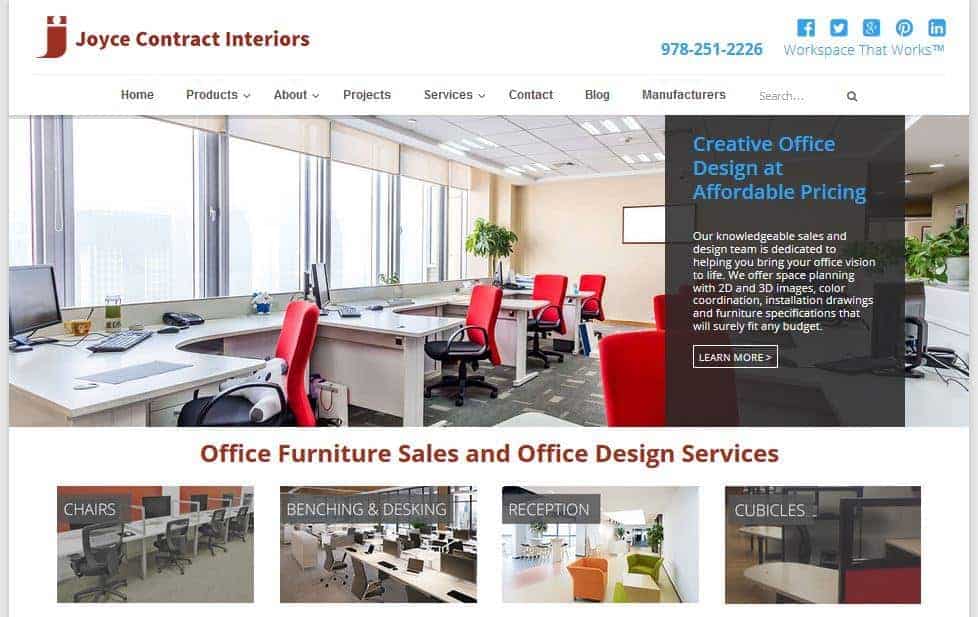 As many of you may already know, this year Joyce Contract Interiors is celebrating our 26th year in business! That is 26 years of providing our clients with great customer service, well thought out space plans, and the best quality products to fit any budget! Our website has been a great tool for our clients, helping them visualize some of the many options they have for their space and providing preliminary pricing to help them plan a budget, but as we look to the future we wanted to make it even better.
This week, Joyce Contract launched our brand new website featuring all of the great products we had on our previous website, as well as some exciting new features! Our new website is geared toward helping our clients find what they need in a flash. The new user friendly template will provide mobile friendly drop down menus with all of the different categories of office furniture we provide, as well as a search tab if you are looking for a more specific piece of furniture. By popular demand, we have now be included dimensions under our benching and desking categories to help our clients get an idea of what kind of space they will need for certain types of workstations. We also included the finishes currently shown on each system, but of course there are many other options available upon request. Under our chairs category we now provide a link to other similar chairs to help our clients compare all of the available options.
Our new look also features some of our newest and most popular products on our home page, as well as the latest trends in the office furniture industry. We have now also incorporated our project gallery and blog pages right on our main site to make the viewing experience even easier. Make sure to check out all of these exciting changes for yourself, and thank you to all of our loyal clients for making these last 26 years so successful!