What is Benching?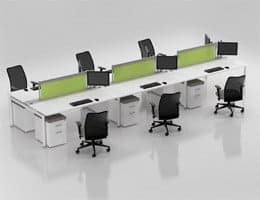 As opposed to cubicles, benching is a low-style, no-panel system designed to encourage collaboration. Available in multiple sizes and configurations, benching units generally consist of a worksurface, legs, and possibly up-mount divider screens.
To see examples, please view our benching page.
What is the difference between Benching & Cubicles?
As a general overview, cubicles are panel-based workstations which provide the most privacy from other employees; benching has either no or minimal panels and provides an open-style row of desks meant to encourage collaboration.
Cubicles can come in many sizes and configurations depending on the client's needs. Panels come in 39″, 47″, 53″, 67″, and 85″ heights, comprised of fabric, glass, and whiteboard finishes.
Benching or desking is typically used in smaller workspace configurations and can measure anywhere from 3′ to 7′. If some privacy is needed, upmount screens with heights of 8″ to 24″ can be added.
What is an Up-Mount Screen?
Up-mount screens (also known as privacy screens) are used as dividers between workstations to define boundaries and give employees both privacy and acoustics. They can come in fabric, lexan glass, laminate and whiteboard finishes, and are available in many sizes to fit almost any workstation.
Depending on the client's needs they can be placed on top of or in between work surfaces, and even on top of cubicle panels. See examples of each on our benching page.
What is Sound Masking, and how can it help my office?
Sound masking is the introduction of an unobtrusive background sound similar to airflow which reduces distractions by making human speech unintelligible. (This, however, does not mean that you cannot hear the person talking.)
A typical installation involves using 3″ speakers in the ceiling and a small 7″ x 5″ control box in the area you want to have more acoustic privacy. For more information take a look at our sound masking page.
What is the difference between a Power pole and Base feed?
Power poles and base feeds are both options for bringing power to your workstations. A power pole is generally used in applications where power and data are being brought down from the ceiling. The power pole can connect directly to the work surfaces or panel system you choose. A base feed, on the other hand, is connected from the floor or the wall to your stations.
What is Seated Privacy?
Often in a benching-style office there is a need for some privacy between workers. Seated Privacy uses 12″ to 16″up-mount screens to separate workers and provide a sense of privacy while still being able to see those around them.
What are Sit / Stand or Height-adjustable desks?
As more research has been done on the effects of sitting for long hours during the work day, it has been found that over-sitting can have significant negative effects on your health.
As a way of combatting these negative effects, height-adjustable desks have been introduced as a way for people to stand periodically throughout the work day. They can be programmed at different heights if electronic or pneumatic, or they can be hand-cranked to the height you need.
How many chairs can you fit around a Conference Room Table?
A typical conference room chair is about 22″, and as a rule you should leave 4″ on either side of the chair. So, expect to leave 30″ for each chair. A general rule is:
Number of chairs = table size or circumference / (width of chair + 8″)
For example, if you have a 60″x 36″ table and divide each side by 30″, the 60″ side would allow 1-2 chairs and the 36″ side would allow only 1 giving a total of 4-6 chairs at that table. Note: with round or oval tables you can generally add an extra chair to this rule.

What is a Huddle Room?
As cubicle walls go down noise goes up; although collaborative workstations work well in some situations, there is still a need from time to time to go somewhere that is private. Thus small areas/rooms called 'Huddle Rooms' evolved. These are typically designed to hold 2-4 people, and are ideal for impromptu meetings or phone and video conferencing.
Purchasing Office Furniture
Can you get new furniture for the price of used or refurbished furniture?
The simple answer is yes, but more importantly, you can actually now buy new furniture for less than refurbished.
Between the 1970's and 1980's, major furniture manufacturers were making quality American-made products which were doing well in the booming economy.  In the 90's, after 10-20 years of owning these products, many companies wanted to refurbish their furniture, or sell off their old to refurbishers, as purchasing new furniture tended to be quite expensive. This was the start of the "remanufacturing" era, and it was common for new companies to purchase refurbished furniture as an economical way to furnish their offices.
In 2001, following 9/11, many new purchases came to a halt, but the remanufacturing business continued to boom. However, starting from 2002 until about 2008, many of the manufacturers began to travel overseas to find ways to outsource and make their office furniture for less. After perfecting this process, many manufacturers now import quality products that are less expensive, yet too labor- and cost- intensive for refurbishment. Because of this evolution, it is now generally cheaper to buy new furniture vs. refurbished used furniture.
What is the process for ordering office furniture?
We often get questions about the process of selecting and ordering new workstations or other significant office purchases. To help envision the process, we've outlined our basic steps:
We first suggest that our clients take a look at the examples on our website to help them get an idea of which systems they would like to see in their space, offering to answer any questions or make suggestions.
We then communicate with our clients to get a full list of their furniture and accessory needs based on the types of work that are being done in each area. After this discussion, we request a scaled CAD plan of the space in order to test-fit and lay out the discussed furnishings. This process allows us to make sure the furniture will fit before it is purchased. Often during this process we will go to the site and perform field measurements to confirm the client's floor plan.
Once the layout is complete and has been approved by our client, we will then create a 3-D visual to help our client visualize the furnishings within their space. They then select their choices of fabric, paint, and laminate colors.
After all of the details have been ironed out, we send out an official detailed quote to the client, which needs to be signed and returned before the order can be placed with our manufacturers. We require a 50% deposit on all orders.
After the furniture is ordered, it typically takes about 3-4 weeks, depending on what was ordered, to reach our installer's warehouse. We will then call and schedule an install date for that week. Upon completion of successful installation the client will be invoiced the remaining balance.
You may find it helpful to review our Helpful Tips for Office Moves and Installation & Purchasing Office Furniture.
What is an independent furniture dealer?
As an independent furniture dealer, Joyce Contract Interiors is not tied to any one single line of furniture. This is great for our clients because we can pick and choose which manufacturers provide the best deals based on quality, warranties, and price point.
How long will it take for us to receive my furniture?
Typical lead times are about 3-4 weeks depending on what you are purchasing. Some products may be ordered faster as part of a quick-ship program, but typically the types of furniture and finish options become more limited.
What is the cost to get my product delivered?
Delivery costs are calculated by our installers based on many factors: the amount of product being ordered, the location to which it is being delivered, whether or not the building has a loading dock or an elevator, whether the building is union or non-union, and if the delivery can be done during regular business hours or if it needs to be done on overtime.
Because each job is different, it is best to call and get a quote from one of our knowledgeable sales people. (Note that because of the complexities involved, this process may take a few days.)